The Full List of Guantánamo Prisoners Facing Periodic Review Boards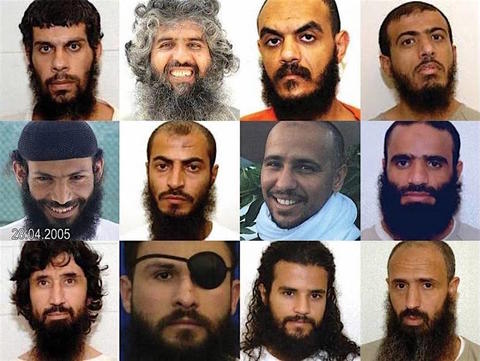 If you can, please make a donation to support our work in 2023. If you can become a monthly sustainer, that will be particularly appreciated. Tick the box marked, "Make this a monthly donation," and insert the amount you wish to donate.
By Andy Worthington
First published November 30, 2015 and regularly updated, most recently in September 2023.
This is the first comprehensive annotated list of all the Guantánamo prisoners eligible to take part in Periodic Review Boards, a process established in 2013 to review the cases of 71 men: 46 designated for ongoing imprisonment without charge or trial by the high-level, inter-agency Guantánamo Review Task Force that President Obama established shortly after taking office in 2009 (which issued its final report in January 2010), and 25 others recommended for prosecution by the task force, until the basis for prosecuting them — generally, charges of providing material support for terrorism — were struck down by the appeals court in Washington D.C. in two particular rulings in October 2012 and January 2013.
The task force's recommendations that 46 men should continue to be held without charge or trial were contentious, of course, because the decisions were made on the basis that the men in question were "too dangerous to release," but insufficient evidence existed to put them on trial. What that meant in reality was that the task force had accepted information obtained through torture or other forms of abuse, or multiple layers of hearsay, all of which is profoundly unreliable.
When President Obama accepted the recommendations and issued an executive order in March 2011 approving the men's ongoing imprisonment without charge or trial, he only avoided damning criticism from NGOs and lawyers by promising periodic reviews for the men, who were later dubbed "forever prisoners" by the media.
Although President Obama's executive order promised that all initial reviews would take place "no later than 1 year from the date of this order," the first PRB — featuring representatives of the Departments of State, Defense, Justice and Homeland Security, as well as the office of the Director of National Intelligence and the Office of the Joint Chiefs of Staff — did not take place until November 20, 2013. Since that delayed start, however, all the prisoners' cases were finally reviewed (by September 2016). Of the 64 men reviewed, 38 were recommended for release, and 26 were recommended for ongoing imprisonment. Seven of those whose releases were approved had those decisions taken after second reviews.
This was positive news for the prisoners involved, representing a 59% success rate, and as President Obama left office in January 2017 all but two of those approved for release had been freed.
Of the 71 men originally listed as being eligible for PRBs, seven were removed from consideration. Five Afghans — mostly Taliban leaders, and all described by the task force as "too dangerous to release" — were freed in a prisoner swap for US PoW Bowe Bergdahl in May 2014 — Abdul Haq Wasiq (ISN 004), Mullah Norullah Noori (ISN 006), Mullah Mohammed Fazl (ISN 007), Khairullah Said Wali Khairkhwa (ISN 579) and Mohammad Nabi Omari (ISN 832), and two others — both initially recommended for prosecution — were included in developments in the military commissions: Ahmed al-Darbi (ISN 768), a Saudi who accepted a plea deal in February 2014, and Nashwan Abd al-Razzaq Abd al-Baqi (aka Abd al-Hadi al-Iraqi) (ISN 10026), who was put forward for a trial in June 2013 and accepted a plea deal in June 2022. The removal of these seven from consideration left 64 men eligible for PRBs — 41 regarded as "too dangerous to release," and 23 initially recommended for prosecution.
Below, 61 of the 64 men who had PRBs are listed (three were removed when they were charged in the military commissions in January 2021), in the first full PRB list to be made available anywhere — since the original PRB list was made available through FOIA legislation in February 2014. This was then cross-referenced with the Guantánamo Review Task Force's "Final Deliberations," which were made public in June 2013. Also included are links to all our articles about their cases.
Also see the PRB website for links to the reviews that have already taken place, and those scheduled to take place. There are a number of relevant pages — initial reviews, full reviews, and subsequent full reviews — which reassess those cases in which the prisoners were approved for ongoing imprisonment, and, like the initial reviews, allow the prisoners to speak to the board by video link, and file reviews, which are purely administrative, and which, as the authorities state, "will be conducted for any detainee whom the PRB has determined that continued detention is necessary every six months in between full reviews, and will focus on any new information or changed circumstances that the PRB should consider."
Under Donald Trump, sadly, the PRBs became largely toothless, as no one was approved for release until October 2020, and for much of his presidency the prisoners boycotted the proceedings, having correctly concluded that they had become a sham. For further information, see Guantánamo's Periodic Review Boards: Eight Men Entombed by Donald Trump and No Escape from Guantánamo: Former Child Prisoner Boycotts the Broken Periodic Review Board Process, Describes It As "Hopeless". As noted above, just as Trump left office, three prisoners — Riduan Isamuddin aka Hambali (ISN 10019), Modh Farik Bin Amin (ISN 10021) and Mohammed Bin Lep (ISN 10022) — were removed from consideration by the PRBs, as they were charged in the military commissions.
Under President Biden, however, the PRBs have been successfully revived, and 19 "forever prisoners" have been approved for release since he took office. Three prisoners were approved for release in May 2021, two more were approved for release in June 2021, three more were approved for release in October 2021, five more in November and December 2021, two more in February 2022 (see our articles here and here), two more in April 2022, another in July 2022, and another in September 2022, confirming, as we suspected, that the Biden administration prefers the PRBs as a method for approving prisoners for release instead of, for example, refusing to challenge prisoners' habeas corpus petitions in the U.S. courts.
Sadly, however, showing the limitations of the PRB process, one man, Khaled Qassim, had his ongoing imprisonment upheld in January 2022, not because of anything he was alleged to have done before his capture, but because he was not regarded as compliant enough at Guantánamo. He was finally approved for release in July 2022, but another "forever prisoner," Muhammad Rahim, had his ongoing imprisonment approved in April 2022, as did another, Abu Faraj al-Libi, in August 2022, while no decision has been taken in over a year in the case of the last of the three remaining "forever prisoners," Abu Zubaydah, the original victim of the CIA's post-9/11 torture program.
In July 2021, in contrast, there was some good news, with the announcement that Abdul Latif Nasser, one of the two men approved for release under Obama who didn't get released before Trump took office, has been freed, and sent back to his home in Morocco. In March 2022, a second release under Biden took place when Mohammed al-Qahtani, who has profound mental health problems that couldn't be adequately dealt with at Guantánamo, was sent back to Saudi Arabia, and in April Sufyian Barhoumi, the other man approved for release under Obama who didn't get released before Trump took office, was repatriated to Algeria, with Asadullah Haroon Gul, an Afghan, following in June, and Saifullah Paracha, Guantánamo's oldest prisoner, finally flown home to Pakistan in October. In February 2023, two more Pakistanis, the Rabbani brothers, were freed, in March Ghassan Al-Sharbi, a Saudi, was repatriated, and in April Said Bakush, the last Algerian in the prison, was also repatriated. We urge the Biden administration to make sure that more releases follow soon.
Approved for release
Approved for ongoing detention
Mustafa Faraj Muhammed Masud al-Jadid al-Usaybi (aka Abu Faraj al-Libi) (ISN 10017, Libya), reviewed on August 16, 2016 and approved for ongoing detention on September 16, 2016. In May 2019, he boycotted his hearing, and his ongoing imprisonment was upheld. Another review took place on June 23, 2022, and his ongoing imprisonment was again upheld in August, and his latest review took place on August 17, 2023.
Muhammad Rahim (ISN 10029, Afghanistan), reviewed on August 4, 2016 and approved for ongoing detention on September 19, 2016, a decision that was upheld in November 2019. Another review took place on February 15, 2022, when his ongoing imprisonment was again approved, and his case was reviewed again on August 15, 2023.
Zayn al-Ibidin Muhammed Husayn (aka Abu Zubaydah) (ISN 10016, Palestine/Saudi Arabia), reviewed on August 23, 2016 and approved for ongoing detention on September 22, 2016, a decision that was upheld in March 2020. His most recent review took place on July 15, 2021, for which a detailed submission from one of his attorneys, Mark Denbeaux, is available on the PRB website, and on June 26, 2023 — almost two years since that review — his ongoing imprisonment without charge or trial was once more upheld.