Gitmo Clock 2021 photos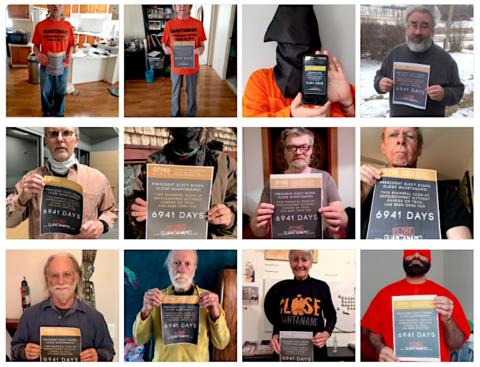 This page features photos of supporters, throughout 2021, holding up posters showing how long the prison at Guantánamo Bay has been open, and urging Joe Biden to close it without further delay, starting with 6,941 days on Jan. 11, the 19th anniversary of the opening of the prison, and continuing with 6,950 days on Jan. 20, the day of Joe Biden's inauguration, and 7,000 days on Mar. 11.
Throughout the rest of the year, we also have posters marking 7,100 days (on Jun. 19), 7,115 days (on Jul. 4, U.S. Independence Day), and 7,200 days (on Sep. 27), and, into 2022, 7,300 days (on Jan. 5, 2022), and 7,306 days on Jan. 11, 2022, the 20th anniversary of the prison's opening, and a day that no one with any decency and respect for the law wants to see. Spanish posters are also available here, via the World Can't Wait.
Please feel free to take a photo with some — or all — of the photos, and send them to us at info@closeguantanamo.org.