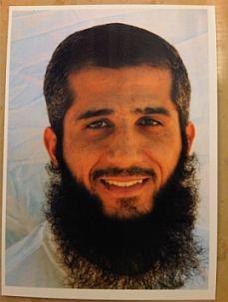 By Andy Worthington, September 18, 2015
Yesterday, on the same day that it was announced that a Moroccan prisoner, Younous Chekkouri, had been repatriated from Guantánamo, it was also announced that Fayiz al-Kandari, the last Kuwaiti in the prison, had been approved for release by a Periodic Review Board.
The PRBs are made up of representatives of the Departments of State, Defense, Justice and Homeland Security, as well as the office of the Director of National Intelligence and the Office of the Joint Chiefs of Staff, and they are slowly making their way through the cases of 46 men designated for ongoing imprisonment without charge or trial by the high-level, inter-agency Guantánamo Review Task Force that President Obama established in 2009, and 25 others initially recommended for prosecution until the legitimacy of Guantánamo's military commissions was shredded by US judges in 2012 and 2013.
And in case you're wondering -- yes, it is unacceptable that a task force appointed by President Obama recommended 46 men for ongoing imprisonment without charge or trial -- on the basis that they are "too dangerous to release," but that insufficient evidence exists to put them on trial -- because that means it is not evidence, but dubious information that would not stand up to objective scrutiny -- the fruits of torture or other abuse, or of the bribery or exhaustion of prisoners, who were relentlessly encouraged to rat on their fellow prisoners or to incriminate themselves.
And yes, it is also unacceptable that President Obama took the task force's advice, and issued an executive order (in 2011) for these men's ongoing imprisonment without charge or trial. When he did so, he tried to sweeten the pill by promising to set up periodic reviews to evaluate whether or not these men were regarded as remaining a threat, but the PRBs did not begin until November 2013, and they are still moving far too slowly. 17 men have had their cases reviewed since November 2013, but 52 others are still waiting -- 30 "forever prisoners" (those recommended for ongoing detention by the task force) and 22 others who were originally recommended for prosecution until the basis for their prosecution collapsed. Without an increase in the frequency of the PRBs, these men will not all have had their reviews until sometime in 2021.
Nevertheless, the recommendation that Fayiz should be released is a big deal, because, last year, he had gone before a PRB, and the board members had recommended that he should continue to be held, because they concluded that he "almost certainly retains an extremist mindset and had close ties with high-level al-Qaeda leaders in the past."
As I mentioned at the time, the board reached its conclusions "even though there is no evidence for either claim," because, "[a]s I explained back in 2009 in a major profile of al-Kandari, his history is one of caring for others and engaging in charitable activities, and the allegations of his involvement with al-Qaeda simply do not stand up under scrutiny." Fayiz "arrived in Afghanistan in August 2001, and had no time to do any of the things of which he has been accused -- which, absurdly, include a claim that, in a ridiculously short amount of time, he became a spiritual adviser to Osama bin Laden."
The recommendation that Fayiz should be released is also a big deal for Tom Wilner and I, the co-founders of "Close Guantánamo," because Tom was his first attorney at Guantánamo, and because I was invited to visit Kuwait in 2012 by Barry Wingard, his military defense attorney (based on a brief period when, absurdly, the Bush administration had wanted to try him in a military commission).
Responding to the news of Fayiz being approved for release, Tom said, "I am overjoyed about the decision on Fayiz. It has been far too long. There was no valid basis for detaining him in the first place."
During my visit to Kuwait, where I also spent time with Tom (including our TV appearance here), I was introduced to Fayiz's family, who were friendly, intelligent and supportive, and as a result I was even more convinced of Fayiz's innocence, and of the enormous support that awaited him in Kuwait to ease his rehabilitation into society. Like Tom, I truly believe that there was no reason for him to have been held in the first place -- like so many of those held throughout Guantánamo's ignominious 13-year history, he was in the wrong place at the wrong time.
That rehabilitation, I'm glad to say, will soon be happening.
In its final determination, the board members, "by consensus," determined that Fayiz's "continued law of war detention … does not remain necessary to protect against a continuing significant threat to the security of the United States," and noted that they had determined that any threat he might be considered to pose "can be adequately mitigated by the Kuwaiti government's commitment to require and maintain the detainee's participation in a rehabilitation program and to implement robust security measures to include monitoring and travel restrictions."
After last year's perceived problems with Fayiz's attitude, the board members also noted that he "demonstrated a willingness to examine his religious beliefs and engaged more openly" with them. They also noted his "willingness to engage with Kuwaiti officials and rehabilitation center staff members, comply with security requirements, and disassociate with negative influences since his last hearing," and were also evidently persuaded by the fact that Fayiz's family "is committed to restructure their living situation to provide more direct support to his reintegration," and that "his cousins, who are prominent in Kuwaiti society, are willing to help supervise and guide [him] upon his return to Kuwait."
Required by the board is Fayiz's "participation in a full rehabilitation program for at least one year of in-patient rehabilitation to achieve the necessary progress in his mental and behavioral health in order to reintegrate him with his family and society," but this will clearly not be a problem, as Fawzi al-Odah, the penultimate Kuwaiti in Guantánamo, who was approved for release by a PRB last year, was repatriated in November, and is adjusting well to his return in the rehabilitation center -- which I visited when I was in Kuwait in 2012, and which is well equipped to look after former prisoners.
Speaking to the Miami Herald, Barry Wingard "called the military's claims of association with bin Laden 'completely unproven,'" and called it "ridiculous" that bin Laden "would seek a kid in his second year of religious study as his adviser, propagandist or significant recruiter." He also said al-Kandari was in Afghanistan "performing charitable undertakings" at the time of the US-led invasion in October 2001, and was seized as he was "trying to head home 'to return to his studies.'" He added, "I have yet to see anything tangible or admissible in a real court that ties him to any crime."
Barry told me, on behalf of the team of U.S. personnel who have worked on his case, "We are delighted that Fayiz will soon be released from Guantánamo, and look forward to his return to his family in Kuwait. Although we hope for bright days ahead, we should never forget that Fayiz was kept in GTMO for over fourteen years without a trial and forced to endure some of the harshest treatment in modern times."
He added, "Our team has flown to GTMO more than seventy times, Kuwait fifteen times, and spent thousands of hours over seven years defending Fayiz. We've been by Fayiz's side when he was forced into solitary confinement, we loudly protested prison conditions, we took his hand as he struggled through a year long hunger strike. In short, we kept Fayiz connected to the world when the world tried to turn the page on GTMO. We unconditionally reminded the world that Fayiz is an innocent human being and is illegally being held in America's offshore prison colony. As attorneys, there can be no higher calling than requiring powerful governments to prove each and every assertion it makes against every single individual."
In the Miami Herald, Carol Rosenberg, who noted that Fayiz "was an active participant in the widespread hunger strike that swept through the prison in early 2013," and "was being force-fed in April 2013, his lawyer said at the time, because the 5-foot, 6-inch man had withered to 108 pounds and had the waist of a small child," noted that it is not yet known "how swiftly the Kuwaiti government, in keeping with past practice, would dispatch a jet to fetch him from the base."
Before that can happen, Obama administration officials "must prepare a departure packet for the signature of Defense Secretary Ash Carter, who in turn is required to give Congress 30 days notice" as a result of legislation introduced by Congress over the last five years.
The decision to recommend Fayiz for release means that 53 of the 115 prisoners still held have been approved for release -- 43 since 2009, when the decisions were taken by President Obama's task force to approve their release, and ten since January 2014 via the PRBs. Just two of those approved for release by the PRBs have been freed -- Fawzi al-Odah and a Saudi -- and the big problem for most of those approved for release but still held -- 43 of the 53 -- is that they are Yemenis, and the entire U.S. establishment is unwilling to repatriate them because of fears about the security situation in their home country. This means that third countries must be found that will take them in, but although new homes have been found for 18 Yemenis in the last year, it is not acceptable for the others to wait year after year when they were told that the U.S. no longer wants to hold them.
I applaud the decision to release Fayiz al-Kandari, but it remains hugely important that all the other men approved for release -- all those Yemenis and nine other men, including Shaker Aamer, the last British resident in Guantánamo -- are also freed as well.