On, Jan. 11, 2021, the prison at Guantánamo Bay had been open for 19 years; that's 6,941 days. On Jan. 20, the day of Joe Biden's inauguration, it had been open for 6,950 days, and on Mar. 11 it had, shamefully, been open for 7,000 days. Please join us, former prisoner Mansoor Adayfi and many others in urging President Biden to deal urgently with the need for Guantánamo to finally be closed for good. See our article here for some reassuring words from Gen. Lloyd Austin, the new defense secretary, and this letter, sent to President Biden on Feb. 2, which we signed along with 110 other organizations, urging him to close the prison without further delay, and also see our new article about reassuring comments made on Feb. 12 by White House press secretary Jen Psaki.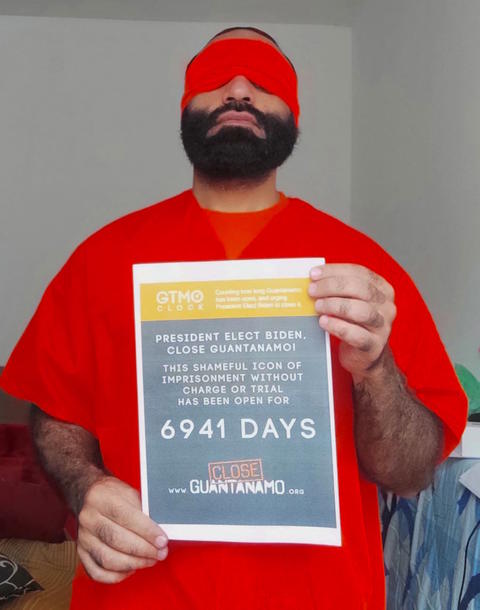 Donations to support the work of the Close Guantánamo campaign in 2021 are welcome and are greatly encouraged. Please click on the "Donate" button below to pay via PayPal.
If you can make a regular monthly donation, please tick the box marked, "Make this a monthly donation," and fill in the amount you wish to donate every month.
Please check out the video below, of our co-founder Andy Worthington talking to Kevin Gosztola of Shadowproof about Guantánamo, and what we might expect from Joe Biden, on Jan. 11, 2021, the 19th anniversary of the opening of the prison.
Please also check out our cross-post of an article in Newsweek marking the anniversary, and urging Joe Biden to close Guantánamo, which was written by former prisoner Mohamedou Ould Salahi.
And see below for the video of an event about Guantánamo hosted by Revolution Books in New York on Jan. 17, at which Andy was joined by Guantánamo attorney Shelby Sullivan-Bennis for a powerful and moving analysis of the current situation, and the need for the prison to be closed.
Congratulations to Joe Biden, Kamala Harris and the American people for getting rid of Donald Trump in the Presidential Election. Please read our article in response, President Elect Biden, It's Time to Close Guantánamo, our cross-post of a detailed article for Just Security by 9/11 trial attorney Benjamin Farley, and our article assessing reports in the mainstream media, and let's start working to get prisoners released, and to get the prison closed once and for all. In December, we were delighted to hear that, in Trump's dying days, a Yemeni prisoner was approved for release by a Periodic Review Board, making six men approved for release that President Biden must release.
Unfortunately, the annual vigil outside the White House on Jan. 11, this year marking the 19th anniversary of the opening of the prison, was called off because of Covid, but please see here for a list of online events that took place instead.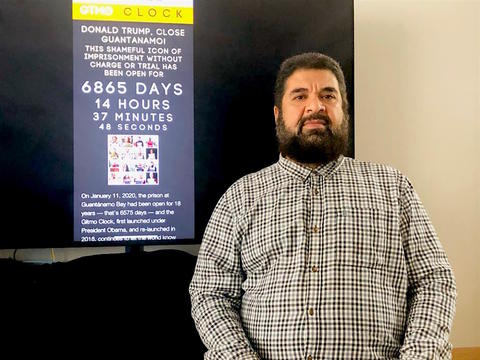 On Oct. 27, 2020, just one week before the Presidential Election, and three days before the fifth anniversary of his release from Guantánamo, Shaker Aamer, the last British resident in the prison, called for the closure of the prison on the 6,865th day of its existence. It was great to see Shaker, who was held for nearly 14 years, looking so well, and as we recall the long years of campaigning that led to his release, I hope everyone is ready for renewed campaigning over the next year, as we keep our eyes on the forthcoming 19th anniversary of the opening of the prison, on Jan. 11, 2021, and the 20th anniversary on Jan. 11, 2022. Thankfully, we will soon have a brand-new administration, under Joe Biden, that, unlike Donald Trump, will at the very least recognize that the prison at Guantánamo Bay is a legal, ethical and moral abomination, and that every day it is open poisons any notion of America as a country that has respect for the rule of law.
The first poster of 2021 marks 6,941 days on Jan. 11, the 19th anniversary of the opening of the prison, and the second marks 6,950 days on Jan. 20, the date of Joe Biden's inauguration. Please take a photo with one or other of the posters (or both!) and send it/them to us. Spanish readers can also find Spanish posters here, courtesy of the World Can't Wait. Please also check out our Gitmo Clock initiative, which counts, in real time, how long Guantánamo has been open, and which is the basis of the poster campaign. We have also created more new posters for 2021 and into 2022, and links to these posters can all be found on the Gitmo Clock website.
All the photos of supporters in 2020 can be found here.
For further thoughts about President Biden and Guantánamo, please feel free to revisit our first thoughts about it, in If Elected in November, Will Joe Biden Close Guantánamo?, published in summer, and A Roadmap for the Closure of Guantánamo, a cross-post, with our own introduction, of a detailed proposal put together by six NGOs and originally published by Just Security.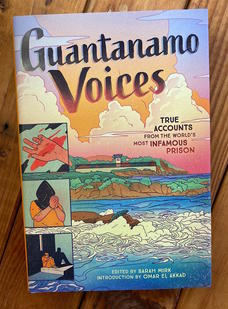 GIFT IDEA: If you're looking for a present, look no further than "Guantánamo Voices: True Accounts from the World's Most Infamous Prison," which we promoted here. Published by Abrams, written by multi-media journalist Sarah Mirk, and illustrated by some talented graphic artists, it's based on interviews with nine people who know the prison well, including former prisoners and lawyers. Our co-founder Tom Wilner is featured, and our other co-founder, Andy Worthington, was the book's fact checker.
Please also read After Years in Secret Prisons, UAE Threatens Unsafe Repatriations to Yemen for Former Guantánamo Prisoners, about the plight faced by former prisoners sent to the UAE between 2015 and 2017, and Trump-Appointed Appeals Court Judge Rules That Guantánamo Prisoners Don't Have Due Process Rights, about the latest unfortunate news in the prisoners' long quest for justice.
And please also check out the poignant and powerful letter from Guantánamo by Abdul Latif Nasser, approved for release under President Obama, but not freed before Donald Trump took office, in which he explains his struggle to overcome his despair at being held indefinitely. Also please also check out some good news, as the Inter-American Commission on Human Rights agrees to hear the case of four men subjected to rendition and torture in the early years of the "war on terror."
CORONAVIRUS UPDATE: Please read our article, Elizabeth Warren and 14 Other Senators Ask Pentagon About Coronavirus Protections at Guantánamo, promoting a letter to defense secretary Mark Esper, in which the Senators asked for clarification about what the Pentagon was doing to protect prisoners and U.S. personnel at Guantánamo.
For earlier articles, see A Coronavirus Lament by Guantánamo Prisoner Asadullah Haroon Gul, which followed the initial news that a U.S. soldier had been diagnosed with the virus, and was in isolation — and check out this follow-up article by Asadullah Haroon Gul, Asadullah Haroon Gul, One of the Last Two Afghans in Guantánamo, and a No-Value Detainee, Asks to Be Freed, in which he asks the Afghan government to secure his release. Please also check out Lockdown Listening: Radiolab's Six-Part, Four-Hour Series About Guantánamo Prisoner Abdul Latif Nasser, Cleared for Release But Still Held.
Please also feel free to write to the prisoners, who are currently more isolated than they have been since before attorneys were first allowed to visit them after a court victory in Rasul v. Bush in June 2004. And for an update on the military commissions, see Military Judge Rules That Terrorism Sentence at Guantánamo Can Be Reduced Because of CIA Torture.
You're also welcome to check out Fighting Back Against Guantánamo Amnesia As the Prison Begins Its 19th Year of Operations, our article about the events and media appearances we undertook to mark the anniversary, and see below for the video of Andy Worthington appearing on RT, which was the only coverage of the anniversary in the whole of the U.S. broadcast media.
Also see below for the video of Andy and Tom Wilner discussing "Guantánamo in 2020: What is the Future of the Prison Camp after Eighteen Years?" at the New America think-tank in Washington, D.C. on January 13, 2020, just two days after the anniversary. Thanks as ever to New America for hosting Guantánamo-related panel discussions every year on or around the anniversary of the prison's opening.
Other news
Victory in court! Congratulations to Tom Wilner, who successfully urged the D.C. Circuit Court, on behalf of Yemeni prisoner Khalid Qassim, to bring to an end "an eight-year rule that has prevented Guantánamo detainees from seeing and rebutting the evidence purportedly justifying their detentions." On June 21, 2019, the court sent Qassim's case back to the District Court to look, in particular, at his "claimed constitutional right to access the classified information in the government's hands," as described by Judge Patricia A. Millett, who wrote the court's opinion. See our article, A Rare Court Victory Offers Hope for Guantánamo's "Forever Prisoners".
Also please see Humanizing the Silenced and Maligned: Guantánamo Prisoner Art at CUNY Law School in New York, Andy's article about a new exhibition of Guantánamo prisoners' artwork by eleven current and former prisoners, including Khalid Qassim. And please check out My Best Friend and Brother: A Profile of Guantánamo Prisoner Khalid Qasim by Mansoor Adayfi, a world exclusive, original article by former prisoner Mansoor Adayfi, providing some wonderful new insights into Khalid's character, all of which makes it clear that his ongoing imprisonment is both shameful and unjustifiable.
And please read Uzair Paracha, Victim of Tortured Terrorism Lies, is Freed from U.S. Jail; Why Is His Father Still at Guantánamo?, about the release of Uzair Paracha, which is to be celebrated, because a judge recognized that the evidence against him was untrustworthy, although it is truly shameful that his father is still held at Guantánamo, on the basis of the same untrustworthy evidence. He should be freed immediately.
Please also check out Andy Worthington's half-hour interview with Chris Hedges on his 'On Contact' show on RT below:
For our report about events marking the 17th anniversary of the opening of Guantánamo, see The Revival of Resistance: Reflections on the 17th Anniversary of the Opening of Guantánamo, and see below for the video of the panel discussion at New America featuring our co-founders Tom Wilner and Andy Worthington, and Laura Pitter of Human Rights Watch.
For a brief explanation about why it is imperative that Guantánamo is closed, see our co-founder Andy Worthington speaking outside the White House on January 11, 2017, the 16th anniversary of the opening of the prison.
Who we are and why we care
We are a group of lawyers, journalists, retired military personnel and concerned citizens seeking to close the "war on terror" prison at Guantánamo Bay, where 40 men are still held, six of whom have been cleared for release.
January 11, 2021 was the 19th anniversary of the opening of the prison at Guantánamo Bay, and the start of its 20th year of operations. This is an anniversary that should never have come to pass.
The prison at Guantánamo Bay is an abominable experiment in indefinite detention, which poisons America's claim to be a nation that believes in justice. Of the six men still held but approved for release, three have been waiting to be freed for over ten years, which is unforgiveable, and two others were approved for release in 2016 by Periodic Review Boards, a process established in 2013 to review the cases of all the prisoners not already approved for release or facing trials.
Just 12 men are facing or have faced trials, while the others (22 men in total) were recommended for ongoing imprisonment without charge or trial by the PRBs, which largely became a toothless, meaningless process under Donald Trump. Check out our full list of the PRBs here, and please also feel free to look at our full prisoner list, identifying the 40 men still held, and incorporating the decisions about whether they should be freed, tried or held indefinitely.
Please encourage President Biden and your Senators and Representatives to support our call to close the prison. Let them know that, while the prison remains open, it undermines America's values and national security. You can send a message to the White House here, and you can find your Senators here, and your Representatives here.
Join us now to help end this injustice and restore the rule of law. We call on Donald Trump to close Guantánamo, and will continue to do so until it is closed for good. Your voice matters.
Thank you for your commitment and support, and thank you for your interest in bringing this dark chapter in modern U.S. history to an end. Please see our mission statement for a more detailed analysis of why Guantánamo must be closed, and to see the list of prominent individuals and organizations who have signed it.
---