Donations to support the work of the Close Guantánamo campaign are welcome and greatly encouraged. Please click on the "Donate" button at the top right of the website.
If you can make a regular monthly donation, please tick the box marked, "Make this a monthly donation," and fill in the amount you wish to donate every month.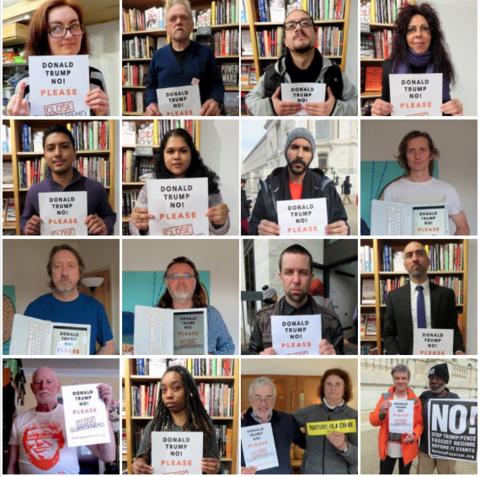 Donald Trump No! Please Close Guantánamo!
The next milestone is 350 days on Jan. 5, 2018, and the poster is here. Please take a photo with it, and send it to us. Andy's article promoting the poster on July 4 (U.S. Independence Day) is here, his article marking 250 days of Trump's wretched presidency on Sept. 27 is here, and his article marking 300 days, on Nov. 16, is here. Please also check out 'Equal Rights and Justice For All,' a rousing defense of habeas corpus, released by Andy's band The Four Fathers to mark Trump's first 250 days.
Please also consider signing a petition to Donald Trump launched by the international human rights organization Reprieve in response to the disturbing news that the administration is no longer monitoring hunger striking prisoners — calling for independent medical experts to be allowed to visit the hunger strikers, and for the prison to be closed. Andy wrote about this in an article entitled, Celebrities Fasting With the Hunger Striking Guantánamo Prisoners That Donald Trump Is Allowing to Die, and also wrote an article for Al-Jazeera about efforts to hold the government to account in court.
Another petition that may be of interest is designed to get the Trump administration not to destroy prisoners' art, following the recent revelation that officials are no longer allowing prisoners to keep their art, or to send it or give it to other people (their lawyers and family members, for example), and have also threatened to destroy it. Andy wrote about that in an article entitled, The Persistent Abuse of Guantánamo Prisoners: Pentagon Claims It Owns Their Art and May Destroy It, But U.S. Has Long Claimed It Even Owns Their Memories of Torture, also looking at the dark undercurrent of the authorities' desire to have total control over the prisoners that has always existed at Guantánamo.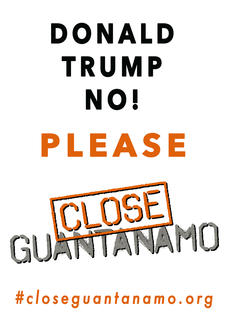 Please also read Abdul Latif Nasser: Facing life in Guantánamo, Andy Worthington's article for Al-Jazeera from June, looking at the five men still held who were approved for release under President Obama, and especially looking at the case of Abdul Latif Nasser, a Moroccan who missed being released by just eight days.
Also please read the latest news undermining Guantánamo's military commission trial system — the absurd decision by a judge to imprison Brig. Gen. John Baker, the commissions' chief defense counsel, for refusing to order three civilian attorneys who had resigned because they discovered that the government was spying on them, to return to work, and also please read former Guantánamo prisoner Mohamedou Ould Shahi's reflections, a year after his release.
Also check out Andy's other recent articles, Abandoning Guantánamo: The Supreme Court's Shame as a Military Commission Appeal Is Turned Down, about the Supreme Court cementing nine years of indifference towards Guantánamo by refusing to accept an appeal by Ali Hamza al-Bahlul, who was convicted in 2008 but has since had most of his sentence dismissed, 11 Years After CIA Torture Victims Arrived at Guantánamo, Whistleblowers Joseph Hickman and John Kiriakou on How Torture "Became Legal" After 9/11, cross-posting an excerpt from Hickman and Kiriakou's new book on the 11th anniversary of the arrival of 14 "high-value detainees" at Guantánamo, and Donald Trump Is Still Trying to Work Out How to Expand the Use of Guantánamo Rather Than Closing It for Good, about the alarming news that Donald Trump is still planning to send new prisoners to Guantánamo, and to officially keep the prison open indefinitely. And please check out our cross-post of a scathing article about Trump's position on Guantánamo in The Hill by Joshua Geltzer, senior director for counterterrorism and deputy legal advisor at the National Security Council from 2015 to 2017.
Please also read other recent articles by Andy, Donald Trump's Stumbling Efforts to Revive Guantánamo, about Donald Trump's plans for the prison in July, after a "high-value detainee," Hambali, was charged in the military commissions, and officials including Attorney General Jeff Sessions paid a visit to the prison, Six Months of Trump: Is Closing Guantánamo Still Possible?, published to mark the first six months of Donald Trump's troubling presidency, and The Absurdity of Guantánamo: As U.S. Prepares to Release Ahmed Al-Darbi in Plea Deal, Less Significant Prisoners Have No Prospect of Release, published in August, looking at the latest exposure of the fundamental unfairness of Guantánamo, as highlighted in the military commissions (and see Andy's update from October, when al-Darbi received a 13-year sentence).
Please also read Andy's articles from the earlier days of Trump's presidency, analyzing Donald Trump's draft executive order aimed at keeping Guantánamo open and reintroducing torture and "black sites," and the follow-up article about letters to the administration by senior Democrats and rights groups calling for the plans to be scrapped, which also includes an analysis of a revised plan for closing Guantánamo that President Obama published as he left office. Also read Andy's update, based on a revised executive order that drops the torture plans, but proposes sending Islamic State prisoners to Guantánamo. And for the latest on Trump, see Andy's article, "Donald Trump's Latest Outrageous Guantánamo Lie," following an ill-advised tweet on March 7, and Andy's recent analysis of a Vice News article explaining how shambolic it is of Trump not to have appointed envoys to deal with the post-release rehabilitation of former prisoners.
Also check out former Guantánamo envoy Paul Lewis's article urging the closure of the prison, cross-posted from Lawfare, with commentary by Andy, and Clive Stafford Smith, the founder of Reprieve, reporting from Guantánamo two months after Trump took office. Please also read an analysis of the military commissions as a form of legal apartheid by Michel Paradis, a senior attorney with the Department of Defense, who has represented several Guantánamo prisoners over many years, and the decision by torture victim Abu Zubaydah to testify in a pre-trial hearing in the case of one of the alleged 9/11 co-plotters, Ramzi Bin al-Shibh, about conditions in Guantánamo's secretive Camp 7 — plus Andy's important update here. In May, two petitions on behalf of prisoners facing, or having faced military commission trials reached the Supreme Court, and Andy's article about these cases — of Ali Hamza al-Bahlul and Abd al-Rahim al-Nashiri — is here. For the International Day in Support of Victims of Torture, on June 26, please read Andy's article about the latest developments in a court case against James Mitchell and Bruce Jessen, the architects of the Bush administration's torture program.
Please also read Andy's analysis of the current state of the Periodic Review Boards at Guantánamo, as the oldest prisoner, Saifullah Paracha, 70, has his ongoing imprisonment upheld, his previous update, and his earlier article, written after some Republican Senators urged him to scrap the parole-type process that, though flawed, has been the only way in which numerous insignificant prisoners have been released. And also read Andy's other recent article about the distressing persecution faced by a former prisoner in Tunisia.
And here's another reminder about our new poster aimed at Donald Trump, who, on the campaign trail, promised irresponsibly to keep Guantánamo open and to "load it up with some bad dudes," and who, in the new year, called, in a tweet, for no more prisoners to be released. Please print off the poster, take a photo with it, and send it to us, and we'll put it up here, and on our social media pages (see Facebook and Twitter). You can also send us a message for Donald Trump to accompany your photo, if you wish, and you can also let us know where you are (your country and your town or city) if you want, to show the breadth of opposition to his plans.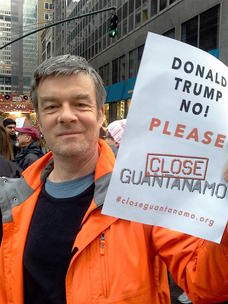 Please share this campaign widely, to show Donald Trump how much opposition there is to his violent and careless words. Please also read our latest article promoting the poster, in which we also lay out our three demands for Donald Trump: to release the men already approved for release, to continue the Periodic Review Boards (an important process that we have covered extensively), and to close Guantánamo for good.
Launching the new poster, Close Guantánamo's other co-founder, Tom Wilner, who was Counsel of Record for the Guantánamo prisoners in their cases before the Supreme Court in 2004 and 2008, said: "President Obama didn't get Guantánamo closed. Hopefully, Donald Trump will instead. It's a bad deal for America — it's wasteful, ridiculously expensive, and it ruins our reputation throughout the world."
Andy Worthington said: "Guantánamo must be closed. It is disappointing enough that President Obama has failed to close it, without Donald Trump trying to return to the rhetoric of the prison's early days to justify keeping it open. Every day that this wretched, lawless place remains open is an affront to the values that America claims to hold dear."
Please watch the video of Tom Wilner and Andy Worthington at a panel discussion on Guantánamo, Obama and Trump at New America on January 11, 2017 — the 15th anniversary of the opening of Guantánamo, and the 5th anniversary of the founding of the Close Guantánamo campaign — with former Congressman Jim Moran and New America fellow Rosa Brooks, moderated by Peter Bergen.
Please also watch Andy Worthington calling for the closure of Guantánamo outside the Supreme Court on Jan. 11, 2017, as part of the annual protest against Guantánamo by numerous rights group, including Witness Against Torture, Amnesty International and the National Religious Campaign Against Torture.

Please also read "Teaching Trump about Gitmo," an op-ed by Tom Wilner and Andy Worthington for the New York Daily News, published on Jan. 9.
Who we are and why we care
We are a group of lawyers, journalists, retired military personnel and concerned citizens seeking to close the "war on terror" prison at Guantánamo Bay, where 41 men are still held, 5 of whom have been cleared for release.
Wednesday January 11, 2017 was the 15th anniversary of the opening of the prison at Guantánamo Bay, and the start of its 16th year of operations. This is an anniversary that should never have come to pass.
The prison at Guantánamo Bay is an abominable experiment in indefinite detention, which poisons America's claim to be a nation that believes in justice. Of the 5 men still held but approved for release, some have been waiting to be freed for seven years, which is unforgiveable, and others have been approved for release more recently by Periodic Review Boards, a process established in 2013 to review the cases of all the prisoners not already approved for release or facing trials.
Just ten men are facing or have faced trials, while the men who had faced PRBs were, disgracefully, either recommended for prosecution until the military commissions largely collapsed under judicial scrutiny, or were described as "too dangerous to release" when President Obama's task force reviewed their cases in 2010, even though it was acknowledged that insufficient evidence existed to put them on trial; in other words, it was not evidence at all, but profoundly unreliable information derived through the use of torture, abuse and the bribery of other prisoners.
Please visit our project launched at the end of 2015 — the first detailed annotated list of all the men facing Periodic Review Boards, which, to date, have approved 38 men for release, while approving the ongoing imprisonment of 26 others (a success rate for the prisoners of 59%), and please read our article introducing the list.
Also, please look at our updated prisoner list, identifying the 41 men still held, and incorporating the decisions about whether they should be freed, tried or held indefinitely. These decisions were made by the Guantánamo Review Task Force in 2010, but were only made public in June 2013, as discussed in our article, "The Guantánamo Review Task Force's Decisions on Who to Release, Who to Try and Who to Hold Indefinitely Are Finally Released."
Please encourage your Senators and Representatives to support our call to close the prison. Let them know that, while the prison remains open, it undermines America's values and national security. Find your Senators here, and your Representatives here.
Join us now to help end this injustice and restore the rule of law. We call on Donald Trump to close Guantánamo, and will continue to do so until it is closed for good. Your voice matters.
Thank you for your commitment and support, and thank you for your interest in bringing this dark chapter in modern U.S. history to an end. Please see our mission statement for a more detailed analysis of why Guantánamo must be closed, and to see the list of prominent individuals and organizations who have signed it.
Remembering the "Countdown to Close Guantánamo"
Please see the Celebrity Photos page for photos of our celebrity supporters, including music legend Roger Waters (ex-Pink Floyd), the musician and producer Brian Eno, David Morrissey, Juliet Stevenson, Clive Stafford Smith of Reprieve, and former Guantánamo prisoners including Shaker Aamer. Also see the first Public Photos page for photos from 1 year to 300 days, the second page for photos from 250 days and 200 days, the third page for photos from 150 days and 100 days, and the fourth page for photos from 70 days to 20 days, and the fifth and final page, plus messages to President Obama from concerned members of the public from the U.S. and around the world. We are delighted to report that over 700 photos have been submitted by supporters of the campaign. Please also see the video of Roger Waters and Andy Worthington announcing the launch of the "Countdown to Close Guantánamo" on Democracy Now! with Amy Goodman.
Please also read Andy's articles written after Trump's election victory, Donald Trump and Guantánamo: What Do We Need to Know?, about what we might expect from the president-elect, and In Final Counter-Terrorism Speech, Obama Targets Trump But Fails to Acknowledge His Own Mistakes on Guantánamo and War, in which Andy examines President Obama's legacy on surveillance, drones, war, torture, and, of course, Guantánamo.
Please also read our other recent articles from the last months of 2016; about the 10th anniversary of the arrival of 14 "high-value detainees" at Guantánamo on September 6, 2016, and the continued absence of justice in their cases; and about "high-value detainee" and torture victim Abu Zubaydah, in a cross-post of an op-ed by one of his attorneys, Joseph Margulies, with commentary by Andy. And also read — with Andy's commentary — a powerful speech about the myriad failures of Guantánamo's military commissions that was delivered at a recent national security conference by Chief Defence Counsel Brig. Gen. John G. Baker, and Andy's latest articles — an overview of the Periodic Review Boards, drawing on a report by Carol Rosenberg of the Miami Herald, and a report about the latest ruling in the case of Ali Hamza al-Bahlul, convicted by a military commission in November 2008, who has been fighting his conviction ever since, but has just had his conspiracy conviction, thrown out in 2013, reaffirmed.
---