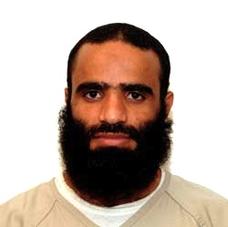 By Andy Worthington, November 6, 2015
Despite the relentless fearmongering of Republican supporters of Guantánamo, claims that the prison holds a significant number of people who pose a threat to the US continue to be eroded; primarily, in recent years, through the deliberations of Periodic Review Boards -- panels consisting of representatives of the Departments of State, Defense, Justice and Homeland Security, as well as the office of the Director of National Intelligence and the Office of the Joint Chiefs of Staff, who hear from the prisoners, their lawyers and their military representatives via video-link from Guantánamo, where the men are able to make a case for why they should be approved for release.
The men in question have, with some accuracy, been dubbed "forever prisoners" by the media. Originally numbering 71 men, they comprised two groups: 46 men assessed to be "too dangerous to release" by the high-level, inter-agency Guantánamo Review Task Force that President Obama established shortly after taking office in January 2009 to recommend whether the men he inherited from George W. Bush should be released or prosecuted. This third alarming option -- "too dangerous to release" -- was, as far as we know, dreamt up by the task force itself, for prisoners regarded as a threat but against whom insufficient evidence existed to put them on trial.
Reading between the lines, this meant tainted evidence -- in other words, men regarded as unprovably dangerous because the evidence against them was derived through the use of torture or other forms of abuse, making it fundamentally untrustworthy -- or, in some (perhaps many) cases, a perceived attitude problem: prisoners who, though perhaps understandably aggrieved at being held without charge or trial for over a decade in abusive conditions, had threatened retaliation, however hollow those threats may have been, that were taken seriously by the authorities.
In March 2011, when President Obama signed an executive order authorizing the ongoing imprisonment without charge or trial of these men (originally 48, but two subsequently died), he avoided an outcry from NGOs and lawyers only by promising that they would receive periodic reviews of their cases, to establish, on a regular basis, whether or not they were still regarded as posing a threat.
Those reviews, rather shamefully, did not begin until November 2013, when the 46 men mentioned above were joined by 25 others, who the task force had recommended for prosecution until judges had issued a number of rulings demonstrating that the main charge against them -- providing material support for terrorism -- was not a recognized war crime, and had been invented by Congress, and began overturning some of the few convictions the broken military commission trial system had managed to achieve.
In the two years since the Periodic Review Boards began, they have approved 15 prisoners for release, out of 18 men whose cases have been reviewed (one other man is still awaiting the board's decision).
That's an 83% success rate for the prisoners, which is astonishing.
It is not all good news, of course. Although three of these 15 men have been released, 12 are still held -- a Saudi and a Kuwaiti, who will probably be released soon, as well as an Afghan, an Egyptian, a Libyan and seven Yemenis. The latter group joins the 37 other Yemenis approved for release by the Guantánamo Review Task Force in 2009 but still held -- along with just four men from other countries who are still left at the prison. The Yemenis are awaiting third countries to offer them new homes, because the entire US establishment is unwilling to repatriate them.
Moreover, 45 other men are still awaiting reviews, and unless the review process speeds up significantly, they will not have had their cases considered until this time in 2020 -- well into the next Presidency.
This week, the story of the PRBs was updated with the 18th prisoner being approved for release, a Yemeni who has grown to love US culture -- and a third man, a long-term hunger striker, having his ongoing imprisonment recommended, despite not posing a threat.
Mansoor al-Zahari approved for release
The man approved for release, Mansoor al-Zahari, also identified as Mansoor al-Warifi or, to the Periodic Review Board, Abdul Rahman Ahmed or Mansur Ahmad Saad al-Dayfi, was discussed at length in our article a month ago, "Fan of Shakira, Taylor Swift and Game of Thrones Asks Review Board to Free Him from Guantánamo, As an Afghan is Approved for Release."
As the review board stated in its "Unclassified Summary of Final Determination," dated October 28, the board members "determined that continued law of war detention … is no longer necessary to protect against a continuing significant threat to the security of the United States."
The board added that, in making their determination, they "noted that the detainee was probably a low-level fighter who was aligned with al-Qaida, although it is unclear whether he actually joined that group, and that he has no known ties to extremism." The members also "noted the detainee's efforts to improve himself while in detention, to include becoming fluent in English and completing all courses required for his GED, and considered the significant information exhibiting the detainee's change in mindset, including largely compliant behavior since 2012."
The Board also "found the detainee credible in his desire to pursue non-extremist goals and higher education as well as his embrace o f western culture," and "noted his candor regarding his past activities and acknowledgement of mistakes that led to his detention and his willingness to be resettled in a third country and understanding and acceptance of his need for social support after detention."
As Carol Rosenberg explained in the Miami Herald, at his review last month, he told the board that "he had become a fan of American popular culture -- in particular Taylor Swift and the television shows Boston Legal and Little House on the Prairie. He said he acquired his fluent English at the prison by reading the Jules Verne adventure novel Around the World in 80 Days."
"It took me eight months to finish the book," he told the board. "A guard here taught me grammar, when he saw I liked learning English. He would call me and say, 'class time.'"
As the Miami Herald described it, he also told the board that "when he first got to Guantánamo he was young, 20, and fearful," and, he stated, "I said many things then because I was angry and scared. I made mistakes. I did stupid things. I regret that now."
The Miami Herald also noted that, in 2013, al-Zahari was among five men "who designed a business plan for a utopian, self-sufficient 'Milk & Honey' farm business in Yemen to illustrate their after-Guantánamo ambitions -- and to submit to the parole board." The newspaper added, "All five of the self-described 'Board of Directors' were at the time held in the category of 'forever prisoner.' Of the five, three directors have now been approved for release and the other two have yet to get a date for a hearing by the Periodic Review Board."
The Miami Herald also noted that al-Zahari "has since apparently abandoned that plan. He told the board he wanted to go to college, get a degree in information technology and 'marry an educated lovely woman who can be my friend and my wife.'"
Moath al-Alwi recommended for ongoing imprisonment without charge or trial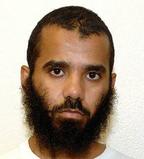 Two days before Mansoor al-Zahari was recommended for release, a review board determined, in the case of Moath al-Alwi (aka Muaz al-Alawi), that "continued law of war detention …remains necessary to protect against a continuing significant threat to the security of the United States." The board assessed that he had "prior close ties with the Taliban" and noted "his praise for the Taliban as expressed during the hearing." The board also found him to be "evasive and hostile in response to its questions as well as failing to acknowledge or accept responsibility for his prior actions." The board members "found minimal evidence of a change in the detainee's mindset and insufficient detail regarding [his] plans for the future or efforts to prepare himself for life outside of detention."
In conclusion, the members encouraged him "to work with his family and representatives on his future plans and to be more forthcoming with the Board in future reviews."
This was a disappointing decision. Al-Alwi, a Yemeni who is a long-term hunger striker, and weighed just 97 pounds at the time of his hearing, as I explained here, was a low-level Taliban recruit when he was seized 14 years ago, and there is no indication that he constitutes a threat. For his PRB, he had even been assessed as "compliant," even though he continues to refuse food as a peaceful protest against his ongoing imprisonment.
For Al-Jazeera, Jenifer Fenton spoke to Taliban expert Ahmed Rashid, who, when asked about al-Alwi, said that all of the prisoners at Guantánamo associated with the Taliban "should be released 'with safeguards.'"
He noted, as Fenton put it, that "the Taliban today consider themselves 'a nationalist Afghan force not a global jihadist force like al-Qaeda or ISIS,'" and that in recent years they have "been open to negotiations with both the Americans and the Kabul government". He told Al-Jazeera via email, "They are now more politically diverse and some are interested in peace. So we can cannot compare [al-Alwi's] adulation for the Taliban 15 years ago with now."
While we await further reviews, Fenton spoke to Steve Vladeck, law professor and co-editor-in-chief of Just Security, who noted that the "most intractable 'too dangerous to release' category" is shrinking." He added that it was "hard to predict what this 'scorecard' means for future hearings, because it could be that the relatively 'easier' prisoner cases might be resolved first."
"At a minimum, though," he added, "it underscores the extent to which a growing number of detainees don't meet the Obama Administration's own standard for continuing military detention, even though they had previously been categorized as 'too dangerous to release.'"
He also said the PRB process "raises the question of why eligible prisoners have had to wait so long to be provided a hearing," as Fenton put it. "With every clearance," Vladeck said, "the government's foot-dragging looks more and more like it's trying to forestall the inevitable, even if there are benign reasons for the delay."
A former senior US government official who is "personally familiar with many of these Guantánamo cases told Al Jazeera, "Honestly, I don't believe all are too dangerous to release." He added, "I am not really convinced … I would want to see their cases heard in court. I would like to see a determination of their status as being 'too dangerous to release'…determined in court" -- whether civilian or military.
Here at "Close Guantánamo," we appreciate that those who can be charged should be, but we also reflect that, even allowing for variations, the success rate to date in the PRBs -- with 15 out of 18 prisoners approved for release -- ought more or less to be reflected in the other cases to be considered, leading, eventually, to a relatively small number of "forever prisoners," compared to the hyperbolic figures initially touted by the task force and accepted uncritically by President Obama nearly six years ago.