By Andy Worthington, February 25, 2015
Here at "Close Guantánamo," we have been campaigning, since we launched in January 2012, on the 10th anniversary of the opening of Guantánamo, for all the prisoners held at Guantánamo to be freed, unless they are to be charged and tried, and we are pleased to note that, as part of a new review process, the Periodic Review Boards (PRBs), established in 2013, seven men who had long been regarded as "too dangerous to release" have had those decisions overturned, and have had their release recommended.
Six of these decisions were taken last year, but the latest decision, which was taken on February 12 but was not reported until today, was for Tariq al-Sawah, the last Egyptian in Guantánamo, to be released -- which, we hope, will happen soon. I wrote about his PRB, on January 22, here, describing his serious health problems, as well as the absurdity of continuing to hold someone regarded as having provided a wealth of useful information, and I find it entirely appropriate that the board has recommended his release.
In its Unclassified Summary of Final Determination, the review board stated:
The Periodic Review Board, by consensus, determined continued law of war detention of the detainee is no longer necessary to protect against a continuing significant threat to the security of the United States.
In making this determination, the Board considered the detainee's change of ideology and renunciation of violence and his status as one of the most compliant detainees at Guantánamo, as well as his recognition of his health status and his efforts to improve it. The detainee is not in communication with extremists outside of Guantánamo and his family has committed to assist in his reintegration upon transfer.
The PRB recommends that the detainee be transferred to a country with appropriate support, including adequate medical care, subject to appropriate security assurances as determined by the Guantánamo Detainee Transfer Working Group.
The Guantánamo Review Task Force's recommendations and the establishment of the Periodic Review Boards
Over the years, we have studied closely the decisions taken by the high-level, inter-agency Guantánamo Review Task Force that President Obama established shortly after first taking office in January 2009, whose remit was to review the cases of all the prisoners held when President Obama took office, and to make recommendations about what should happen with the prisoners. In its final report, issued in January 2010, the task force recommended that prisoners should either be released or prosecuted, or should continue to be held indefinitely without charge or trial.
The first group, the cleared prisoners, numbered 156 men in total, and 106 of those men have subsequently been released. However, for nearly three years, between 2010 and 2013, no prisoner cleared for release by the task force was released, as Congress imposed onerous restrictions that President Obama was unwilling to spend political capital to overcome, even though he had the means to do so. The release of prisoners only resumed after the prisoners themselves embarked on a prison-wide hunger strike that awakened -- or reawakened -- the world's media to the ongoing injustice of Guantánamo, and since President Obama promised to resume releasing prisoners in a major speech in May 2013, 36 cleared prisoners have been freed (out of 44 men in total).
This is progress, of course, but we remain concerned that 50 men approved for release are still held, five years since they were told that the U.S. no longer wanted to hold them. 43 of them are Yemenis, and seven are from other countries, including Shaker Aamer, the last British resident in the prison, whose ongoing imprisonment is a transatlantic disgrace, as nothing should be easier than putting him on a plane and sending him home to his family in the U.K., America's closest ally. The Yemenis are the victims of a reluctance, throughout the U.S. political establishment, to repatriate them because of fears about the security situation on their home country, but President Obama has finally begun addressing this, and, in recent months, 12 Yemenis have been resettled in other countries.
The second group, of men recommended for prosecution in the military commissions, originally numbered 36 men. However, all but eleven of these men had the charges against them -- or the proposed charges -- dropped, after a cataclysmic ruling, in the appeals court in Washington D.C. in October 2012, that providing material support for terrorism, the only charge against many of the men, was not a war crime at the time the legislation establishing the military commissions was passed; or, to put it another way, Congress had invented war crimes that numerous legal experts (including some government lawyers) had said would be overturned on appeal.
The 25 men whose planned prosecutions were dropped were added to another group of prisoners, the ones who the task force had recommended for ongoing imprisonment without charge or trial, on the basis that they were too dangerous to release, but that insufficient evidence existed to put them on trial. What that means, in the real world, where the law is respected, is that the so-called evidence is no such thing, and is instead a collection of unreliable information, consisting primarily of false statements made by the prisoners -- in the CIA's "black sites" as well as at Guantánamo -- extracted through the use of torture or other forms of coercion, or through bribery (with all manner of "comfort items"), or simply through becoming exhausted with non-stop interviews and giving up, telling the interrogators whatever they wanted to hear.
48 men were placed in this category by the task force, but their numbers were reduced to 46 when two of them died in 2011. That year, President Obama issued an executive order approving the detention of the 48 men, a shameful betrayal of the principles of the western legal system that was only tolerated by NGOs and crucial lawyers because the president promised that these men would have their cases reviewed on a regular basis to establish whether they should still be regarded as a threat.
The history of the Periodic Review Boards
This process -- the Periodic Review Boards -- only began in November 2013, and is proceeding with glacial slowness. From November 2013 until November 2014, just nine prisoners had their cases reviewed by the boards, which consist of representatives of the Departments of State, Defense, Justice and Homeland Security, as well as the office of the Director of National Intelligence and the Office of the Joint Chiefs of Staff.
However, in six of these nine cases, the men had their release recommended by the board, on the basis that they had demonstrated that they no longer posed a sufficient threat to continue holding. Two of these men were subsequently released, although the four others -- all Yemenis -- are still held.
As noted at the start of this article, Tariq al-Sawah, the last Egyptian in Guantánamo, was the tenth prisoner to have his case reviewed, on January 22, and he became the seventh prisoner to have his release recommended through the PRB process on February 12 .
On January 27, another Yemeni, Saeed Jarabh (ISN 235) became the eleventh prisoner to have his case reviewed by a PRB, although a decision has not yet been taken in his case, which I wrote about in a postscript to the article about Tariq al-Sawah's PRB.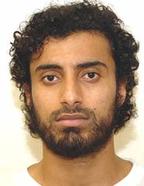 A week later, another Yemeni, Khalid Ahmed Qasim (ISN 242), became the twelfth prisoner to have his case reviewed. The government alleged that the 38-year old had traveled to Afghanistan in 1999 for military training and "may have fought for the Taliban in or near Kabul and Bagram." It was also noted that, at Guantánamo, he had "committed hundreds of infractions" against the guard force, whom he had regularly threatened, and had also been a hunger striker.
His lawyer, Clive Stafford Smith, the founder of the legal action charity Reprieve, told the review board, "Let's face it, his disciplinary record is not good." However, as the Guardian reported, he "said Qasim should be transferred because other Guantánamo Bay prisoners with disciplinary problems had been resettled without becoming security threats to the United States."
The review board also claimed that, while in detention, Qasim "has communicated regularly with family members who are involved in or sympathetic to extremist activities," and cautioned against releasing him in Yemen. However, if he were to be approved for release, he would not be repatriated, as it is clear that there is no appetite for repatriating Yemenis, and he would, instead, join the queue of his fellow countrymen waiting for new countries to be found to offer them new homes.
Below is the statement made at Qasim's hearing by his personal representatives -- military representatives who work with the prisoners to help them establish why they should be released.
Periodic Review Board
Khalid Ahmed Qasim / ISN 242
February 4, 2015
Opening Statement of Personal Representative
Good morning, members of the board. We are the Personal Representatives for Khalid Ahmed Qasim and joined with us here today is Khalid's Private Counsel, Mr. Clive Stafford Smith. This is Khalid's first PRB since his arrival to Guantánamo in May 2002. Today's PRB is in many ways a glimmer of hope for Khalid, who has expressed his detention as nearly 13-years of being lost within a deep dark hole.
Coming from a small town within an already austere and far removed country in the world and possessing little to no money or an appreciation for what he could offer, he set off to be and do something greater than himself. After hearing of the injustices being levied on Muslims in the late summer-fall of 1999 in Pakistan, Khalid traveled unaware that his influential abilities would be thwarted by the political environment to which he was ill-prepared. With his hopes abated he was informed about the persistent matters still emanating from within Afghanistan and once again traveled to help fellow Muslims that needed assistance in a land ravaged by war.
After arriving and settling in Afghanistan, Khalid worked to provide assistance to people in need. But this peaceful life would be shaken in the wake of the USS Cole attack and worse, the assassination of an influential Afghan military and political leader, Ahmad Shah Massoud. It was this latter event which caused Khalid to turn himself in, confident that he would be protected and released as he had no involvement with this attack in which the Afghan government sought anyone of Arab descent. Rather than being released as had been communicated by Afghan authorities, he was harshly interrogated and ultimately turned over to Americans and shipped to Guantánamo, where he has spent the last 4,662 days in detention. The dossier lacks any real substance or support to classify Khalid as a continuing and significant threat to the security of the United States.
Since Khalid's arrival to Guantánamo he has been driven by teaching himself numerous subjects including English and Spanish. He has broadened his cultural sensibilities by sketching, singing and writing poetry. Khalid is a peaceful man who wants nothing more than the most basic of human needs -- his freedom.
Khalid has spent most of his adult life here in Guantánamo. He is not the young man he was when he arrived in 2002, he has matured and grown and looks forward to resettling in a country that is free of turmoil and political unrest. He knows he cannot go home but has many dreams and aspirations for his new life. With the assistance of Reprieve, to which Mr. Smith will discuss in greater detail, we are confident that Khalid will thrive and improve himself in helping others despite being deprived of years which cannot be replaced.
[Clive Stafford Smith's statement is not publicly available].
Note: The next PRB is on March 3, when Mashur al-Sabri (ISN 324), a Yemeni, will have his case reviewed.