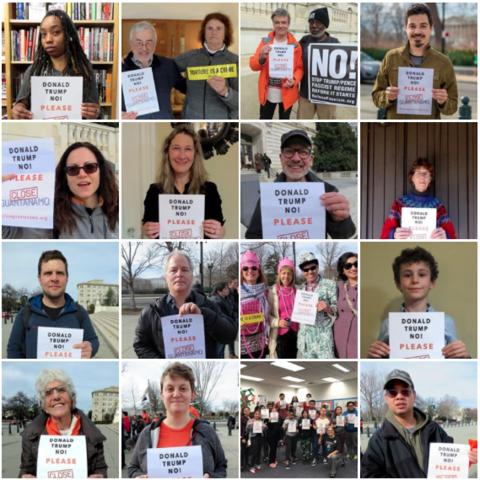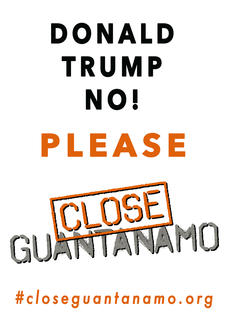 This page, set up on the day of Donald Trump's inauguration, features photos of celebrities and concerned citizens from across the United States and worldwide, telling Donald Trump to close Guantánamo, and not to keep the prison open and "load it up with some bad dudes," as he promised on the campaign trail.
The campaign follows last year's Countdown to Close Guantánamo, urging President Obama to fulfill the promise to close Guantánamo that he made on his second day in office back in January 2009. Over 700 photos were submitted during the year — see here and here.
Unfortunately, despite a spate of last-minute releases, President Obama failed to fulfill his promise, and left 41 men still held at Guantánamo — five approved for release by high-level, inter-agency U.S. government review processes, ten facing trials, and 26 others facing ongoing Periodic Review Boards to assess whether they can be released. On Jan. 25, however, the New York Times published a leaked draft executive order proposing to reestablish "black sites" and torture as official U.S. policies, to keep Guantánamo open and to "suspend any existing transfer efforts pending a new review as to whether any such transfers are in the national security interests of the United States."
Please join us in demanding that Donald Trump abandon his plans and close Guantánamo for good. Print off a poster, take a photo with it, and send it to us. We'll post the photos here, and on our Facebook and Twitter pages.
Throughout the first year of this most troubling presidency, we've generally been posting one photo every ten days, to provide maximum exposure to those taking part, and we ask again: Please join us. Let's show Trump that we know the difference between right and wrong, and demand that he closes this wretched prison that does so much damage to America's reputation, and its ability to claim that it is a nation founded on the rule of law, both at home and abroad.
The photos