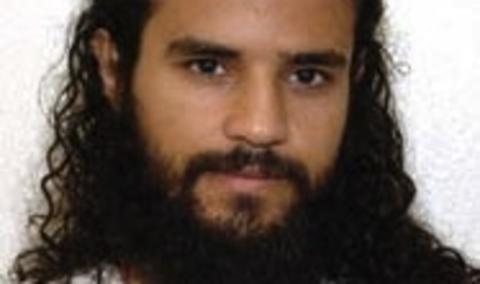 By Andy Worthington, July 20, 2015
Last Tuesday, July 14, a Yemeni prisoner at Guantánamo, Salman Yahya Hassan Muhammad Rabei'i, 36, became the 16th prisoner to face a Periodic Review Board. The boards -- which consist of representatives of the Departments of State, Defense, Justice and Homeland Security, as well as the office of the Director of National Intelligence and the Office of the Joint Chiefs of Staff -- were established in 2013 to review the cases of all the men still held who were not already approved for release, with the exception of those facing trials, based on the decisions taken by the high-level, inter-agency Guantánamo Review Task Force, which President Obama established in 2009. In its final report in January 2010, the task force recommended that 48 men should continue to be held because they were regarded as too dangerous to release, although it was also acknowledged that there was insufficient evidence to put them on trial.
This, of course, meant that the recommendation to continue holding them were based on information that did not raise to the level of evidence -- hearsay, or statements made by prisoners under torture or other forms of duress, for example. To sweeten this bitter pill, President Obama promised periodic reviews of their cases, and when the PRBs were finally established, nearly three years later, two of the 48 had died, but 25 others had been added, from the 36 men recommended for trials by the task force. These 25 were added because of a startling collapse in the legitimacy of the military commmisions, after the appeals court in Washington D.C. began dismissing convictions because the trial system relied on war crimes that were not war crimes, but had been invented by Congress.
Salman Rabei'i (ISN 508) is the 16th man to have a PRB. Of the 15 others, one case is yet to be decided, but of the 14 others, ten have been approved for release -- although only two have been freed. The rest — six Yemenis, a Saudi and an Egyptian — have merely joined the seemingly interminable queue of all the other prisoners approved for release but still held -- 44 of the 156 men approved for release by the task force back in 2009. Most are still held because they are Yemenis, and the entire U.S. establishment is unwilling to repatriate Yemenis, because of the security situation, and willing third countries must be found instead. Others, however, could be released tomorrow -- like Shaker Aamer, the last British resident, who was first approved for release in 2007, and again in 2009 by the task force.
As I explained in an article in 2010:
In Guantánamo, the authorities could not initially decide whether they thought Salman al-Rabie [as he was known by the U.S. authorities], who was 20 years old at the time of his capture, had been seized in Tora Bora, or in Jalalabad, as he claimed. By 2006, they decided that he had attended al-Farouq in August 2001, and that he was captured "coming out of the Tora Bora mountains" on December 16, 2001 "after surrendering to Afghan forces." In October 2006, however, his father told Gulf News that Salman had only traveled to Afghanistan in search of his brother, Fawaz. "I sent Salman to look for his brother and bring him back from Afghanistan, but the war broke out and he could not come back. He was detained and put in Guantánamo," he said.
In the unclassified summary for Salman's PRB, the U.S. authorities tried to portray him as "an al-Qa'ida recruit who trained with the group", but were only able to state that he "possibly fought at Tora Bora," that he "possibly attended advanced training," and that he "possibly fought against Coalition forces [in Tora Bora] before the Northern Alliance captured him in December 2001."
It was alleged that he "probably retains strong anti-U.S. sentiments and sympathizes with extremist causes, judging from statements he has made while at the Guantánamo Bay detention facility," but that is no proof of anything, as prisoners can be full of rage at the conditions of their detention, rather than it being any indicator of extremism. It was also noted that he had "voiced admiration" for his brother, Fawaz, "who was killed in a shootout with Yemeni security forces in 2006," and it was also claimed that he "has several family members who are involved in or sympathetic to extremist activities, offering him potential paths to reengagement," although these family members were not named. The authorities worried about what would happen if he were to be repatriated, but, as I noted above, that wouldn't happen if the board approved his release, as no Yemenis are being repatriated, and the entire U.S. establishment seems to agree with that course of action.
In the only other comment available on the PRB website, Salman's personal representatives -- military personnel assigned to get to know him and to represent him -- stated, "Over the last 3 months we have met with Salman for more than 30 hours, to include several meetings during Ramadan. From the beginning, he has shown enthusiastic cooperation and genuine courtesy, respect and openness with us during all of our meetings."
They also stated, "The information we have prepared will illustrate Salman's interests for his future. He is eager to be able to fulfill his role as a provider for his mother and sisters. He also longs to find a job and a wife, with whom he can start a family of his own, and to live only for the future and not dwell on the past."
Salman's attorney, David Remes, was also present, but his contribution has not been made publicly available. According to Reuters, he "said Rabei'i was eager to support his mother and sisters, get a job, marry and start a family," and, "[r]eading from a statement … said a transfer to Yemen was not realistic." Reuters also noted that "Rabei'i wore a white T-shirt and sat with his lawyer, military representative and other officials."
While we await the board's decision, it is also worth noting that three more PRBs have recently been scheduled -- a re-hearing for Fayiz al-Kandari (ISN 552), the last Kuwaiti in the prison, on July 27, and hearings for Mohammed Kamin (ISN 1045), an Afghan, on August 18, and Mansur Ahmad Saad al-Dayfi (ISN 441), a Yemeni also known as Abdul Rahman al-Zahri, on August 25.