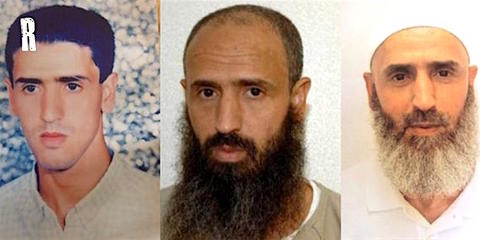 If you can, please make a donation to support our work in 2021. If you can become a monthly sustainer, that will be particularly appreciated. Tick the box marked, "Make this a monthly donation," and insert the amount you wish to donate.
By Andy Worthington, July 20, 2021
Originally posted at AndyWorthington.co.uk.
In great news from Guantánamo, the Department of Defense announced yesterday that Abdul Latif Nasser (aka Nasir), the last Moroccan national in the prison at Guantánamo Bay, has been repatriated. I've been writing about Nasser's case since I first began researching and writing about Guantánamo over 15 years ago, and in recent years his story has frequently featured in the media, not least via a six-part Radiolab series last year.
Nasser, 56, was approved for release five years and nine days ago, after a Periodic Review Board, a review process set up under President Obama, established that, to use the PRB's own studiously careful terminology, "law of war detention of Abdul Latif Nasir no longer remained necessary to protect against a continuing significant threat to the national security of the United States." As a result, as the DoD's news release explained, the board — which "consists of one senior career official from the Departments of Defense, Homeland Security, Justice, and State, along with the Joint Staff and the Office of the Director of National Intelligence" — authorized his "repatriation to his native country of Morocco, subject to security and humane treatment assurances."
Nasser's release from Guantánamo should have been straightforward, but the paperwork between the U.S. and the Moroccan government wasn't completed until 22 days before Obama left office, and, because legislation passed by Congress stipulated that lawmakers had to be informed 30 days before a prisoner release, he missed being freed by just eight days.
He then languished at the prison for another four years, under Donald Trump, when only one prisoner was released — a Saudi who had agreed a plea deal in his military commission trial, which stipulated that he had to be returned to continued imprisonment in his home country.
Today marks six months since Joe Biden's inauguration, and while it is to his administration's credit that Nasser has finally been freed, it should, in all honesty, have happened sooner.
I'm delighted that Nasser is finally going to be reunited with his family, and will hopefully be at liberty to resume life as a free man, although the Associated Press noted that, on his return, "the public prosecutor at the Court of Appeal in Rabat said the National Division of the Judicial Police in Casablanca had been instructed to open an investigation into Nasser 'on suspicion of committing terrorist acts.'" As the AP noted, the announcement "didn't specify" what those "terrorist acts" were supposed to have been, but Nasser's Guantánamo file claimed that he had been "a member of a nonviolent but illegal Moroccan Sufi Islam group in the 1980s."
Nasser's attorney in Morocco, Khalil Idrissi, said that the "judicial authorities should not 'take measures that prolong his torment and suffering, especially since he lived through the hell of Guantánamo.'" He added that he "hoped the investigation into Nasser would not 'continue to deprive him of his freedom' so he could finally 'meet his family again,'" and also said that the years Nasser spent in Guantánamo "were unjustified and outside the law, and what he suffered remains a stain of disgrace on the forehead of the American system."
As well as keeping an eye on Abdul Latif Nasser's freedom, now that he has finally been released from Guantánamo, we should also not forget that ten other men still held at Guantánamo — out of the 39 men in total who are now still held — have also been approved for release: five in recent months, under President Biden, one at the end of Trump's presidency, one in 2016, and three in 2010 under Obama's first review process, the Guantánamo Review Task Force, two of whom, by all accounts, have refused all efforts to facilitate their release, a situation that must raise concerns about their state of mind.
Of the other 29 men still held, just 12 are facing trials, or have been through the trial process, leaving 17 others as "forever prisoners," held indefinitely without charge or trial. As numerous critics of the prison's continued existence have explained in recent months — most prominently, 24 Democratic Senators who wrote a letter to Biden in April — it is unacceptable that anyone held without charge or trial should continue to be held, and, as a result, the Biden administration also needs to authorize the release of these men — through PRBs, if, as seems sadly apparent, the Civil Division of the Justice Department is as intent on defending continued imprisonment without charge or trial at Guantánamo as it has been throughout the presidencies of George W. Bush, Barack Obama and Donald Trump.
POSTSCRIPT: The New York Times has subsequently updated Nasser's story, noting that he has been allowed to return to his family home in Casablanca, and was reunited with his relatives for Eid al-Adha, the Muslim holy day known as the Feast of Sacrifice. Bernard E. Harcourt, a New York-based lawyer and law professor, who had represented him in federal court, noted that he was "ecstatic," and explained that he and his co-counsel, Thomas Anthony Durkin, had spoken to him by phone at his family home, where he was "in good spirits," and "was particularly buoyed by being reunited with extended family members who had gathered for Eid al-Adha."
In a statement, reported by ABC News, Abdul Latif Nasser said, "I was born again on July 19. My birthday is no longer March 4. I was born yesterday on July 19." He added, "I have no words to describe my overwhelming sense of happiness and joy. It is like a miracle after 20 years to be home and celebrate Eid together with my family. I want to thank everyone, all the people who worked very hard and spared no efforts to make this possible."
Hs brother Mustafa said that the family "were delighted" that Nasser was home in time for Eid al-Adha. "This is a dream for us as a family that came true at a very special moment," he said, adding, "We want to thank everyone involved who made this miracle possible. Now we would just like some peace and some time to ourselves to help our brother begin his new life in Morocco."