Gitmo Clock 2018 photos (2)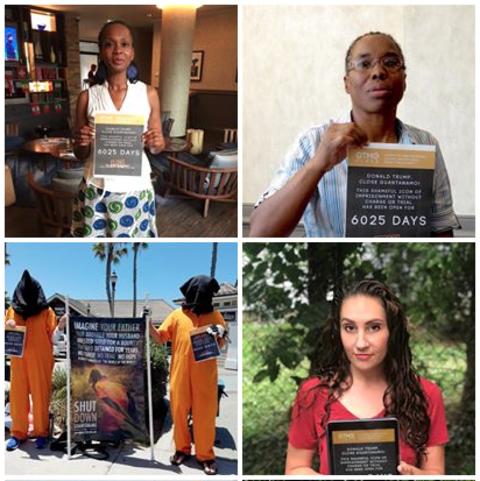 January 11, 2018 was the 16th anniversary of the opening of the "war on terror" prison at Guantánamo Bay, Cuba, and it marked 5,845 days since the prison opened. To mark this grim occasion — which ought to be a source of shame for all decent Americans and citizens of the world who respect the rule of law — we launched a new initiative: inviting opponents of Guantánamo's continued existence to take a photo of themselves holding a poster telling Donald Trump to close the prison, and marking how long it has been open. You can either print off a poster, or take a photo of it on a tablet or even on your phone.
We've been making posters available for every 25 days throughout the year, with the next poster being for 6,125 Days on Oct. 18, then 6,150 Days (Nov. 12), 6,175 Days (Dec. 7) and 6,200 Days (Jan. 1, 2019).
Feel free to take as many photos as you want with these posters and send them to us, with, if you wish, a message for Donald Trump, and if you wish, your memories of what you were doing when the prison opened on January 11, 2002.
If you can, please make a donation to support our work in 2018. If you can become a monthly sustainer, that will be particularly appreciated. Tick the box marked, "Make this a monthly donation," and insert the amount you wish to donate.