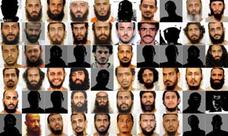 779 prisoners have been held at Guantánamo since the prison opened on January 11, 2002. Of those, 620 have been released or transferred, one was transferred to the US to be tried, and nine have died, the most recent being Adnan Latif, in September 2012.
88 of these prisoners have been released under President Obama, and although no prisoners were released for 15 months from January 2011, two Uighur prisoners (Muslims from China's Xinjiang province) were released in April 2012, another man, Ibrahim al-Qosi, who was given a two-year sentence after a plea deal in July 2010, was released in July 2012, and in September 2012, Omar Khadr, a former child prisoner, was transferred to Canada to serve the rest of the sentence he negotiated as part of plea deal in October 2010.
In August 2013, following a promise to resume releasing prisoners that President Obama made in May, after the majority of the remaining prisoners had embarked on a hunger strike to remind the world of their plight, two Algerians -- cleared for release in January 2010 by the inter-agency Guantánamo Review Task Force that President Obama established when he took office in January 2009 -- were released, and in December 2013 two more Algerians were repatriated -- although these two men didn't want to go home -- and two Saudis were then released.
These releases were then followed by the repatriation of two Sudanese prisoners -- Noor Uthman Muhammed, as the result of a plea deal in February 2011, and Ibrahim Idris, who had been cleared for release by the task force, but whose eventual release was ordered by a judge after the Justice Department failed to contest his habeas corpus petition, accepting that he was severely mentally ill.
At the end of 2013, three more men were given new homes in Slovakia -- the last of the 22 Uighurs (Muslims from China's oppressed Xinjiang province) whose release into the U.S. had been ordered -- but then overturned -- by a judge in October 2008.
In March 2014, another Algerian -- Ahmed Belbacha -- was repatriated, and on May 31, 2014, five Taliban prisoners were released, in Qatar, and under supervision, in exchange for the release of the sole U.S. prisoner of war in Afghanistan, Sgt. Bowe Bergdahl, who had been held by the Taliban-affiliated Haqqani Network since 2009.
149 prisoners now remain in Guantánamo, although it is important to remember that 75 of these men, like eleven of the twelve men released from August 2013 to March 2014, were cleared for release over four years ago by President Obama's Guantánamo Review Task Force, and they are listed below. The identities of 56 men cleared for release were made available in a document released by the Department of Justice in a court case in September 2012, and this information is also included.
Five more men, recommended for ongoing detention by the task force, have been cleared for release in recent months by Periodic Review Boards, convened to reassess the cases of those recommended by the task force for ongoing detention, or, in some cases, for prosecution, making 80 cleared prisoners in total who are still held.
Please also visit the Gitmo Clock website, which we launched in August 2013, to see the current status of the prisoners, and to call for further action from President Obama.
On June 17, 2013, the Department of Justice, in response to a FOIA (Freedom of Information Act) request, finally released the "Final Dispositions" of the Guantánamo Review Task Force, revealing the identities of the 30 other cleared prisoners (all Yemenis, and all recommended for "conditional detention," because of security fears regarding their home country), as well as the identities of 33 men recommended for trials, and 46 others recommended for indefinite detention without charge or trial. These recommendations, which we discussed here, have been added to the list below.
In March 2014, we also added information about 25 men who had been recommended for prosecution by the task force in 2010, but in April 2013 had been determined to be eligible for Periodic Review Boards. We wrote about this here, based on a list obtained through FOIA legislation by Jason Leopold of Al-Jazeera. Please note that all the prisoners recommended for continued detention will also receive PRBs.
Please also note that the numbers before the men's names are their ISN numbers (the "Internment Security Numbers" by which they are identified in Guantánamo).
026 Ghazi, Fahed (Yemen) Cleared for release but held in "conditional detention"
027 Uthman, Uthman Abdul Rahim Mohammed (Yemen) Recommended for continued detention and possible transfer to detention in the U.S. (but determined to be eligible for a Periodic Review Board in April 2013); also see: "The Seven Guantánamo Prisoners Whose Appeals Were Turned Down by the Supreme Court"
028 Al Alawi, Muaz (Yemen) Recommended for continued detention (determined to be eligible for a Periodic Review Board in April 2013); also see: "The Seven Guantánamo Prisoners Whose Appeals Were Turned Down by the Supreme Court" and "Voices from the Hunger Strike in Guantánamo"
029 Al Ansi, Mohammed (Yemen) Recommended for continued detention and possible transfer to detention in the U.S. (but determined to be eligible for a Periodic Review Board in April 2013)
030 Al Hakimi, Ahmed (Yemen) Cleared for release but held in "conditional detention"
031 Al Mujahid, Mahmoud (Yemen) Recommended for continued detention by the task force, but cleared for release by a Periodic Review Board in January 2014
033 Al Adahi, Mohammed (Yemen) Cleared for release but held in "conditional detention"
034 Al Yafi, Abdullah (Yemen) Cleared for release
035 Qader Idris, Idris (Yemen) Cleared for release
037 Al Rahabi, Abdul Malik (Yemen) Recommended for continued detention by the task force, and also recommended for continued detention by a Periodic Review Board in March 2014
038 Al Yazidi, Ridah (Tunisia) Cleared for release
039 Al Bahlul, Ali Hamza (Yemen) Convicted pre-Obama, and given a life sentence, although that conviction was overturned on appeal
040 Al Mudafari, Abdel Qadir (Yemen) Cleared for release but held in "conditional detention"
041 Ahmad, Majid (Yemen) Recommended for continued detention (determined to be eligible for a Periodic Review Board in April 2013)
042 Shalabi, Abdul Rahman (Saudi Arabia) Recommended for continued detention (determined to be eligible for a Periodic Review Board in April 2013)
043 Moqbel, Samir (Yemen) Cleared for release but held in "conditional detention"
044 Ghanim, Mohammed (Yemen) Recommended for continued detention (determined to be eligible for a Periodic Review Board in April 2013)
045 Al Rezehi, Ali Ahmad (aka Ali Ahmad Al Razihi) (Yemen) Recommended for continued detention and possible transfer to detention in the U.S. by the task force, but cleared for release by a Periodic Review Board in April 2014
063 Al Qahtani, Mohammed (Saudi Arabia) Recommended for prosecution by the task force in January 2010, but determined to be eligible for a Periodic Review Board in April 2013
088 Awad, Adham Ali (Yemen) Cleared for release but held in "conditional detention"
091 Al Saleh, Abdul (Yemen) Cleared for release but held in "conditional detention"
115 Naser, Abdul Rahman (Yemen) Cleared for release but held in "conditional detention"
117 Al Warafi, Muktar (Yemen) Cleared for release but held in "conditional detention"
128 Al Bihani, Ghaleb (Yemen) Recommended for continued detention by the task force, but cleared for release by a Periodic Review Board in May 2014
131 Ben Kend, Salem (aka Salem bin Kanad) (Yemen) Recommended for continued detention by the task force, and also recommended for continued detention by a Periodic Review Board in May 2014
152 Al Khalaqi, Asim (Yemen) Cleared for release
153 Suleiman, Fayiz (Yemen) Cleared for release
163 Al Qadasi, Khalid (Yemen) Cleared for release
165 Al Busayss, Said (Yemen) Cleared for release but held in "conditional detention"
167 Al Raimi, Ali Yahya (Yemen) Cleared for release but held in "conditional detention"
168 Hakeemy, Adel (Tunisia) Cleared for release
170 Masud, Sharaf (Yemen) Cleared for release
171 Alahdal, Abu Bakr (Yemen) Cleared for release but held in "conditional detention"
174 Sliti, Hisham (Tunisia) Cleared for release
178 Baada, Tareq (Yemen) Cleared for release but held in "conditional detention"
189 Gherebi, Salem (Libya) Cleared for release
195 Al Shumrani, Mohammed (Saudi Arabia) Recommended for continued detention; determined to be eligible for a Periodic Review Board in April 2013, his review took place in May 2014, and in October 2014 he was recommended for continued detention
197 Chekhouri, Younis (Morocco) Cleared for release
202 Bin Atef, Mahmoud (Yemen) Cleared for release but held in "conditional detention"
223 Sulayman, Abdul Rahman (Yemen) Cleared for release but held in "conditional detention"
224 Muhammad, Abdul Rahman (Yemen) Cleared for release
232 Al Odah, Fawzi (Kuwait) Recommended for continued detention by the task force, but cleared for release by a Periodic Review Board in July 2014; also see: "Justice Denied: The Stories of Fawzi Al-Odah and Fayiz Al-Kandari, the Last Two Kuwaitis in Guantánamo"
233 Salih, Abdul (Yemen) Cleared for release but held in "conditional detention"
235 Jarabh, Saeed (Yemen) Recommended for continued detention and possible transfer to detention in the U.S. (but determined to be eligible for a Periodic Review Board in April 2013)
239 Aamer, Shaker (UK-Saudi Arabia) Cleared for release; also see: "10 Years in Guantánamo: British Resident Shaker Aamer, Cleared for Release But Still Held," "EXCLUSIVE: 'I Affirm Our Right to Life': Shaker Aamer, the Last British Resident in Guantánamo, Explains His Peaceful Protest and Hunger Strike" and "EXCLUSIVE: A Demand for 'Freedom and Justice' from Shaker Aamer in Guantánamo"
240 Al Shabli, Abdullah (Saudi Arabia) Cleared for release but held in "conditional detention"
242 Qasim, Khaled (Yemen) Recommended for continued detention (determined to be eligible for a Periodic Review Board in April 2013)
244 Nassir, Abdul Latif (Morocco) Recommended for continued detention (determined to be eligible for a Periodic Review Board in April 2013)
249 Al Hamiri, Mohammed (Yemen) Cleared for release; also see: "From Guantánamo, An Innocent Man Pleads for Release"
251 Bin Salem, Mohammed (Yemen) Cleared for release but held in "conditional detention"
254 Khenaina, Mohammed (Yemen) Cleared for release
255 Hatim, Said (Yemen) Cleared for release
257 Abdulayev, Umar (Tajikistan) Cleared for release
259 Hintif, Fadil (Yemen) Cleared for release
309 Abdal Sattar, Muieen (UAE) Cleared for release
321 Kuman, Ahmed Yaslam Said (Yemen) Cleared for release but held in "conditional detention"
324 Al Sabri, Mashur (Yemen) Recommended for continued detention (determined to be eligible for a Periodic Review Board in April 2013)
326 Ajam, Ahmed (Syria) Cleared for release
327 Shaaban, Ali Hussein (Syria) Cleared for release
329 Al Hamawe, Abu Omar (aka Abdulhadi Al Faraj) (Syria) Cleared for release; also see: "Voices from the Hunger Strike in Guantánamo"
434 Al Shamyri, Mustafa (Yemen) Recommended for continued detention (determined to be eligible for a Periodic Review Board in April 2013)
440 Bawazir, Mohammed (Yemen) Cleared for release but held in "conditional detention"
441 Al Zahri, Abdul Rahman (Yemen) Recommended for continued detention (determined to be eligible for a Periodic Review Board in April 2013)
461 Al Qyati, Abdul Rahman (Yemen) Cleared for release but held in "conditional detention"
498 Haidel, Mohammed (Yemen) Cleared for release but held in "conditional detention"
502 Ourgy, Abdul (Tunisia) Cleared for release
506 Al Dhuby, Khalid (Yemen) Cleared for release but held in "conditional detention"
508 Al Rabie, Salman (Yemen) Recommended for continued detention (determined to be eligible for a Periodic Review Board in April 2013)
509 Khusruf, Mohammed (Yemen) Cleared for release but held in "conditional detention"
511 Al Nahdi, Sulaiman (Yemen) Cleared for release
522 Ismail, Yasin (Yemen) Recommended for continued detention and possible transfer to detention in the U.S. (but determined to be eligible for a Periodic Review Board in April 2013)
535 El Sawah, Tariq (Egypt) Recommended for prosecution by the task force in January 2010, but determined to be eligible for a Periodic Review Board in April 2013
549 Al Dayi, Omar (Yemen) Cleared for release but held in "conditional detention"
550 Zaid, Walid (Yemen) Cleared for release but held in "conditional detention"
552 Al Kandari, Fayiz (Kuwait) Recommended for continued detention by the task force, and also recommended for continued detention by a Periodic Review Board in July 2014; also see: "Justice Denied: The Stories of Fawzi Al-Odah and Fayiz Al-Kandari, the Last Two Kuwaitis in Guantánamo," "The Seven Guantánamo Prisoners Whose Appeals Were Turned Down by the Supreme Court" and "Voices from the Hunger Strike in Guantánamo"
553 Al Baidhani, Abdul Khaliq (Saudi Arabia) Cleared for release
554 Al Assani, Fehmi (Yemen) Cleared for release
560 Mohammed, Haji Wali (Afghanistan) Recommended for continued detention and possible transfer to detention in the U.S. (but determined to be eligible for a Periodic Review Board in April 2013)
564 Bin Amer, Jalal (Yemen) Cleared for release
566 Qattaa, Mansoor (Saudi Arabia) Cleared for release
569 Al Shorabi, Zohair (Yemen) Recommended for prosecution by the task force in January 2010, but determined to be eligible for a Periodic Review Board in April 2013
570 Al Qurashi, Sabri (Yemen) Cleared for release
572 Al Zabe, Salah (Saudi Arabia) Cleared for release
575 Al Azani, Saad (Yemen) Cleared for release
576 Bin Hamdoun, Zahir (Yemen) Recommended for continued detention and possible transfer to detention in the U.S. (but determined to be eligible for a Periodic Review Board in April 2013)
578 Al Suadi, Abdul Aziz (Yemen) Cleared for release but held in "conditional detention"
680 Hassan, Emad (Yemen) Cleared for release
682 Al Sharbi, Ghassan (Saudi Arabia) Recommended for prosecution by the task force in January 2010, but determined to be eligible for a Periodic Review Board in April 2013
684 Tahamuttan, Mohammed (Palestine) Cleared for release
685 Ali, Abdelrazak (Algeria) Recommended for prosecution by the task force in January 2010, but determined to be eligible for a Periodic Review Board in April 2013
686 Hakim, Abdel (Yemen) Cleared for release
688 Ahmed, Fahmi (Yemen) Cleared for release but held in "conditional detention"
689 Salam, Mohamed (Yemen) Cleared for release
690 Qader, Ahmed Abdul (Yemen) Cleared for release
691 Al Zarnuki, Mohammed (Yemen) Cleared for release
694 Barhoumi, Sufyian (Algeria) Recommended for prosecution by the task force in January 2010, but determined to be eligible for a Periodic Review Board in April 2013
695 Abu Bakr, Omar (Omar Mohammed Khalifh) (Libya) Recommended for continued detention (determined to be eligible for a Periodic Review Board in April 2013)
696 Al Qahtani, Jabran (Saudi Arabia) Recommended for prosecution by the task force in January 2010, but determined to be eligible for a Periodic Review Board in April 2013
702 Mingazov, Ravil (Russia) Recommended for prosecution by the task force in January 2010, but determined to be eligible for a Periodic Review Board in April 2013
708 Al Bakush, Ismael (Libya) Recommended for continued detention (determined to be eligible for a Periodic Review Board in April 2013)
713 Al Zahrani, Mohammed (Saudi Arabia) Recommended for continued detention; determined to be eligible for a Periodic Review Board in April 2013, his review took place in June 2014, and in October 2014 he was cleared for release
722 Diyab, Jihad (Syria) Cleared for release
728 Nassir, Jamil (Yemen) Cleared for release but held in "conditional detention"
753 Zahir, Abdul (Afghanistan) Recommended for prosecution by the task force in January 2010, but determined to be eligible for a Periodic Review Board in April 2013
757 Abdul Aziz, Ahmed Ould (Mauritania) Cleared for release
760 Slahi, Mohamedou Ould (Salahi) (Mauritania) Recommended for prosecution by the task force in January 2010, but determined to be eligible for a Periodic Review Board in April 2013
762 Obaidullah (Afghanistan) Recommended for prosecution by the task force in January 2010, but determined to be eligible for a Periodic Review Board in April 2013; also see: "U.S. Investigation in Afghanistan Clears Obaidullah, an Afghan Still Held in Guantánamo" and "Voices from the Hunger Strike in Guantánamo"
768 Al Darbi, Ahmed Mohammed (Saudi Arabia) Recommended for prosecution by the task force, he was charged and accepted a plea deal in February 2014, even though he had been determined to be eligible for a Periodic Review Board in April 2013
836 Saleh, Ayoub Murshid Ali (Yemen) Recommended for continued detention (determined to be eligible for a Periodic Review Board in April 2013)
837 Al Marwalah, Bashir (Yemen) Recommended for continued detention (determined to be eligible for a Periodic Review Board in April 2013)
838 Balzuhair, Shawki Awad (Yemen) Recommended for continued detention (determined to be eligible for a Periodic Review Board in April 2013)
839 Al Madhwani, Musa'ab (Yemen) Recommended for continued detention (determined to be eligible for a Periodic Review Board in April 2013); also see: "The Seven Guantánamo Prisoners Whose Appeals Were Turned Down by the Supreme Court"
840 Al Maythali, Hail Aziz Ahmed (Yemen) Recommended for continued detention (determined to be eligible for a Periodic Review Board in April 2013)
841 Nashir, Said Salih Said (Yemen) Recommended for continued detention (determined to be eligible for a Periodic Review Board in April 2013)
893 Al Bihani, Tawfiq (Saudi Arabia) Cleared for release but held in "conditional detention"; also see: "The Seven Guantánamo Prisoners Whose Appeals Were Turned Down by the Supreme Court"
894 Abdul Rahman, Mohammed (Tunisia) Cleared for release
899 Khan, Shawali (Afghanistan) Cleared for release; also see: "The Case of Shawali Khan, an Afghan Sold to U.S. Forces 10 Years Ago"
928 Gul, Khi Ali (Afghanistan) Cleared for release
934 Ghani, Abdul (Afghanistan) Cleared for release; also see: "Abdul Ghani, An Insignificant Afghan Villager Held in Guantánamo for Nine Years"
975 Karim, Bostan (Afghanistan) Recommended for continued detention and possible transfer to detention in the U.S. (but determined to be eligible for a Periodic Review Board in April 2013)
1015 Almerfedi, Hussein (Yemen) Cleared for release; also see: "The Seven Guantánamo Prisoners Whose Appeals Were Turned Down by the Supreme Court"
1017 Al Rammah, Omar (Zakaria al-Baidany) (Yemen) Recommended for continued detention and possible transfer to detention in the U.S. (but determined to be eligible for a Periodic Review Board in April 2013)
1045 Kamin, Mohammed (Afghanistan) Recommended for continued detention (determined to be eligible for a Periodic Review Board in April 2013)
1094 Paracha, Saifullah (Pakistan) Recommended for prosecution by the task force in January 2010, but determined to be eligible for a Periodic Review Board in April 2013
1103 Zahir, Mohammed (Afghanistan) Cleared for release
1119 Hamidullah, Haji (aka Ahmid Al Razak) (Afghanistan) Recommended for continued detention and possible transfer to detention in the U.S. (but determined to be eligible for a Periodic Review Board in April 2013)
1453 Al Kazimi, Sanad (Yemen) Recommended for prosecution by the task force in January 2010, but determined to be eligible for a Periodic Review Board in April 2013
1456 Bin Attash, Hassan (Saudi Arabia) Recommended for prosecution by the task force in January 2010, but determined to be eligible for a Periodic Review Board in April 2013
1457 Sharqawi, Abdu Ali (Yemen) Recommended for prosecution by the task force in January 2010, but determined to be eligible for a Periodic Review Board in April 2013
1460 Rabbani, Abdul Rahim Ghulam (Pakistan) Recommended for prosecution by the task force in January 2010, but determined to be eligible for a Periodic Review Board in April 2013
1461 Rabbani, Mohammed Ghulam (Pakistan) Recommended for prosecution by the task force in January 2010, but determined to be eligible for a Periodic Review Board in April 2013
1463 Al Hela, Abdulsalam (Yemen) Recommended for continued detention and possible transfer to detention in the U.S. (but determined to be eligible for a Periodic Review Board in April 2013)
10011 Al Hawsawi, Mustafa (Saudi Arabia) Recommended for prosecution, he was charged and pre-trial hearings are underway
10013 Bin Al Shibh, Ramzi (Yemen) Recommended for prosecution, he was charged and pre-trial hearings are underway
10014 Bin Attash, Waleed (Saudi Arabia) Recommended for prosecution, he was charged and pre-trial hearings are underway
10015 Al Nashiri, Abd Al Rahim (Saudi Arabia) Recommended for prosecution, he was charged and pre-trial hearings are underway
10016 Zubaydah, Abu (Palestine-Saudi Arabia) Recommended for prosecution by the task force in January 2010, but determined to be eligible for a Periodic Review Board in April 2013
10017 Al Libi, Abu Faraj (Libya) Recommended for prosecution by the task force in January 2010, but determined to be eligible for a Periodic Review Board in April 2013
10018 Al Baluchi, Ammar (Ali Abd Al Aziz Ali) (Pakistan-Kuwait) Recommended for prosecution, he was charged and pre-trial hearings are underway
10019 Isamuddin, Riduan (Hamlili) (Indonesia) Recommended for prosecution by the task force in January 2010, but determined to be eligible for a Periodic Review Board in April 2013
10020 Khan, Majid (Pakistan) Recommended for prosecution, he accepted a plea deal in February 2012
10021 Bin Amin, Modh Farik (Zubair) (Malaysia) Recommended for prosecution by the task force in January 2010, but determined to be eligible for a Periodic Review Board in April 2013
10022 Bin Lep, Mohammed (Lillie) (Malaysia) Recommended for prosecution by the task force in January 2010, but determined to be eligible for a Periodic Review Board in April 2013
10023 Dourad, Gouled Hassan (Somalia) Recommended for continued detention and possible transfer to detention in the U.S. (but determined to be eligible for a Periodic Review Board in April 2013)
10024 Mohammed, Khalid Sheikh (Pakistan-Kuwait) Recommended for prosecution, he was charged and pre-trial hearings are underway
10025 Malik, Mohammed Abdul (Kenya) Recommended for continued detention (determined to be eligible for a Periodic Review Board in April 2013)
10026 Al Iraqi, Abd Al Hadi (Iraq) Recommended for prosecution and charged, even though he had been determined to be eligible for a Periodic Review Board in April 2013
3148 Al Afghani, Haroon (Afghanistan) Recommended for prosecution by the task force in January 2010, but determined to be eligible for a Periodic Review Board in April 2013
10029 Rahim, Muhammad (Afghanistan) Recommended for continued detention and possible transfer to detention in the U.S. (but determined to be eligible for a Periodic Review Board in April 2013)