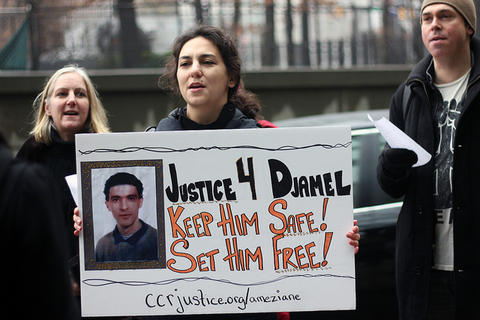 By Andy Worthington, December 8, 2013
Here at "Close Guantánamo," we are disappointed to hear that Djamel Ameziane and Belkacem Bensayah, two Algerian prisoners at Guantánamo -- amongst 84 men who have long been cleared for release -- were repatriated last week. We are disappointed because both men did not wish to return home, as they fear ill-treatment by the government and threats from Islamist militants, and yet sustained efforts were not made to find new homes for them. We are also disappointed that other cleared prisoners, who do not fear repatriation, continue to be held.
Lawyers at the New York-based Center for Constitutional Rights, who represent Djamel Ameziane, have been fighting his enforced repatriation for years, taking his case to the Inter-American Commission on Human Rights (IACHR), which, last year, issued a damning verdict on the US government's detention policies at Guantánamo. Ameziane's lawyers also devoted a considerable amount of time to seeking a third country that would offer him a new home instead. However, as the New York Times noted in a powerful editorial criticizing the Obama administration for repatriating Ameziane and Bensayah:
The Obama administration continued to block his release to anywhere but Algeria, even after Luxembourg expressed interest in resettling him. During a 2009 hearing, Federal District Judge Ellen Segal Huvelle told government lawyers she was "appalled" at the situation.
"I don't know why in the world the only thing that the government can see here is Algeria," she said. "I think it's our duty to try to do something about these people down there and not just say, OK, go to where you came from."
As I explained in an article last week after the Wall Street Journal first reported the plans to repatriate the two men, Djamel Ameziane, 46, a Berber, fled Algeria more than 20 years ago, to avoid the bloody civil war that engulfed his homeland, and tried to settle in Austria and Canada. However, although he worked successfully as a chef, he ran up against hostile immigration policies in both countries. Like many essentially stateless refugees in the years before the 9/11 attacks, he ended up in Afghanistan because the country welcomed Muslims and he had nowhere else to go.
Ameziane was seized after 9/11 like many other innocent men in Afghanistan or Pakistan. Many of these men were actually sold to the U.S. by their Afghan and Pakistani allies. who were enticed by bounty payments of $5,000 a head for foreigners who could be passed off as al-Qaeda or Taliban members.
As the New York Times explained in its editorial, Ameziane filed a habeas corpus petition seeking his release in 2005, "but the case was postponed indefinitely, even though the government never alleged that he was engaged in terrorist activities." The Times also noted that in late 2008 the Bush administration "admitted that there were no longer any 'military rationales' for detaining him and cleared him for transfer." He was also cleared for release in January 2010 by the high-level, inter-agency Guantánamo Review Task Force that President Obama established shortly after taking office in January 2009 -- the task force that cleared 82 of the other prisoners still held.
Belkacem Bensayah, 51, had been living in Bosnia, where he had married a Bosnian woman, and had two daughters. In October 2001, he and five others were targeted by the U.S. authorities in connection with an alleged plot to blow up the U.S. embassy in Sarajevo. This turned out to be groundless allegation, but the Bush administration forced the Bosnian government to arrest and investigate the men. After the Bosnian authorities had investigated the man and turned up no evidence of a plot, U.S. agents kidnapped them as they were freed, in January 2002, and flew them to Guantánamo.
In November 2008, five of the six men had their habeas corpus petitions granted by a U.S. judge, although Bensayah's habeas petition was turned down on the basis of allegations by the U.S. that were later abandoned. The appeals court in Washington D.C. later granted his appeal, and ordered the lower court to reconsider his habeas petition, but in the meantime he too had been cleared for release by President Obama's Guantánamo Review Task Force, although the U.S. authorities had no desire to send him back to Bosnia.
Robert Kirsch, one of his lawyers, told Jess Bravin of the Wall Street Journal that Bensayah wanted to be "returned to Bosnia, where his wife and daughters are citizens and still live, or some third country where he could be reunited with his family," and not to Algeria. However, a U.S. official responded by telling Bravin that "Washington's preference is to repatriate detainees to the country where they are citizens," which might be a useful general rule, but is not one that should be applied to men who have good reasons for not wanting to be repatriated.
As the New York Times' editorial concluded, "In a speech in May, Mr. Obama rightly observed that Guantánamo 'has become a symbol around the world for an America that flouts the rule of law.' He does not help matters by forcibly returning detainees to countries where they reasonably fear for their safety."
Responding to the news, lawyers for the men expressed dismay. Wells Dixon of the Center for Constitutional Rights, who has spent years trying to find a new home for Djamel Ameziane, told the New York Times, "I think that these guys are numbers on a spreadsheet for the State Department. I think the State Department doesn't care if it ruins their lives." CCR Executive Director Vince Warren said, "At a time when Congress is moving toward easing restrictions on detainee transfers, the Obama Administration is moving in the wrong direction. Djamel Ameziane's forced transfer is a serious political and diplomatic misstep that underscores the sad reality that the administration has no serious plan to close Guantánamo."
CCR added that Ameziane "has a pending application for resettlement in Canada, where he has family members who are citizens, and is sponsored by the Anglican Diocese of Montreal," and also noted Luxembourg's offer to resettle him, adding that other countries "have expressed similar interest including very recently." As CCR's news release explained, "He could be living a quiet, free life in Europe or Canada, but instead is now in secret detention in Algiers."
Mark Fleming, one of Belkacem Bensayah's lawyers, said, "Mr. Bensayah was adamant that he would rather stay at Guantánamo than return to Algeria, not only because he wanted to be reunited with his family in Bosnia after 12 years apart, which now seems increasingly difficult -- if not impossible -- but he also feared he would be a target for actual extremists in Algeria."
Fleming added that Bensayah's legal team had tried to get Bosnia to take him back, because his wife and daughters still live there, but the Bosnian government has revoked his citizenship, and was not interested in reinstating it. As the New York Times described it, he said the U.S. "should have tried harder to get another European country to take him."
In addition, Robert Kirsch told the Los Angeles Times that "U.S. officials inquired years ago about sending him to Europe so he could reunite with his wife and two daughters," but added that the U.S. government had "not tried again recently." He also explained that Bensayah is from southern Algeria, where the security situation is poor, meaning that there is a risk for him in his home village. He also noted that, when the Pentagon announced his repatriation, their news release transposed his first and last names. "He is still just a number to them," he said.
In its article after the men's repatriation, the New York Times also noted that Ian Moss, a spokesman at the State Department for Guantánamo transfer issues, "defended the decision to repatriate the two men against their will." He said the U.S. "had previously repatriated 14 other Algerians," and was "satisfied that the Algerian government would continue to abide by lawful procedures and uphold its obligations under domestic and international law in managing the return of former Guantánamo detainees."
This is not strictly true, as Aziz Abdul Naji, who was forcibly repatriated in 2010, was imprisoned upon his return, and was tried and convicted in January 2012 of "belonging to a terrorist group abroad," and given a a three-year prison sentence.
Moss also told the New York Times that "resettling Mr. Ameziane in another country was not a 'viable' option," but did not explain why, and I believe that, in fact, the only reason Ameziane was forcibly repatriated was because the U.S. -- like the U.K. -- has a long-standing willingness to repatriate Algerians who have ended up being accused of terrorism -- however groundless those claims may be -- and it is also apparent that both the U.S. and the U.K. want to keep the Algerian regime sweet because of Algeria's plentiful supply of gas and oil.
Describing what will happen now, Wells Dixon told Politico, "My understanding is [Ameziane] will remain in secret detention for perhaps about two weeks, maybe even longer, and after that likely be subject to some kind of a trial for unspecified offenses. It's that trial where he's really going to face a serious risk of persecution. The Algerian judicial system is not independent from the state security services."
President Obama's national security adviser, Susan E. Rice, also spoke about the two men's repatriation on Wednesday as part of President Obama's renewed efforts to close Guantánamo, and said, "We expect to announce more transfers in the near future."
With 162 men remaining at Guantánamo, 82 of whom were cleared for release by the Guantánamo Review Task Force, it is to be hoped that future releases will be of people who want to be repatriated, or for whom suitable third countries are found if they cannot be safely repatriated. Before the men's repatriation, Andrea Prasow of Human Rights Watch stressed that it was unacceptable that, "while the U.S. moves to forcibly repatriate the Algerians, cleared detainees from other countries haven't been released," and as I explained in my article last week:
That is certainly true, and it needs to be asked why some of these other men -- including Shaker Aamer, the last British resident in the prison, for example -- are not freed instead of the unwilling Algerians. Other prisoners long cleared for release -- five Tunisians; the Mauritanian Ahmed Ould Abdel Aziz; Salem Gherebi, a Libyan; Saad Qahtani, a Saudi; and Ibrahim Idris, a severely mentally ill Sudanese prisoner -- also need to be freed.