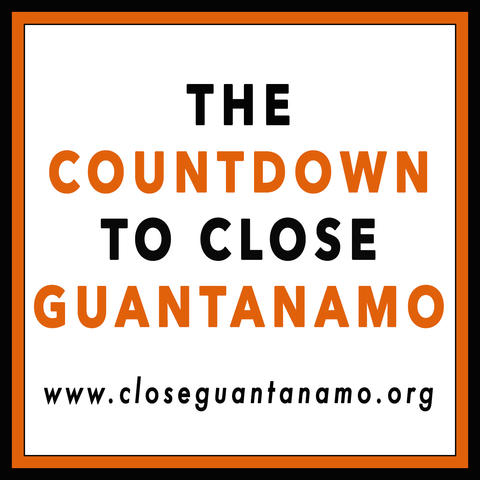 Please support the "Countdown to Close Guantánamo"
Monday January 11 was the 14th anniversary of the opening of the prison at Guantánamo Bay, and the start of its 15th year of operations. This is an anniversary that should never have come to pass, and 2016 must be the year that the prison is finally closed for good.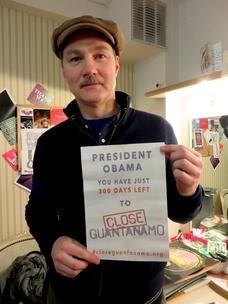 Please join us in calling for the closure of the prison by the end of the Obama presidency by taking part in the "Countdown to Close Guantánamo." Print off the latest poster, marking 100 days until the end of the Obama presidency, which is on Oct. 11, take a photo holding it, send it to us, and we'll put it up here, on our public photo page, and on our social media pages (see Facebook and Twitter), along with photos of our celebrity supporters. You can also send us a message for President Obama to accompany your photo, if you wish, and you can also let us know where you are (your country and your town or city) if you want.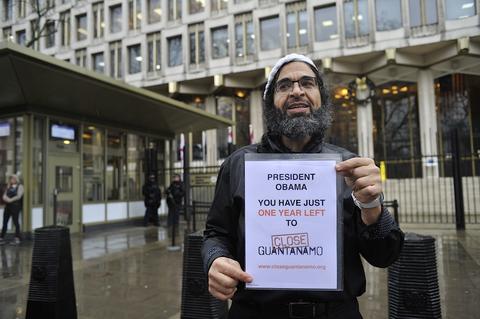 Please see the Celebrity Photos page for photos of our celebrity supporters, including music legend Roger Waters (ex-Pink Floyd), the musician and producer Brian Eno, David Morrissey, Juliet Stevenson, Clive Stafford Smith of Reprieve, and former Guantánamo prisoners including Shaker Aamer (shown above outside the U.S. Embassy, in a photo by Stefano Massimo). Others will be following soon! Also see the first Public Photos page for photos from 1 year to 300 days, the second page for photos from 250 days and 200 days, and the third page for photos from 150 days, plus messages to President Obama from concerned members of the public from the U.S. and around the world. We are delighted to report that, after we marked 150 days until the end of the Obama Presidency, on August 22, over 450 photos had been submitted by supporters of the campaign.
See the video below of Roger Waters and Andy Worthington announcing the launch of the "Countdown to Close Guantánamo" on Democracy Now! with Amy Goodman.
Roger and Andy also spoke about the "We Stand With Shaker" campaign that Andy co-founded in 2014 with the activist Joanne MacInnes, which Roger also supported. The campaign aimed to secure the release from Guantánamo of Shaker Aamer, the last British resident in the prison, who was freed in October.
Please also visit, like, share and retweet the Gitmo Clock, an initiative we originally launched in 2013. The clock counts how many days, hours, minute and seconds President Obama has left to close Guantánamo, and it was relaunched on April 24, 2016, when there were 270 days for Obama to close the prison.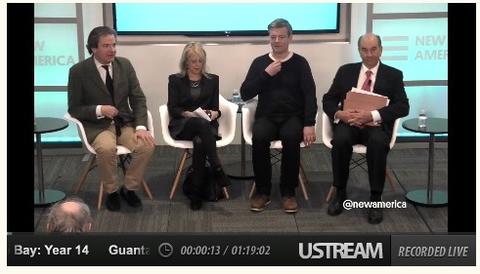 On January 11, Tom Wilner and Andy Worthington (who were photographed above with the academic Karen Greenberg and moderator Peter Bergen), discussed how Guantánamo can be closed at New America in Washington, D.C. You can watch the video here, and please also watch the video below of Andy calling on President Obama to fulfill his promise to close the prison outside the White House, at the annual protest involving over a dozen rights groups including "Close Guantánamo."
Who we are and why we care
We are a group of lawyers, journalists, retired military personnel and concerned citizens seeking to close the "war on terror" prison at Guantánamo Bay, where 61 men are still held, even though 20 of them have been cleared for release.
The prison at Guantánamo Bay is an abominable experiment in indefinite detention, which poisons America's claim to be a nation that believes in justice. Of the 20 men still held but approved for release, seven have been waiting to be freed for six years, which is unforgiveable, and 13 others have been approved for release, between January 2014 and August 2016, by Periodic Review Boards, a process established in 2013 to review the cases of all the prisoners not already approved for release or facing trials.
Just ten men are facing or have faced trials, and eight others are awaiting the results of Periodic Review Boards. These men, disgracefully, were either recommended for prosecution until the military commissions largely collapsed under judicial scrutiny, or were described as "too dangerous to release" when President Obama's task force reviewed their cases in 2010, even though it was acknowledged that insufficient evidence existed to put them on trial; in other words, it was not evidence at all, but profoundly unreliable information derived through the use of torture, abuse and the bribery of other prisoners.
Please visit our project launched at the end of 2015 -- the first detailed annotated list of all the men facing Periodic Review Boards, which, to date, have approved 33 men for release, while approving the ongoing imprisonment of 23 others (a success rate for the prisoners of 59%), and please read our article introducing the list. And check out our article from January about the PRBs, as two more men were approved for release, and two others sought their freedom, and our latest articles -- one in March looking at the PRB for Saifullah Paracha, a Pakistani businessman kidnapped in Thailand in 2003, and two others in April, the first looking at the review board's decision to continue holding a Yemeni, in which Andy looked at the pros and cons of the entire process, and the second looking at the PRB for Obaidullah, an insignificant Afghan whose case we first looked at in 2012, and who was finally recommended for release in May 2016. In June, Andy also wrote about the PRB for Mohamedou Ould Slahi, Mauritanian citizen, torture victim and best-selling author, and in July about the release of three prisoners. In July, Andy also wrote about Mohamedou Ould Slahi being approved for release, along with an Afghan, Abdul Zahir.
Also, please look at our updated prisoner list, identifying the 61 men still held, and incorporating the decisions about whether they should be freed, tried or held indefinitely. These decisions were made by the Guantánamo Review Task Force in 2010, but were only made public in June 2013, as discussed in our article, "The Guantánamo Review Task Force's Decisions on Who to Release, Who to Try and Who to Hold Indefinitely Are Finally Released."
Please also read "Close Guantánamo" co-founders Tom Wilner and Andy Worthington's op-ed for the Chicago Tribune, "Dispelling the myths of Guantánamo Bay," and Andy's article promoting it, which provides further information about the false recidivism claims that are relied upon by lawmakers who support the continued existence of Guantánamo, like Sen. Tom Cotton and others.
To ask President Obama to continue releasing prisoners from Guantánamo, call the White House on 202-456-1111 or 202-456-1414 or submit a comment online.
You can also call the Department of Defense and ask Defense Secretary Ashton Carter to issue certifications for other cleared prisoners, as required by law: 703-571-3343.
You can also encourage your Senators and Representatives to support President Obama's efforts to close the prison. Find your Senators here, and your Representatives here.
With President Obama's second and final term in office in its final year, his legacy is being written, and he needs to make good the promise to close Guantánamo that he made over seven years ago, on his second day in office in January 2009. While the prison remains open, it continues to undermine America's values and national security.
Join us now to help end this injustice and restore the rule of law. We call on President Obama to honor the principled and pragmatic commitment he made to close Guantánamo. Your voice matters.
Thank you for your commitment and support, and thank you for your interest in bringing this dark chapter in modern U.S. history to an end. Please see our mission statement for a more detailed analysis of why Guantánamo must be closed, and to see the list of prominent individuals and organizations who have signed it.
---