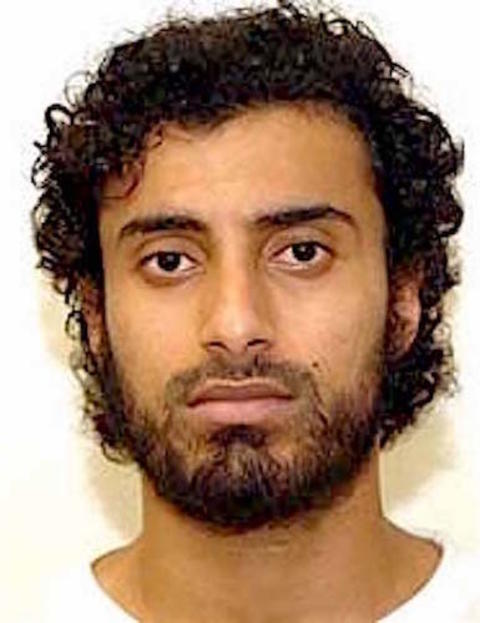 If you can, please make a donation to support our work in 2022. If you can become a monthly sustainer, that will be particularly appreciated. Tick the box marked, "Make this a monthly donation," and insert the amount you wish to donate.
By Andy Worthington, May 30, 2022
Two weeks ago, in an article entitled, The U.S.'s Ongoing "Forever Prisoner" Problem at Guantánamo, I discussed the last five men held at Guantánamo as "forever prisoners," the only men out of the 37 still held who have not been either charged with a crime (eleven of the 37), or approved for release (the remaining 21).
Most of those approved for release had those recommendations made by a Periodic Review Board, a parole-type process established under President Obama, with 16 of those decisions taking place since President Biden took office. The men in question demonstrated to the board members — comprising representatives of the Departments of Defense, Homeland Security, Justice and State, and the offices of the Chairman of the Joint Chiefs of Staff and the Director of National Intelligence — that they were contrite, and had plans for a peaceful life if released, with the board members also concluding that they did not pose a significant security threat.
For a variety of reasons, however, the five "forever prisoners" have been unable to persuade the boards to approve their release, generally through a failure to engage with the review process, and/or because of ongoing concerns about the threat they purportedly still pose.
In my previous article, I questioned, in a variety of ways, the validity of the board's assumptions, noting how, in the case of Khaled Qassim (aka Khalid Qasim), a Yemeni, "who was never anything more than a low-level fighter with the Taliban," a PRB had once more approved his ongoing imprisonment without charge or trial at the end of December, "because he wasn't regarded as compliant enough."
As I explained in my article about his previous PRB, Qassim, who has now been held for over 20 years without charge or trial, "had his ongoing imprisonment without charge or trial approved by a Periodic Review Board, not because of any crime he has committed — the board members recognised his 'low level of training and lack of leadership in al Qaida or the Taliban' — but because of his 'inability to manage his emotions and actions,' his 'high level of significant non-compliance in the last year,' and his 'lack of plans for the future if released.'"
As I also explained, "I've followed Khaled's story since I first began working on Guantánamo 16 years ago, and over the years I got to know him as a persistent hunger striker, who fought against the brutality and injustice of the prison, and who also developed as a formidable artistic talent during a brief period, under President Obama, when the prisoners were allowed to attend art classes, and, for a while, turned Camp 6 into a living art gallery." Some of his powerful paintings were more recently included in a number of exhibitions of Guantánamo prisoners' art in the U.S., as can be seen here.
In addition, "I learned even more about Khaled when former prisoner Mansoor Adayfi wrote an article about him for Close Guantánamo, which I published in March 2020. In that article, 'My Best Friend and Brother,' Mansoor explained that, as well as being an artist, Khaled was also a singer, a writer, a teacher, a talented footballer, and a cell block leader, and he quoted a Navy Commander and an officer-in-charge (OIC) in Camp 6 in 2010, who said of him, 'We like Khalid to represent all the detainees. He talks like a poet when he speaks on behalf of the detainees, and he's an easy man to deal with.'"
In my recent article, I also noted that Qassim had "another opportunity to impress a PRB" at the same time that my article was published (May 18), and while we await the board's decision based on that hearing, I thought it would be useful to post the statement submitted to the board by one of his attorneys, Mark Maher of Reprieve US.
Maher was particularly concerned to impress on the board members the fact that Qassim "is a good man, with a lot to offer this world," who is also "extraordinarily thoughtful, kind, and funny," and "humble too." Describing him also as a "fast learner and a unique talented artist," Maher also noted that he is "obviously devoted to self-improvement," adding, "I believe he will thrive when he is released."
The statement is below, and I hope that you have time to read it, and that you'll share it if, like me, you conclude that it presents a compelling case for his approval for release.
Statement by Mark Maher to Khalid Qasim's Periodic Review Board, April 18, 2022
Periodic Review Board Members,
It is my continuing privilege to represent Khalid Qasim before this board. I would like to express my appreciation for this Board's willingness to schedule another hearing so close in time to Khalid's last Board. While we were disappointed in the last result, we hope that we can eliminate any concerns that still exist.
Since we appeared so recently, I will keep my opening comments brief, and will try to avoid repeating information this Board has already heard.
But I would be doing Khalid a disservice if I did not briefly repeat what I, and each of his representatives, has said time and again: Khalid is a good man, with a lot to offer this world. I can say on behalf of all of his counsel who have represented him for well over a decade that Khalid is an extraordinarily thoughtful, kind, and funny man. And he is humble too.
After his last Board, Khalid turned to me and quietly said that I had said too much, that my statement was too complimentary. It was amazing to me that, with his freedom on the line, Khalid was concerned first with being talked about too positively.
But I can assure you all, and Khalid as well, that everything I've said before is true. He is truly a fast learner and a uniquely talented artist. He perseveres no matter how many roadblocks are put in his way. When I and my co-counsel told him about his most recent denial, he took the bad news in stride, thanked his counsel for our assistance, and immediately worked with us to plan for the next few months. Khalid approaches each new challenge with an even temper and realistic expectations.
After Khalid's last hearing, this Board expressed concern for Khalid's mental health. Reprieve's Life After Guantánamo Project has sought to allay these concerns. While I do not think Khalid suffers from any mental disorder that would make him a threat to anyone, I do understand that counselling is valuable for everyone, and particularly important for the formerly incarcerated. With that in mind, we have identified and presented to this Board multiple providers who have represented that they will provide Khalid with care when he is released, free of charge, regardless of where he is resettled.
We have likewise identified a number of work and educational opportunities in some of the locations where Khalid may be resettled. Of course, it is impossible to say exactly what work Khalid will do since his ultimate destination is still very unclear, but I hope the Board is satisfied that there are many options for employment, and we will work with Khalid to make sure he is able to support himself.
On this point, I would like to emphasize again that Khalid entered Guantánamo as one of the youngest detainees, and will leave with plenty of life left to live. And he has used his time wisely, mastering an art from and a language, and engaging with classes in Guantánamo. He is obviously devoted to self-improvement and I believe he will thrive when he is released. I am excited to be one of many people supporting him in this journey.
Finally, it would be inappropriate to not again remark on the length of Khalid's detention. He has been incarcerated for nearly 20 years, and like any person he is certainly not the same twenty-something that entered Guantánamo. The Khalid I know is a good man, who is ready to work, study, start a family, and of course paint.
I hope this Board will see fit to finally give him this opportunity.
Sincerely,
Mark Maher