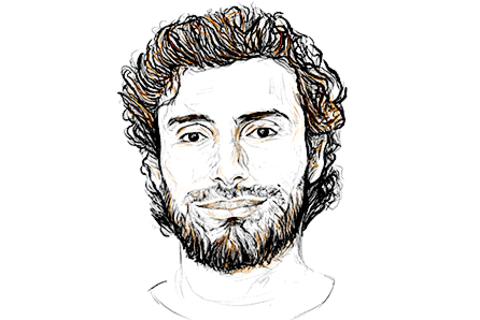 If you can, please make a donation to support our work in 2020. If you can become a monthly sustainer, that will be particularly appreciated. Tick the box marked, "Make this a monthly donation," and insert the amount you wish to donate.
March 7, 2020
Today we're delighted to be publishing a brand-new article by former Guantánamo prisoner Mansoor Adayfi, about his friend Khalid Qasim, who is one of the 40 men still held in the prison at Guantánamo Bay in its latest iteration under Donald Trump — a place without hope, cruelly and pointlessly still in existence 18 years after it first opened.
To try and shine a light on the continuing injustice of Guantánamo — and the plight of the men still held — we were delighted, two weeks ago, to publicize an exhibition of prisoners' artwork taking place at CUNY School of Law in New York, in an article entitled, Humanizing the Silenced and Maligned: Guantánamo Prisoner Art at CUNY Law School in New York. The exhibition was formally launched on February 19, and I wrote about its launch here, but my initial article focused on the work of just one prisoner, whose work had ben shown before the official launch, during my annual visit to the U.S. in January, to call for the closure of the prison on the anniversary of its opening.
The prisoner is Khalid Qasim (also identified as Khalid Qassim or Khaled Qassim), and as I was writing my article I noticed that Mansoor Adayfi had posted a message on Facebook stating, "My best friend and brother Khalid Qassim, 18 years behind bars at Guantánamo, without any charges or trial. What is enough for Trump?"
I had followed Mansoor's story at Guantánamo, up to and including his review, in September 2015, via a parole-type review process, the Periodic Review Boards, which approved his release, followed by his resettlement, in July 2016, in Serbia, which had been prevailed upon to offer new homes to prisoners who could not be safely repatriated, or, as in Mansoor's case, whose home country, Yemen, was regarded as unsafe.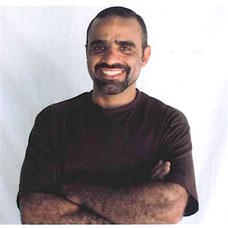 In 2017, I was wonderfully surprised when Mansoor, who had learned English in Guantánamo, wrote a powerful and moving article, "In Our Prison on the Sea," about life in Guantánamo, which was published in the New York Times, and was subsequently used as the introduction to the very first exhibition of Guantánamo prisoners' art, "Ode to the Sea: Art from Guantánamo Bay," at John Jay College of Criminal Justice in New York, which ran from October 2017 to January 2018, and included some of Khalid's art.
Mansoor and I subsequently began communicating, and in September 2018, after he had written a Facebook post describing Saifullah Paracha, Guantánamo's oldest prisoner, as "a father, brother, friend, and teacher to us all," I wrote to him to ask if he would be interested in writing more about Saifullah for "Close Guantánamo" — and was delighted when he said yes. That article, The Kind Father, Brother, and Friend for All at Guantánamo, was published in October 2018, and it was a great honor for us to be able to publish it.
And so, after I saw Mansoor's recent post about Khalid Qasim, a fellow Yemeni, I asked him if he had any comments to make about Khalid for my article, and was surprised and delighted when, a day later, he sent an entire article, which is posted below, and which I have edited only slightly. Mansoor's article clearly explains his friendship with and admiration for Khalid, as well as revealing the extent of his talents, his compassion, his leadership abilities, and the respect he is held in by prisoners and prison staff alike.
Unfortunately, while having leadership abilities — being, for example, a block leader as Khalid was — is undoubtedly appreciated on the ground by the guard force and their commanders, it tends to be looked on less favourably by those higher up the chain of command, who seem to be obsessed with regarding any kind of leadership ability as an indicator that the prisoner in question poses a threat to U.S. security and must continue to be held.
How else are we to accept that Khalid — who was never anything more than a Taliban foot soldier in Afghanistan, and whose benevolent life force has been so impressive in Guantánamo — continues to be held, 18 years and three months since his initial capture, and 17 years and ten months since his arrival at Guantánamo?
24 years old at the time of his capture, he is now 43, and wants nothing more than to finally have his long and unjust imprisonment without charge or trial brought to an end.
If you agree — and especially after reading Mansoor's moving tribute — please share it, and help us to continue to publicize the stories of the men still held at Guantánamo, and not even accused of any kind of involvement with terrorism whatsoever, in this election year. By 2021, we desperately need the kind of leadership in the U.S. that will recognize the injustice of continuing to hold men like Khalid without charge or trial, and the need for Guantánamo to be closed once and for all.
Please also feel free to make a donation to the fundraiser to support Mansoor's writing in Serbia.
- Andy Worthington
Best Friend and Brother
By Mansoor Adayfi
"We like Khalid to represent all the detainees. He talks like a poet when he speaks on behalf of the detainees, and he's an easy man to deal with."
Navy Commander and Camp 6 officer-in-charge (OIC), 2010
"Here is our Soundcloud! I love your voice; it shifts me out of here to my own world."
A female guard
"If you want things done in the best way, and in a creative way, Khalid is your man."
Omar, a former detainee at Guantánamo
"Brothers, please take it easy on Khalid, don't ask too much of him. He doesn't know how to say no."
Suhail, a detainee at Guantánamo
My brother and best friend, Khalid Qasim. I first met him in 2002, Camp 1, Golf Block. The situation in the camp was like hell, fear of the unknown, intensive interrogation, torture, and confusion. You need someone to assure you that you will be okay. The words "you will be okay" wasn't enough. Khalid has his own creative way to tell you that everything is going to be okay, and you will be okay, through his beautiful voice and singing. He started singing songs in the camp, and those words, his rhythm, and his beautiful voice brought us hope and took us to another world that's not Guantánamo. In no time he was well known as Khalid the singer.
Khalid the singer
Khalid is a caring person. He wants to make everyone feel good and happy, and always tries to make our life less miserable in the camp, either by singing, by his sense of humor, poetry, essays, or by his paintings. Besides singing in Arabic, he learned to sing in English, Russian, Pashto, Urdu, and Farsi. He makes all the nationalities (48 nationalities) who are detained at Guantánamo feel happy and to connect them to themselves. This is Khalid's special touch.
We had one night a week when we sang and told stories and shared our culture with each other, as men from all over the world, and on that night Khalid would sing for us all, in different languages. it was so beautiful to listen to his singing, I could appreciate how he changed the situation, how detainees called him from other blocks to sing for them. I could see how those detainees loved him when he sang in their language. Even the guards liked and admired him. Some called him "The Star." They also enjoyed listening to his singing, especially in English.
In no time Khalid was one of the most famous detainees in our Guantánamo world. The camp administration would punish him sometimes for singing, but Khalid never quit. When they moved him to solitary confinement for punishment, he would continue singing there.
In solitary confinement, we were in boxes made of steel — dark, cold, brightly lit, hot, with noise, sleeplessness, and hunger. Here Khalid's beautiful voice would free us every day and would tell us there is hope. Some detainees would try to meet in the recreation area to ask him to sing for them. He was always busy making others happy.
His handsome face and his kindness, his beautiful voice and his creativity would attract anyone to him.
Khalid the teacher
Khalid started early with poetry, essays, short novels, depending on his memory, and started writing things down as soon as he had a chance to get a pen and paper. He also started drawing using a pen and paper. He learned English and became proficient in writing and speaking. He became a writer in Arabic in English.
Khalid is a good teacher with patience. After learning English, he started teaching. He gave me classes in English when I started learning and would always motivate me. He held classes in Arabic and English, poetry, composing, soccer ball coaching, singing, and painting. He taught both detainees and guards. A guard we nicknamed "Khalid's student" or "Khalid's kid" spent nine months learning Arabic with Khalid, and started talking to us in the Arabic language. He taught me how to play soccer. This is a long and funny story, but I got better in the end.
Khalid the player
After ending our hunger strike in 2010, we were moved to Camp 6 to the communal living blocks. The brothers started playing soccer, and each group was looking for a good player so they could win the match. When Khalid played his first match, he scored seven goals. Detainees and guards who were watching the match started cheering for him. Guards always bet on our matches and players. Khalid had his own team and was the team captain. He won many tournaments, and had a lot of fans amongst the detainees, the guards and the camp staff. Navy guards said, "Man! This man is a pro. When he touches the ball, his playing is like a piece of music."
Playing soccer at Guantánamo was our "Game of Thrones," and was very competitive between detainees. There were many teams, and good players, and each had their own fans. And there were many injuries too, but not in a bad way.
Khalid the leader
In 2010, in Camp 6, the communal camp, each block had a block leader. Khalid was ours. The Navy Commander who was in charge of Camp 6 (the officer-in-charge, or OIC) liked Khalid, and would always try to get problems solved through Khalid, because of his good English, his understanding, and the way he handles issues.
And like other detainees who speak English, Khalid always translates between detainees and guards, camp staff, and medical staff. This is not an easy job to do because it takes a lot of time and energy.
Khalid the artist
Khalid started making art early, before the art class even started. I don't recall him going to the art class. He was already a gifted and talented artist. He started using a pen and paper, and his art is powerful and very expressive. Khalid would talk beautifully about his artwork. He gave most of his artwork to detainees, camp staff, and guards. He didn't like to turn them down. I would always argue with him that he should keep his artwork, but this is Khalid, a kind person, who loves to make others happy.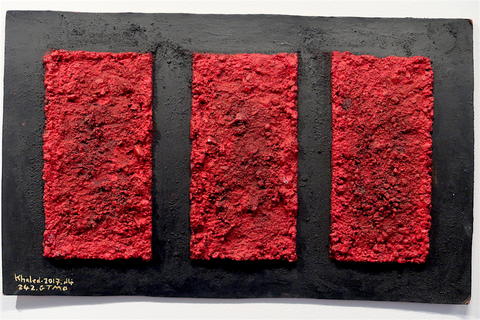 Nevertheless, Khalid is an ambitious man, who has beautiful dreams and ideas about how to start a family, and get a degree in English literature and art. He works hard at Guantánamo to prepare himself for college and to build his life when leaves. Unfortunately, the camp administration took the little he had. They took the laptop from the class, and stopped his art from leaving Guantánamo.
I don't know what the camp administration is trying to accomplish by depriving the men there from learning. I don't know what kind of men they want those detainees to be when they eventually leave Guantánamo. I hope the U.S. government will understand that it needs to help the men there to prepare themselves for the difficulties they will face after Guantánamo. From my experience, I can't escape Guantánamo. I face difficulties and hardship every day, but learning English at Guantánamo has helped me in my daily life.
I really miss Khalid. We lived years and years together and developed a strong bond of brotherhood and friendship.
I pray to Allah to hasten Khalid's release and the release of the other men detained there.
Mansoor Adayfi
Belgrade, Serbia
February 21, 2020