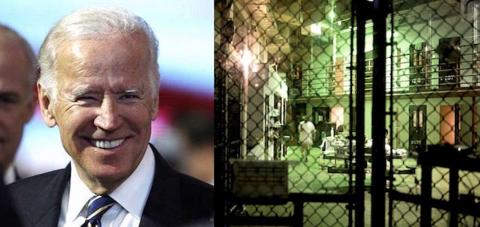 If you can, please make a donation to support our work in 2021. If you can become a monthly sustainer, that will be particularly appreciated. Tick the box marked, "Make this a monthly donation," and insert the amount you wish to donate.
By Andy Worthington, December 28, 2020
In the guessing game that is the incoming Biden administration's policy regarding the moral stain on the U.S. that is the "war on terror" prison at Guantánamo Bay, which will mark the 19th anniversary of its opening just two weeks' time, three New York Times reporters — Carol Rosenberg, Charlie Savage and Eric Schmitt — recently highlighted some of the issues that Joe Biden will have to address when he take office, in an article entitled, "'In Bad Shape and Getting Worse,' Guantánamo Poses Headaches for Biden."
The Times largely sidestepped the glaring injustice of the entire facility — where 40 men are still held, for the most part, in open-ended indefinite detention without charge or trial, in defiance of domestic and international norms regarding imprisonment — focusing instead on the prison's "decaying infrastructure" and its broken judicial system, the military commissions.
On the bigger picture, the reporters noted only that Biden "has yet to lay out plans for Guantánamo," but that, "according to people familiar with transition deliberations," his administration "is not expected to repeat President Barack Obama's splashy but ultimately unmet promise in 2009 to close the prison within a year."
Referring to the annual National Defense Authorization Act, which Republicans used to restrict Barack Obama's efforts to close the prison, the Times added, "A law prohibits bringing detainees to a domestic prison, as Mr. Obama had proposed doing," and also noted that Biden "said during his campaign that congressional consent is needed to close Guantánamo" — which may be true, although it shouldn't prevent Biden from undertaking numerous actions that will reduce the prison's population, for which Congressional approval isn't required, as discussed in particular in A Roadmap for the Closure of Guantánamo, President Elect Biden, It's Time to Close Guantánamo and A Guantánamo Insider's Detailed Proposal for How Joe Biden Can Finally Close the Prison.
The prison's "decaying infrastructure"
Regarding the prison's "decaying infrastructure," the Times article began by noting that, during tropical rains this summer and fall, "raw sewage sloshed inside the cells" of the secretive Camp 7, where 14 "high-value detainees" are held, mostly since George W. Bush moved them from CIA "black sites" in September 2006.
Based on what the prisoners told their lawyers, the Times stated, "It was a problem for prisoners and guards alike. Power flickered off and on. Toilets overflowed. Water suddenly became scalding hot. Cell doors got stuck." Brig. Gen. John G. Baker of the Marines, the chief defense counsel for military commissions, who recently, after two weeks of quarantine at the base, "became the first defense lawyer to meet with a prisoner in person during the coronavirus pandemic," said, "Camp 7 is in bad shape, getting worse. There has been maintenance done that doesn't seem to fix things. Walls are cracked. You can see light in the walls between the cells. The floor is cracked. The water is inconsistent and hot."
As the Times reported, "One solution under consideration, according to people familiar with internal deliberations, is to close Camp 7 and move the former CIA prisoners to the main prison complex while still segregating them in a special housing unit, where they would be unable to communicate with the general population of 26 lower-level detainees."
This would allow the military to reduce the numbers of guards and other personnel — currently 1,500 — which would also reduce the prison's costs; currently 14 million dollars per prisoner per year, a figure that, as the Times noted, is "more than 150 times what taxpayers pay per domestic terrorism inmate."
That, however, "would require the approval of the CIA, which has a say in operations at Camp 7 through a memorandum of agreement signed in 2006 by Donald H. Rumsfeld and Michael V. Hayden, the defense secretary and the CIA director at the time." As the Times added, "The details remain largely classified, but the role of the agency at Camp 7 has permitted the CIA to control the flow of information from and about the prisoners — their memories of torture at the black sites, where they were held and by whom — through classification, segregation, surveillance and a specially trained unit of guards called Task Force Platinum."
As the Times also noted, "Certain details have emerged through declassification, leaks and military commissions hearings," but, disgracefully, "some CIA secrets remain." The Times also pointed out that the government "treats even the location of Camp 7 as a secret, although the facility, tucked away in the hills northwest of the main compound, is clearly visible in satellite photographs."
The consolidation plan, the Times explained, emerged after Congress repeatedly rejected a request by the Pentagon for a new, wheelchair-accessible Camp 7, "as part of a 25-year plan based on the assumption that, because Congress blocked the Obama administration's plan to close the prison, some detainees would grow old and die at Guantánamo Bay" — although lawmakers had no qualms about funding "a new $124 million dormitory-style barracks for about 850 prison guards, which is now being built across the street from the base McDonald's."
Moving the Camp 7 prisoners to Camps 5 and 6 would allow them access to "a clinic, including a mental health unit with a padded cell, a dental chair for the general population of prisoners and an intensive care unit with capacity to medically isolate up to four patients at a time," but Adm. Craig S. Faller, who oversees the prison as the head of U.S. Southern Command, "declined to discuss the details beyond describing consolidation as part of a 'right-sizing' approach to troop deployments at the prison," which can only move forward as "a policy decision."
Rethinking the "dysfunctional" military commissions
The Times also noted that a "particularly thorny policy question facing the Biden administration is whether to rethink the military commissions system setup to try the detainees who have been charged," adding that the trial system "has moved at a glacial pace that has rendered it all but dysfunctional," an analysis that would have been no less correct, and would have had much more power, had the reporters simply described it as "dysfunctional" rather than "all but dysfunctional."
As they proceeded to explain, "Eight years after their arraignment, the death-penalty trial of Mr. Mohammed and four other men accused of conspiring in the Sept. 11 terrorist attacks, which killed nearly 3,000 people, remains stuck in pretrial hearings. Year after year, prospects for what could be a very lengthy trial — even before years of inevitable appeals — keep receding; the latest delays, partly caused by travel restrictions during the coronavirus pandemic, mean the trial cannot begin before the 20th anniversary of the attacks." They might also have added that the relentless churn of judges also contributes massively to the delays.
As the Times proceeded to explain, federal courts "have proved far more effective at bringing terrorists to trial and obtaining convictions that withstand appeal; but each year, Congress prohibits the transfer of detainees from Guantánamo to the mainland for any reason — not for a trial or medical care, nor to serve time on a sentence or even for execution."
Another way to break the deadlock would be to accept plea deals, although that would involve the government "giving up on seeking the execution of the accused 9/11 conspirators," and as the Times noted, Jim Mattis, Trump's first defense secretary, "fired the top lawyers overseeing the military commissions in 2018 while they were exploring the possibility of exchanging guilty pleas for life in prison."
Part of the problem for the government, according to people familiar with the discussions at the time, was that "defense lawyers had been seeking assurances that the defendants could serve their life sentences at Guantánamo rather than in the harsher, isolating 'supermax' prison at Florence, Colo., where men convicted in federal court of terrorism crimes typically serve time." For a system built on the notion of the harshest punishment possible, this was obviously anathema, but maybe it could be revived without life sentences at Guantánamo being an option; after all, as the Times noted, otherwise "the Guantánamo prison would most likely have to remain open for decades — and the Pentagon would again be confronted with the question of whether to build a facility capable of geriatric and end-of-life health care."
A "tentative hope" for the "forever prisoners"
On another front, Julian Borger for the Observer noted, in an article on December 13, that "Guantánamo's last inmates detect a glimmer of hope after 19 years inside."
Borger quoted Khalid Qassim, a Yemeni seized in Afghanistan in December 2001, who is one of 26 of the 40 men still held who are regarded by responsible media outlets as "forever prisoners," their ongoing imprisonment approved, on a regular basis, by Periodic Review Boards, panels of officials who assess whether or not they still constitute a threat to the U.S.
Qassim, who we have written about extensively (see here and here), told his lawyer by phone, "I think it's OK for me to be happy about the result. But at the same time, it's not like, day one, Biden is going to say 'let's release Khalid.'" He added, "A lot of the detainees are feeling better. It's a relief, you know? We know nothing will happen on day one, but at least our cases won't be stagnant, we won't be totally forgotten."
As Borger noted, "How far the Biden administration will go to extricate Qassim and his fellow inmates from the judicial black hole established in Guantánamo in 2002 will say a lot about the president-elect's determination to break with the past, and with the counter-terrorism response to the 9/11 attacks, that has shaped U.S. foreign and security policy ever since."
He noted that, to date, Biden "has said very little about his plans for Guantánamo, other than restating his intention to close it." In June, his campaign team put out a statement stating that the prison's existence "undermines American national security by fuelling terrorist recruitment and is at odds with our values as a country" — a position very similar to that taken by Barack Obama — but all a transition official told the Observer, as an update, was that "[t]he president-elect stands by that."
Maya Foa, the director of the advocacy group Reprieve, told the Observer, "For four years, Guantánamo policy has essentially been set by a Trump tweet, posted before he was even in office, saying there should be no more releases. The first thing Joe Biden should do is resume the transfer process."
This involves releasing five men approved for release under Obama, but still held when Trump took office, and a sixth man just approved for release by a PRB, probably via the Office of the Envoy for Guantánamo Closure, which was mothballed by Donald Trump.
The Observer also made reference to the position taken by Benjamin Farley, a Guantánamo defence lawyer who worked in the State Department office negotiating transfers in the Obama administration, whose article we cross-posted as A Guantánamo Insider's Detailed Proposal for How Joe Biden Can Finally Close the Prison, who proposed that "up to 30 of the prisoners could be repatriated or resettled by reviving the mechanisms that Trump dismantled, without needing permission from Congress," partly by "reframing the criteria used by the PRB in assessing whether continued detention is 'necessary to protect against a significant threat to the security of the U.S.'"
As Borger described it, "At present the PRB operates like a parole board, looking for signs of contrition. Instead, Farley argues, it should give favourable weight to each prisoner's likely future threat in terms of their age, mental and physical state, and to whether a detainee has been subjected to torture."
We're pleased that Benjamin Farley's proposals are being discussed, and we hope that the Biden administration is amenable to suggestions about how it can significantly reduce Guantánamo's population without even needing to involve Congress. Nearly 19 years after the prison opened, it is, to be blunt. time for the U.S. to accept that anyone who isn't going to be charged should be released, and those who are charged should be tried in a functional judicial system.