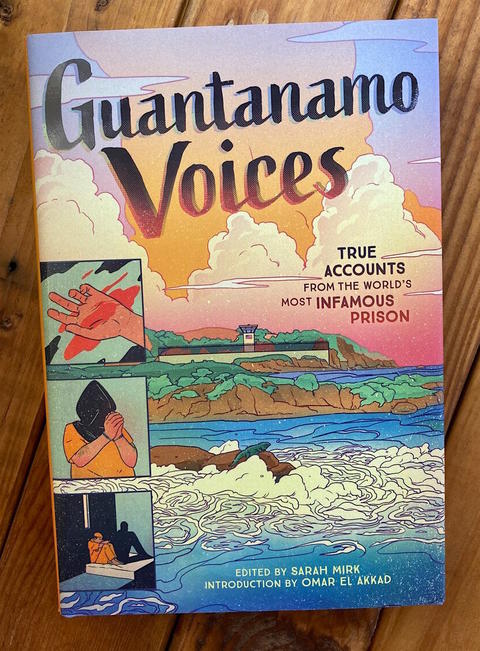 If you can, please make a donation to support our work throughout the rest of 2020. If you can become a monthly sustainer, that will be particularly appreciated. Tick the box marked, "Make this a monthly donation," and insert the amount you wish to donate.
By Andy Worthington, October 12, 2020
I have nothing but praise for "Guantánamo Voices: True Accounts from the World's Most Infamous Prison," a brand-new book, just published by Abrams, which was written by Portland-based multi-media journalist Sarah Mirk, and illustrated by a number of talented graphic artists.
I should say upfront that I was the fact checker for the book, having been in contact with Sarah for many years. In 2018, I appeared, in comic book form, illustrated by the Australian artist Jess Parker, in Guantánamo Bay is Still Open. Still. STILL!, a story in the comics anthology magazine The Nib, for which Sarah is an editor, based on an interview she had conducted with me in October 2017.
Previously, I had met Sarah in London in January 2009, when she came to the U.K. with former Guantánamo guard Chris Arendt for an extraordinary tour of the U.K., also featuring former prisoner and British citizen Moazzam Begg (released in 2005) and other ex-prisoners, called "Two Sides, One Story," which was organized by the advocacy group Cageprisoners (now CAGE).
In telling "true accounts" from Guantánamo, Sarah visited the prison on a media tour in 2019, and interviewed nine individuals who know it well: Moazzam Begg and another former prisoner, Mansoor Adayfi, a Yemeni resettled in Serbia in 2016, who has established himself as a talented writer; three lawyers (our co-founder Tom Wilner, who represented the prisoners in their Supreme Court cases in 2004 and 2008, Alka Pradhan, who is part of the defense team for Ammar al-Baluchi, one of five men accused of involvement in the 9/11 attacks, and Shelby Sullivan-Bennis, who represents a number of the men still held), as well as Katie Taylor of Reprieve, who heads up the legal NGO's "Life After Guantánamo" project, Col. Morris Davis, the former chief prosecutor of the military commissions, who resigned when asked to defend the use of torture, Mark Fallon, the former director of the Criminal Investigative Task Force, which was responsible for interrogations at Guantánamo, who has since become an implacable critic of the prison, and Navy lawyer and whistleblower Matthew Diaz.
All of them provide poignant and powerful accounts of their experiences, which are brought vividly to life by the artists. Particularly noteworthy is the book's rich "sunset tones" color palette, permeating the entire project and giving it a unique feel, which was envisioned by Sarah, and brought to life by the artist Kasimir Lee.
In a press release to accompany the book's release, Sarah spoke of how meeting Chris Arendt brought Guantánamo to life for her. Before this, she said that it "didn't feel like a real place, full of real people," adding, "That obscurity is by design. As I learned more about Guantánamo, I realized that the government didn't want us to understand who was imprisoned there or to think of them as actual people. In the stories told by high-ranking government officials, the detainees were dehumanized terrorists — people so violent and savage in their anti-American hatred that they would chew through the fuel lines of an airplane, given the chance. They were so vicious that they couldn't possibly be put on trial in regular American courts. In the language of the U.S. government, Guantánamo isn't a prison, and the people there aren't prisoners — they're 'detainees' in a safe, humane, and legal 'detention facility' that has held hundreds of people from around the world without trial for 18 years."
As Sarah also explained, "The goal of 'Guantánamo Voices' is to challenge these false narratives and change the way Americans understand Guantánamo. Sharing the experiences of people who have worked at the prison or been held there reveals the lies that the U.S. government used to create and maintain the prison in the years after 9/11. These myths are rooted in racism, xenophobia, and Islamophobia. It's hard to face what we did and continue to do, as a country, at Guantánamo. But understanding this reality is the only way to finally, one day, seek justice and accountability."
Sarah also explained why the graphic medium is so powerful for telling the story of Guantánamo. As she stated, "Comics have the unique power to make the invisible visible. Visual representations of Guantánamo are tightly controlled and censored because the government subjectively approves all photographs of the prison. Journalists are not allowed to speak with current prisoners, and former prisoners are not allowed to come to the United States, limiting the access of news stories that would focus on their experiences and perspectives. Comics are a medium that can get around this censorship."
We hope you'll be interested in buying "Guantánamo Voices." As Sarah explains on her website, it's available in the U.S. from Barnes and Noble, Powells, Indiebound and Amazon. For international orders, you can get it from the Book Depository, Indigo (Canada), Waterstones (UK), and Booktopia (Australia), and you can also buy copies directly from Sarah herself.
Check out the pages below from Tom Wilner's chapter, illustrated by Maki Naro, artist and science communicator.