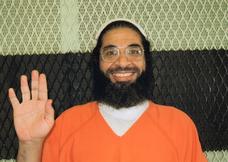 By Andy Worthington
As we approach the 11th anniversary of the opening of the "war on terror" prison at Guantánamo Bay, Cuba, those of us calling for the prison's closure, as President Obama promised on his second day in office nearly four years ago, are still waiting for a sign that, in his second and final term, the President will revisit that promise and, first of all, address the disgraceful and unacceptable fact that, of the 166 prisoners still held, 86 were approved for transfer out of the prison by the Guantánamo Review Task Force that he established soon after taking office in 2009.
One of these men, and the one who, we believe, ought to be the first to be freed, is Shaker Aamer, the last British resident in the prison, who is one of the 86 cleared prisoners -- and was one of 55 cleared prisoners named in an important document released by the Justice Department in September, which, for the first time ever, identified these men publicly.
Although the President faces opposition from Congress regarding the release of the majority of the cleared prisoners -- because lawmakers have spent the last two years raising obstacles to the release of any prisoner to any country that they regard as dangerous -- this cannot be said of the U.K., where Shaker Aamer, born in Saudi Arabia, lived for many years before his capture in Afghanistan, and his transfer to Guantánamo, and where, crucially, his British wife and his four British children await his return.
To date, neither the U.S. government, which has cleared him for release, nor the British government, which claims to have been asking for his return since 2007, has provided a realistic explanation of why he is not a free man. It was understandable -- if unacceptable nonetheless -- that the President refused to free Shaker Aamer during the run-up to the election, because Republicans would have seized on it to portray him as irresponsible on national security issues, but now that he has been reelected, there should be no obstacle.
One indication that the stumbling block may not just be the Obama administration, but may also be the British government, came last Friday when, in London, Reprieve, the legal action charity whose lawyers represent 15 of the men still in Guantánamo, including Shaker Aamer, announced that their client was suing the British government for defamation. As the Guardian explained, he "blames the security and intelligence agencies for his continuing detention," and "has accused MI5 and MI6 of making false and highly damaging claims about his alleged involvement with al-Qaeda."
At a press conference, also attended by the comedian Frankie Doyle, who is supporting the campaign to free Mr. Aamer, his lawyers explained that they have written to William Hague, the foreign secretary, and Theresa May, the home secretary, "demanding an explanation for the false claims they say U.K. officials have made against him to the CIA, and an admission that his indefinite detention constitutes a war crime." They also made reference to the fact that Mr. Aamer "has repeatedly implicated British officials in his mistreatment in Afghanistan and Guantánamo Bay," and that these allegations are currently being investigated by the Metropolitan Police, who are planning to visit Guantánamo imminently to talk to Mr. Aamer.
As the Independent explained three weeks ago, "Mr. Aamer asserts that he was tortured, including having his head repeatedly bashed against a wall, by U.S. investigators in the presence of British spies at Bagram, Afghanistan. He also says the British agents were aware of his torture in Guantánamo, which involved beatings and long periods in solitary confinement. This treatment continues, he says, despite at least three visits from British secret service personnel."
The Independent also explained that, although his children "have no memories of their father," they "speak to him on Skype every few months, with the help of the Red Cross." His youngest son, Faris, who was born on February 14, 2002, the day his father was transferred from Afghanistan to Guantánamo, said that "when he spoke to his father for the first time, he thought 'he was very funny.'"
The Independent also noted:
The children have written letters to President Obama in the hope that their voices would be heard after his re-election. "My dad is still in prison, and even though he has been cleared for release he's been tortured," Michael, 13, wrote. "I find it very difficult without my dad. I can feel how hard it is for my mum." Mr. Aamer's daughter, Johina, 15, added: "Why don't you imagine being locked up for 11 years of your life and possibly more years to come. Try imagining being treated like a circus animal in a cage and being taken away from your home and everyone you love."
At the press conference last Friday, Mr. Aamer's lawyers claimed that American interrogators "were supplied with 'knowingly false information' by the U.K. security services, including the allegation that Mr. Aamer was paid directly by [Osama] Bin Laden and that he also recruited people to fight for al-Qaeda in Afghanistan," as the Guardian described it. As his lawyers stated, "One of the most serious, knowingly false statements made by the U.K. security services is that Mr. Aamer is an al-Qaeda member who was part of al-Qaeda in London."
The lawyers also described claims that Mr. Aamer was associated with mosques which served as an "attack planning and propaganda production base for al-Qaeda" as "emphatically false" in their letter to William Hague and Theresa May, adding, "Mr. Aamer emphatically denies that he is a member of al-Qaeda. He never has been."
The BBC added that Mr. Aamer's lawyers also stated, "The British Security Services will be able to produce not one shred of reliable evidence to the contrary." Clive Stafford Smith, Reprieve's founder and director, said, "I'm utterly convinced that Shaker was not involved in extremism. But don't take my word for it, lets have a trial -- that's the British way of doing things, and it's the American way too. But if you presume people guilty we may as well lock everyone up."
Note: To call for Shaker Aamer's release, please sign the e-petition to the British government (UK citizens and residents only), and/or the international petition here.