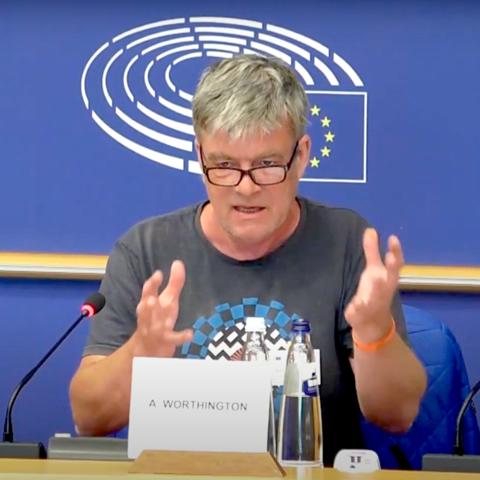 If you can, please make a donation to support our work throughout the rest of 2023 and into 2024. If you can become a monthly sustainer, that will be particularly appreciated. Tick the box marked, "Make this a monthly donation," and insert the amount you wish to donate.
By Andy Worthington, October 28, 2023
As posted on Andy Worthington's website.
What a difference a month makes.
On September 28, I was in Brussels, taking part in "Close Guantánamo!", a moving and powerful event in the European Parliament that I'd been working towards for six months with the indefatigable Irish independent MEPs Clare Daly and Mick Wallace, and former Guantánamo prisoner Mansoor Adayfi.
Over the course of three hours, a rapt audience heard a mixture of emotional, inspiring and legally compelling testimony about the evils of Guantánamo, the need to get the prison closed, and the urgent need to find new homes for at least 13 of the 30 men still held, who have been approved for release but cannot be repatriated. This is a pressing problem in need of a solution, with which, we all hoped, European countries might be able to help.
On October 1, I posted a detailed report about the event, also featuring the full three-hour video of it, at which the speakers, including Mansoor and myself, were two other former prisoners, Lakhdar Boumediene and Moazzam Begg, Fionnuala Ní Aoláin, the U.N. Special Rapporteur on the Promotion and Protection of Human Rights and Fundamental Freedoms while Countering Terrorism, who summarized her devastating report about historic and continuing abuses at Guantánamo, based on the first ever visit to Guantánamo by a U.N. Rapporteur, which she undertook in February, the lawyers Alka Pradhan and Beth Jacob, Valerie Lucznikowska of September 11th Families for Peaceful Tomorrows, and James Yee, the former Muslim Chaplain at Guantánamo.
Afterwards, however, just as Clare and Mick were preparing to follow up, editing the event into smaller and more manageable podcasts and videos, and just as I was preparing to post a video of my speech, which Clare's team had sent to me, the events of October 7 — when Hamas militants broke out of their "open air prison" in the Gaza Strip and went on a killing spree that left 1,400 people dead — threw all our plans into disarray, as it was immediately followed up by indiscriminate bombing raids of unprecedented ferocity on Gaza's mercilessly trapped civilians, who, to compound their agonies, also had all their water, food, medical supplies and fuel supplies cut off.
For the three weeks, as — at the most recent count, 7,703 people have been killed in Gaza, including 3,595 children — it has been almost impossible to focus on anything other than the genocide playing out in real time, with so much of it captured by those living through it, and in far too many cases losing their lives because of it, while the western media ignores the frontline truth, and western leaders have been providing the Israeli government with every encouragement to continue their indiscriminate slaughter, in defiance of all the protections that are supposed to be mandatory for a civilian population according to international humanitarian law.
I have written about the crisis on three occasions (see here, here, and here), Clare and Mick have spoken out, Moazzam regularly comments on it, and Fionnuala has, on two occasions, been involved in issuing important press releases.
On October 19, with Morris Tidball-Binz, the Special Rapporteur on extrajudicial, summary or arbitrary executions, she pointed out that the "rights of victims of terrorism must be protected," and "insist[ed that] counter-terrorism cannot be [a] basis to breach international law," with the two experts noting specifically that "[a]cts of terrorism, no matter how horrific, absolutely do not justify the commission of serious violations of international law including war crimes, or crimes against humanity," with reference to the Israeli assault on Gaza. The two experts also "condemned the complete siege of Gaza including the cutting off of water and electricity which indiscriminately and excessively harms civilians and may constitute the war crime of starvation of civilians," and also stated, "The governing legal framework to this conflict is international humanitarian law, and that civilians must be protected. Children are especially deserving of special protection in armed conflict and this fundamental rule must be observed not breached now in Gaza."
On October 23, with Margaret Satterthwaite, the Special Rapporteur on the independence of judges and lawyers, she followed up by "urg[ing] lawyers advising [the] Israeli military to refuse legal authorization of actions that could amount to war crimes."
While we all continue to work tirelessly to keep publicizing the atrocities, and to call for a ceasefire, and for the urgent resumption of supplies of water, food, medical supplies and fuel, we must also continue our other important work, and to that end I'm posting below, via YouTube, my impassioned ten-minute speech at the "Close Guantánamo!" event, in which I focused on the plight of the 16 men approved for release, most of whom (at least 13 of the 16) cannot be repatriated, and for whom third countries must be found that are willing to offer them new homes. I was particularly concerned, at the event, to encourage the countries of the E.U. to help.
I was also concerned to explain, through a brief explanation of Guantánamo's history, why it is so important for these men to be freed. This is because, fundamentally, having never been charged or tried, and having been approved for release solely through administrative review processes that have no legal weight, there is no requirement for the U.S. to move with any haste to resettle them, and, in the meantime, they continue to be held as fundamentally without rights as they were when Guantánamo first opened, nearly 22 years ago. This ought to be a source of shame for us all, but especially, of course, for the U.S. government.
Unfortunately, with Islamophobia now resurgent in Europe — to the extent that some countries, to their shame, are seeking to criminalize any kind of support for the beleaguered civilian population of Gaza (and of the West Bank and East Jerusalem, where anti-Palestinian violence is also on the rise) — the uphill struggle to persuade E.U. countries to help has become even more difficult. However, as those of us who have been working for years to close Guantánamo know, getting anyone out of that vile and fundamentally lawless place has always involved Sisyphean fortitude, and this particular setback will not derail us from our long-term aims, even though, of course, it is truly alarming to see how swiftly and ferociously anti-Muslim sentiment has reawakened in a manner that, chillingly, recalls the aftermath of the 9/11 attacks 21 long years ago.
I hope that you have time to watch the video, and that you'll share it if, like me, you remain as committed as ever to bringing the lingering and festering injustices of Guantánamo to an end — and, of course, to one day holding those responsible accountable for their actions.
Note: Clare Daly and Mick Wallace have also just started making available recordings of the "Close Guantánamo" event via a new podcast, I4C Trouble with Daly and Wallace, available here, and also on X (formerly Twitter). Here's the introductory post, and the first two episodes are also available — the first featuring Mansoor and James Yee, and the second featuring Beth Jacob and Valerie Lucznikowska. More to follow soon!