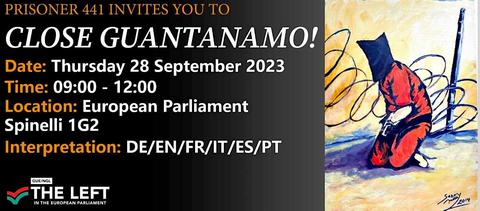 If you can, please make a donation to support our work throughout the rest of 2023. If you can become a monthly sustainer, that will be particularly appreciated. Tick the box marked, "Make this a monthly donation," and insert the amount you wish to donate.
By Andy Worthington, September 12, 2023
Cross-posted from Andy Worthington's website.
On Thursday September 28, a very special event, described by its organizers as "the most significant gathering ever assembled on Guantánamo in the European Parliament," is taking place in Brussels.
Ten speakers will be taking part in the event, which runs from 9am until noon. Three are former prisoners — Mansoor Adayfi, a Yemeni held for 14 years, who was resettled in Serbia in 2016, and is the author of the devastating memoir, "Don't Forget Us Here: Lost and Found at Guantánamo," published in 2021, which manages, simultaneously, to be harrowing, hilarious and full of humanity; Moazzam Begg, the author of "Enemy Combatant," published in 2006; and Lakhdar Boumediene, an Algerian resettled in France in 2009, who is the co-author, with Mustafa Art Idr, of "Witnesses of the Unseen: Seven Years in Guantánamo," published in 2017.
Also attending is Fionnuala Ní Aoláin, the U.N. Special Rapporteur on the Promotion and Protection of Human Rights and Fundamental Freedoms while Countering Terrorism, who was the first Rapporteur to visit Guantánamo, earlier this year, and whose devastating report, published in June, described an ongoing regime that, despite some tinkering by Presidents Obama and Biden, constitutes, as she described it, "ongoing cruel, inhuman, and degrading treatment," which "may also meet the legal threshold for torture."
Three U.S. lawyers will also be attending — Beth Jacob, a civilian attorney who represents four of the 16 men still held (out of 30 men still held in total) who have been unanimously approved for release by high-level U.S. government review processes; Alka Pradhan, Human Rights Counsel as part of the legal team representing Ammar al-Baluchi, one of five "high-value detainees" charged in connection with the 9/11 attacks in Guantánamo's broken military commission trial system; and Mark Denbeaux, a law professor at Seton Hall University School of Law in New Jersey, and one of several lawyers representing Abu Zubaydah, the first victim of the CIA's post-9/11 "black site" torture program, who, despite grand claims made by the U.S. authorities at the time, has never been charged with a crime, and is one of three men still held at Guantánamo without charge or trial, and without being approved for release, who have been accurately described as "forever prisoners."
Also speaking, and visiting from the U.S., are: Valerie Lucznikowska of September Eleventh Families for Peaceful Tomorrows, an organization "founded by family members of those killed on September 11th who have united to turn our grief into action for peace"; and James Yee, the former Muslim Chaplain at Guantánamo, who was imprisoned for six months in 2003-04 on unsubstantiated charges of spying that were later dropped.
I will also be speaking, and I'm absolutely thrilled to see this event taking place, as it had its origins in February this year, when I first reached out to Clare Daly and Mick Wallace, the independent Irish MEPs who are hosting the event, and who I met on a visit in March, when I was able to brief some MEPs on the importance of governments in the E.U. supporting the Biden administration in its efforts to close the prison, especially by resettling some of the men approved for release who cannot be repatriated because of provisions inserted every year into the annual National Defense Authorization Act (NDAA), which prevent the repatriation of prisoners from proscribed countries including Yemen, Libya and Somalia.
I also recommended Mansoor's book to Clare and Mick, helping to introduce them, and paving the way for Mansoor, appropriately, being the former prisoner in whose name this entire event is taking place. This is appropriate, for those who don't know, because of Mansoor's tireless advocacy on behalf of the men still held, and those (like Mansoor himself) who have been released, only to discover that Guantánamo still haunts them.
While the event will, I'm sure, either refresh memories or provide crucial new insights into quite how shameful the continued existence of Guantánamo still is, how torture infects the military commissions, and how disgraceful it is that three men are still held indefinitely as "forever prisoners," and while it will also, I hope, galvanize E.U. Parliamentarians to take a stand to call for Guantánamo's closure, the main thrust of the event is to encourage E.U. countries to help with the resettlement of the men still held who have long been approved for release but who cannot be repatriated.
As noted above, 16 of the 30 men still held have been approved for release, and in the majority of cases — involving eleven Yemenis, a Libyan and a Somali — are in need of third countries to offer to resettle them. As of September 6, these men had, shamefully, been waiting for between 348 and 1,013 days since the U.S. authorities first decided that they no longer wanted to hold them, and in three other cases had been waiting for 4,975 days.
Everyone involved in the efforts to resettle these men knows that they are complicated by a much more hostile political climate in general than that which existed ten to 15 years ago, under the Obama administration, when many dozens of men were resettled in a variety of countries in Europe and elsewhere. We also know, and will hear at the event, how some of these resettlements didn't deliver what the organizers describe as "decent living conditions" for the men in question.
However, with the 22nd anniversary of the opening of Guantánamo looming, it is no longer adequate for people of good conscience to sit on the fence when it comes to the unending limbo of these men, and I sincerely hope that E.U. Parliamentarians will recognize that there is a humanitarian imperative to get involved, and that history will judge them well if they offer not only to help these men, but also to help the United States out of a legal black hole of its own making.
The event is open to the public, and will also be streamed live, and the registration form is here. Once you have registered, you will be sent further information on access to the Parliament 24 hours before the event — or five days before for those outside the E.U. (in the U.K., for example).
I hope to see some of you there!