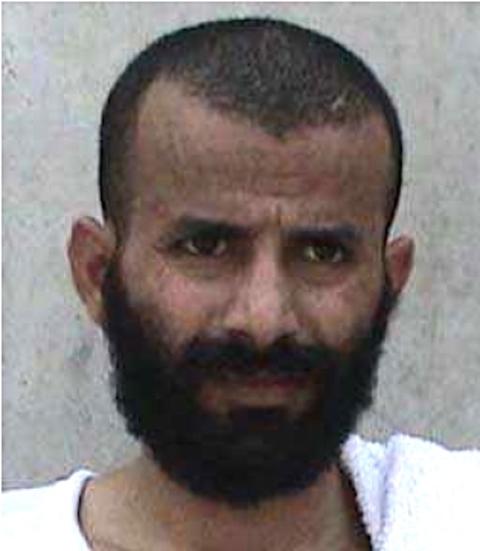 If you can, please make a donation to support our work in 2021. If you can become a monthly sustainer, that will be particularly appreciated. Tick the box marked, "Make this a monthly donation," and insert the amount you wish to donate.
By Andy Worthington, November 22, 2021
In disturbing news from Yemen, reported by the Intercept, a former Guantánamo prisoner, who had only just been reunited with his family after 14 years in Guantánamo, and five subsequent years in the United Arab Emirates (UAE), where he had been imprisoned despite having been promised his freedom, has been seized by Houthi militia, and is being held an undisclosed location.
The disappearance of Abdulqadir al-Madhfari (identified by the U.S. as Abdel Qadir Hussein al-Mudhaffari, and given the prisoner number ISN 40) is one of the more depressing examples of how the "taint" of having been held at Guantánamo, despite never having been charged with a crime or put on trial, dogs former prisoners. It also provides a vivid example of the U.S. government's almost complete lack of interest in the welfare of men released after long years of unjustifiable imprisonment in the U.S.'s notorious offshore prison in Cuba.
Al-Madhfari's long ordeal began almost 20 years ago, when he was seized crossing from Afghanistan into Pakistan. Whilst it was likely that the "young physician's assistant who dreamed of becoming a doctor," as the Intercept described him, had been a foot soldier with the Taliban, there was no reason to suppose, as the U.S. alleged, that he had been part of what his captors described as the "Dirty Thirty," a group of bodyguards for Osama bin Laden, because most of the men in question were young men, who had been in Afghanistan for only a short amount of time, and would not, therefore, have been trusted to guard Al-Qaeda's leader.
As the years passed, the "Dirty Thirty" allegations largely faded away, and most of those alleged to have been bin Laden's bodyguards were released — or rather, because they were Yemenis, and the entire U.S. establishment refused to consider repatriating them, in light of the security situation in their home country, were transferred to third countries that, for money, or for diplomatic favors, agreed to resettle them.
For many of these men, the long road to their release began after President Obama took office in January 2009, and established a high-level government review process, the Guantánamo Review Task Force, to assess whether prisoners should be freed or tried or, in some cases, whether they should explicitly continue to be held without charge or trial. Al-Madhfari was one of 30 Yemenis whose release was recommended, but who continued to be held in what was described as "conditional detention," their release contingent on some undefined perception that "the security situation in Yemen improves" or that "an appropriate rehabilitation program or third-country resettlement option becomes available."
And so it was that, eventually, in August 2016, al-Madhfari and eleven other Yemenis, as well as three Afghans, were transferred to the UAE, which had reassured them — and their lawyers, and the State Department — that, after a short period of rehabilitation, they would be freed and given help to rebuild their lives.
That never happened. Instead, al-Madhfari and the 14 other men transferred with him, as well as five other Yemenis transferred to the UAE in November 2015, and another Yemeni, another Afghan and the last Russian in Guantánamo, who were transferred just before President Obama left office in January 2017, found themselves imprisoned in conditions that were at least as bleak as those in Guantánamo — if not worse.
The deplorable conditions in which the men were held in the UAE first surfaced in a Washington Post article in May 2018, which I wrote about here, and in July last year the United Nations intervened, sending a letter to the Emirati authorities decrying the treatment of the men transferred to the UAE from Guantánamo. In October, the situation became even more perilous, when the UAE threatened to forcibly repatriate the Yemenis, and despite continued opposition to their plans, followed through on their threat in July this year, when six of the men were repatriated.
Last month, Reuters reported that the 12 other Yemenis had also been forcibly repatriated, and while everyone who cared about these men's welfare crossed their fingers and hoped that, against the odds, they would be reunited with their families and would stay safe, al-Madhfari's case shows how fundamentally insubstantial those hopes were.
"Less than a week" of freedom
As Elise Swain explained in the Intercept article, al-Madhfari's freedom "lasted less than a week." His family had already been warned by lawyers who had managed to assess his situation in the UAE that "he was deteriorating in solitary confinement," and on his return his family found him "severely mentally disturbed," and "no longer the same man [they] had spoken with at Guantánamo."
As Swain also explained, "Immediate family members in Yemen were completely unrecognizable to him," as Ameen al-Madhfari, a brother living outside Yemen, told her, adding that he "accused them of being Emiratis playing a trick on him." As she described it, "He refused to speak to anyone and became agitated and fearful when approached. Blindfolding al-Madhfari was the only way that UAE security forces could convince him to leave their base in Mukalla, a seaport in Yemen, and drive back to the capital with his brother and uncle."
As Swain proceeded to explain, "On November 11, al-Madhfari asked to take a walk outside for the first time since arriving at his family's home. While accompanied by his family on the streets of the capital, Sanaa, al-Madhfari bolted. Panicked, the family had no idea what had happened until an acquaintance with the police confirmed their worst fears: He had been detained by Houthi militia members at a checkpoint."
Ameen told Swain that his disappearance "has left the family distraught," further explaining that, "After fighting for two decades to free him, one sister is still in shock, and an older brother was admitted to a hospital, where he remained for days after hearing the news." Highlighting the precarious situation in Yemen, Swain highlighted that the Intercept was "withholding the names of some of Madhfari's family members, who fear persecution and retaliation for speaking to the media."
Ameen also confirmed that al-Madhfari is being "held at an unknown location." As he explained, "He is hidden and not allowed to be interviewed. We do not know where he is being detained."
As Swain pointed out, "In Yemen, torture and disappearances into prison networks abound. The existence of UAE-operated secret prisons, where Yemeni detainees are subjected to torture and U.S. interrogation, has been well documented by the Associated Press and Yemeni human rights lawyer Huda al-Sarari. The Houthis, the government of Yemeni President Abd Rabbu Mansour Hadi, and additional warring parties have all been accused of operating their own secret prisons rife with torture."
Lawyers and others campaigning for the former Guantánamo prisoners had long been aware of the perils of returning them to Yemen. As Swain explained, they "had unsuccessfully sought the former Guantánamo detainees' transfer to a safe third country like Oman or Qatar, warning against repatriation to Yemen — a country embroiled in civil war, experiencing the world's worst humanitarian crisis."
Faced with the reality of returning to Yemen, however, Abdulrahman Barman, a Yemeni human rights lawyer and the executive director of the American Center for Justice, who had worked on coordinating the men's return to Yemen, explained that it was not surprising that al-Madhfari had been arrested and disappeared. "Some of his returning comrades may be subjected to kidnapping and enforced disappearance, especially as Yemen is in a state of war and chaos," he said, adding, "Most of the men returning belong to areas controlled by armed groups that do not respect the law and human rights," referring to the Houthis and the UAE-backed Southern Transitional Council.
As Swain also explained, "Persecution from the Houthi rebels, who overthrew the Saudi-backed Yemeni government in 2014 and now effectively control 80 percent of Yemen's 30 million people, complicates any hope the former detainees have for a new life in the country. Part of a Shia movement backed by Iran, the rebels oppose the Yemeni government, Al-Qaeda in Yemen, and Islamic State militants. Since the United States suspected former Guantánamo detainees of involvement with Al-Qaeda, they are at high risk for abduction, disappearance, and assassination within Yemen. Emiratis, too, have imprisoned hundreds of Yemenis suspected of being Al-Qaeda or ISIS militants, according to the Associated Press. Former Guantánamo detainees returning to Yemen are also targeted by Al-Qaeda for recruitment."
U.S. responsibility
What will happen next is unknown, as the chaos on the ground in Yemen makes it difficult for human rights observers and activists to have any influence. However, Alka Pradhan, a defense lawyer in the military commissions at Guantánamo, told the Intercept that, "After torturing and arbitrarily detaining these men for decades, it is our legal and ethical responsibility to make sure that they are spared any further rights violations in the countries to which we choose to send them." As she added, "The U.S. needs to publicly question the UAE on where the men are and how they plan to ensure their safety."
Swain also spoke to former prisoner Mansoor Adayfi, who was resettled in Serbia in July 2016, just before Abdulqadir al-Madhfari's ordeal began in the UAE, and who told her that, "Beyond basic safety, most former Guantánamo detainees have never been given rehabilitation services, financial reparations, or the opportunity to live 'like a normal person.'"
Despite having an acclaimed memoir published this August, Adayfi still faces harassment and arbitrary restrictions on his liberty. Swain noted that former prisoners "have long spoken out about the constant harassment, surveillance, and stigma Guantánamo brings them," and, as Adayfi explained, "We still suffer living under restrictions. We cannot travel. We're not allowed to work. We're not allowed to obtain travel documents or a driving license." He added that, "without pressure from the United States, nothing will change."
In Yemen, meanwhile, the U.S.'s indifference to the fate of its former prisoners "has become a matter of life or death" for the family of Abdulqadir al-Madhfari. "We have no choice except following up with authorities in Sanaa," Ameen al-Madhfari told the Intercept, adding, "We are trying to have mediators explain his psychological and mental health condition, but we did not get any conclusive promise so far to release him."
One day, the U.S. needs to be held accountable for its shameful abandonment of the men it abused at Guantánamo, but for now the most urgent focus needs to be on the plight of Abdulqadir al-Madhfari, a man who seems, quite literally, to have been been driven to a situation of complete mental collapse by his treatment at Guantánamo, and his subsequent treatment in the UAE.