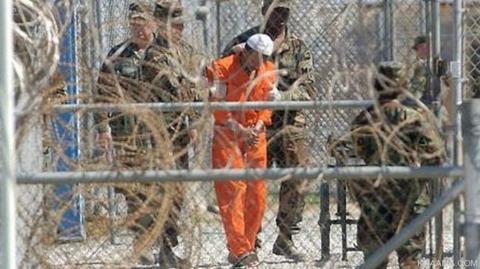 If you can, please make a donation to support our work in 2018. If you can become a monthly sustainer, that will be particularly appreciated. Tick the box marked, "Make this a monthly donation," and insert the amount you wish to donate.
By Andy Worthington, May 31, 2018
There's been some disturbing news, via the Washington Post, about former Guantánamo prisoners who were resettled in the United Arab Emirates, between November 2015 and January 2017, after being unanimously approved for release from Guantánamo by high-level U.S. government review processes.
23 men in total were sent to the UAE — five Yemenis in November 2015, 12 Yemenis and three Afghans in August 2016, and another Afghan, a Russian and another Yemeni in January 2017, just before President Obama left office, as he scrambled to release as many prisoners approved for release by his own review processes as possible before Donald Trump took office.
All were resettled in a third country because the entire U.S. establishment refused to contemplate releasing Yemenis to their home country because of the security situation there, because Congress had, additionally, refused to allow any more Afghan prisoners to be repatriated, and because, in the case of the Russian, it was not considered safe for him to be sent home.
For the Washington Post, Missy Ryan reported that, despite being unanimously approved for release, because of assessments that they did not pose any kind of significant threat to the U.S., the men "have disappeared from public view, largely cut off from the outside world since their transfer to a secretive rehabilitation program run by the United Arab Emirates," adding that they "have had limited contact with their families, some for more than two years, and have not been told when they might be released," according to their relatives, their attorneys, and current and former U.S. officials who spoke to the Post.
As Missy Ryan explained, "Their uncertain fate exposes the limits of the United States' ability to track and safeguard inmates resettled overseas" as part of efforts to close the prison, and "highlights the consequences of the Trump administration's decision to close a State Department office tasked with overseeing Guantánamo matters" — the office of the envoy for Guantánamo closure, which existed from 2013 until the end of Obama's presidency, and organized the resettlement of former prisoners, as well as monitoring those released.
Just two months ago, the consequences of Trump's actions were starkly revealed when two former prisoners resettled in Senegal were repatriated to Libya, where they subsequently disappeared into the custody of a militia associated with grave human rights abuses. One of the men had wanted to return to Libya, but the other emphatically did not, and yet, under Trump, the U.S. government no longer has any practical involvement in monitoring former prisoners or making any kind of representation on their behalf.
Regarding the 23 men sent to the UAE, Missy Ryan stated that, in interviews with attorneys for 19 of the former prisoners, the Post "found that few, if any, of the 23 men transferred to the UAE between 2015 and 2017 have been released, despite what attorneys said were informal assurances that they would be out within about a year."
At the time of the men's release, the circumstances of their resettlement were unclear, but it is alarming to hear that they were supposed to be held for "about a year" after their transfer, because they had already gone through rigorous review processes in the U.S. to establish that it was safe for them to be freed, not for them to be transferred to another form of imprisonment. We cannot stress enough how disappointing we find this seemingly endless refusal to actually release men no longer regarded as posing a significant threat to the U.S.
And yet, in the Post's words, the rehabilitation program in the UAE, "[l]ike a well-known program in Saudi Arabia," was "designed to ensure that prisoners weren't radicalised," as well as ensuring that they "could adapt to outside life."
Missy Ryan noted that one of the Afghans, Haji Wali Mohammed, an Afghan citizen who had been "held at Guantánamo for 14 years before he boarded a plane in January 2017 and prepared to begin what his attorney was informed would be a temporary rehabilitation program in the UAE," has become "very hopeless" after more than 16 months at the UAE-run center, according to his son, Abdul Musawer, who has occasionally been allowed to speak with his father by phone.
From his home in Afghanistan, Abdul Musawer said, "The U.S. government said my father would be freely living with his family, but they lied."
The Post noted that "some of the men transferred to the UAE report satisfactory conditions and appear to be progressing through a program granting prisoners greater liberties over time," but that "others remain under restrictions and express mounting distress."
Lawyers and family members stated that "some of the men have not been permitted to use the Internet or go outside," adding that "[p]eriodic phone calls to family members are typically limited to five minutes, and are sometimes cut off if the conversation veers into politics or conditions at the center."
In the case of Ravil Mingazov, the Russian, who was resettled in the UAE in January 2017, his mother, Zukhra Valiulina, said that, in a recent call to his family, he "suggested that conditions were worse than at Guantánamo." In a phone interview, Valiulina said that her son said, bluntly, "Mama, this is a prison."
In the case of Obaidullah, an Afghan once put forward for a military commission trial under George W. Bush, whose military lawyers then traveled to Afghanistan to establish that the government had no case against him whatsoever, his civilian attorney, Anne Richardson, explained that his family "was able to visit him early in his time in the UAE," after his transfer in August 2016, but that "subsequently he was out of touch with his family for more than a year."
Richardson said, "This seems like indefinite detention all over again," and Missy Ryan noted that, although prisoners at Guantánamo are quite severely cut off from the outside world, "the U.S. military has allowed periodic visits by lawyers and the Red Cross, and provided certain information to the media. Not so in the UAE."
Establishing detailed information about conditions in the UAE has generally been quite difficult. Some attorneys said that "their former clients have reported satisfactory conditions to their families, possibly because they are in the later stages of the program," and some of the former prisoners "have received multiple visits from family members." Ryan also noted that "UAE authorities have provided visas and money for other families." It is not known how or why some prisoners are being treated better than others.
As Ryan also explained, however, "No matter the conditions, nearly everything about the UAE program remains secret, even its location. Attorneys and relatives of the men say at least some have reportedly been moved to a new site in recent months."
The Post also noted that UAE officials refused to respond to requests for information about the former prisoners, and a State Department spokeswoman only provided a woolly hope that the former prisoners "would be integrated into their new countries."
Some of the attorneys have said that "they have been unable to get even basic information" about their former clients. As the Post explained, "In letters this year to the State Department and the UAE's Foreign Ministry, several lawyers requested the men be visited by their families and the Red Cross. They also asked for a time frame for their release and 'clarity on the rights they will have.'" They added that previous entreaties "have either been met with silence or with contradictory instructions."
The Post also explained that "Rep. Eliot L. Engel (N.Y.), the top Democrat on the House Foreign Affairs Committee, blamed the Trump administration for shutting down the State Department's Guantánamo office, which negotiated the transfer agreements and followed up on resettled detainees." As Rep. Engel said, "The U.S. government made commitments to protect our security and the rights of former detainees. On both counts, the administration is utterly failing to meet its responsibilities."
That is undoubtedly true, and former envoys Daniel Fried and Lee Wolosky have been critical of the Trump administration's position, as we explained in an article in April last year, Shutting the Door on Guantánamo: The Significance of Donald Trump's Failure to Appoint New Guantánamo Envoys. More recently, after the Libya fiasco, both men spoke out about how Trump's position was dangerous for national security, as well as being diplomatically disastrous — see here and here.
Attorneys for the former prisoners told the Post that "they were never permitted to see the agreements but were told by the State Department that the men would cycle through the UAE program and gradually be granted greater freedoms, at first inside and then outside the facility."
Gary Thompson, who represented Ravil Mingazov, and previously "represented another Guantánamo prisoner who went through the Saudi program before being released," said, "We felt that, because this was the established practice, this was great. However, weeks became months and months became over a year. It started to slip away, and then calls to his family became very brief and sounded funny. We just can't figure out what's happening."
Former officials told the Post that the UAE, a close U.S. ally, "agreed to take the detainees and establish the rehabilitation center as a favor to President Barack Obama," but those who worked on the transfers said that "the extended detention in the UAE violates the spirit of that arrangement."
One former official said, "It is one thing to put the guys in a rehab program, or otherwise evaluate them for a short period, but this seems like the UAE is imprisoning them on behalf of the U.S. government. That wasn't the deal and isn't right."
Other former officials apparently "voiced confidence" that the UAE authorities "would make appropriate judgments about the inmates' readiness to be released," but as I stressed above, these are men whose appropriateness for release had already been established by high-level U.S. government review processes, and it simply shouldn't be the case that the UAE is imposing yet another obstacle in a seemingly never-ending set of obstacles to the men ever being granted freedom.
Previously, I have compared getting released from Guantánamo to being let out of an airlock — but only into another airlock — with this process repeated apparently ad infinitum. It is unjust and unfair, and it should be brought to an end with all the men released and allowed to start the process of rebuilding their lives.
Steve Vladeck, a professor at the University of Texas School of Law, explained, as the Post described it, that "U.S. law did not impose any obligations on the government once detainees were no longer in its custody." As he said, "Once we cut ties, there really aren't remedies under U.S. law."
Gary Thompson added that "the situation was even more frustrating than Guantánamo." As he described it, "Before, we could at least file a petition for habeas corpus, we could at least get on a plane and go to Guantánamo. We at least had procedures, even if they were kangaroo procedures. This is deeply frustrating because there is no process."