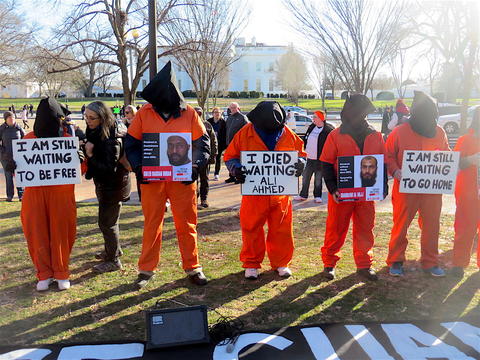 If you can, please make a donation to support our work in 2021. If you can become a monthly sustainer, that will be particularly appreciated. Tick the box marked, "Make this a monthly donation," and insert the amount you wish to donate.
January 7, 2021
For ten years, our co-founder Andy Worthington has traveled to the U.S. from his home in London to take part in events marking the anniversary, on January 11, of the opening of the prison at Guantánamo Bay, with a particular focus on a vigil outside the White House, with representatives of numerous NGOs including Amnesty International, the Center for Constitutional Rights, the National Religious Campaign Against Torture and Witness Against Torture.
This year, sadly, because of Covid, the vigil is only happening online, and Andy's visit has been called off, although he is currently finalizing details of online replacements for events that he usually undertakes in person — panel discussions with our other co-founder Tom Wilner at New America in Washington, D.C., and with Guantánamo lawyer Shelby Sullivan-Bennis at Revolution Books in New York. More on these events soon.
For this year's anniversary, we urge you to join our photo campaign, taking a photo with our poster marking how long Guantánamo has been open on January 11 — 6,941 days — and sending it to us at info@closeguantanamo.org. You can also take a photo with our follow-up poster for January 20, the day of Joe Biden's inauguration, when the prison will have been open for 6,950 days. We'll be posting the photos on our website, and sharing them on social media.
Meanwhile, the online replacement for the annual vigil outside the White House, "19 Years of Guantánamo: Remembering the Men Detained," is taking place on January 11 (that's next Monday) from 1-2pm EST (6-7pm GMT), with special guest speaker Mansoor Adayfi, a good friend of the Close Guantánamo campaign, who has written articles for us about Saifullah Paracha and Khalid Qassim, two of the "forever prisoners" whose release we will be calling for persistently throughout 2021. RSVP for the event here.
At 6.30pm GMT (1.30pm EST), former Guantánamo prisoner, torture survivor and best-selling author Mohamedou Ould Salahi will be appearing for the first 30 minutes of "Guantánamo End Game?," a CAGE event, also featuring former prisoner Moazzam Begg and former Bagram prisoner Abdul Basit, the brother of Guantánamo prisoner Muhammad Rahim. Register for the event here.
Then at 7pm GMT (2pm EST), Andy Worthington will be introducing Mohamedou in an Amnesty International event wth the Lewes Amnesty Group, in which Mohamedou will be talking about his experiences — and the forthcoming feature film "The Mauritanian," which will be released next month. To join this event, please email the Lewes Amnesty Group here.
Mohamedou is also taking part in "Rights or Rightlessness? The Lives of Men Imprisoned at Guantánamo" from 5-6.30pm EST (10-11.30pm GMT), with Baher Azmy, the Legal Director of the Center for Constitutional Rights, and Dr. A. Naomi Paik, Associate Professor of Asian American studies at the University of Illinois, Urbana-Champaign. Register for the event here.
And finally, if you're around at 8pm EST (1am GMT), our good friends at Witness Against Torture, who are normally at the heart of the vigil in their hoods and orange jumpsuits, and who fast and hold actions in Washington, D.C. for the week around the anniversary from their base in a church, are holding the first of five "virtual circles" for those who are fasting, and for activists in solidarity. The "Fast for Justice" is taking place from January 11-15, with "virtual circles" every evening at 8pm. RSVP to be sent the Zoom link, and see here for more information about WAT's actions.