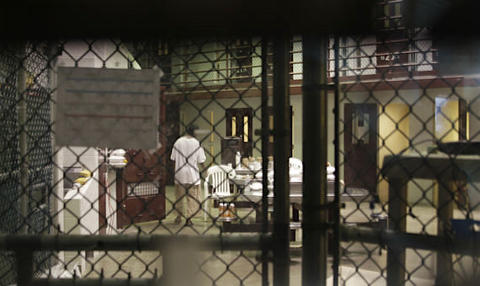 By Andy Worthington, April 12, 2017
Last week, Vice News ran a noteworthy article, Trump hasn't appointed anyone to keep track of released Guantánamo detainees, highlighting how the Trump administration's lack of interest in understanding the nature of the prison at Guantánamo Bay is actually endangering national security.
As Alex Thompson reported, although Donald Trump "has vowed to take the detention center at Guantánamo Bay and fill it with 'some bad dudes,' … he hasn't yet filled the top two positions in the federal government specifically tasked with overseeing the over 700 former detainees who've already been released to ensure they do not become security threats."
Under President Obama, the job of monitoring former prisoners and "coordinating their transitions to civilian life" was largely fulfilled by "two small special envoy offices": "one at the Department of Defense that reviews detainees considered for release and then tracks the intelligence community's reports on them, and one at the State Department that helps coordinate communication between detainees and their lawyers, host-country governments, U.S. embassies, and the Department of Defense."
As Thompson noted, Trump has not appointed a leader for either office, to replace Lee Wolosky at the State Department and Paul Lewis at the Pentagon, and, according to current and former State Department officials who spoke to him, "multiple members of the approximately 10-person office at the State Department have been at least temporarily reassigned," although a representative of the State Department's envoy office "maintained that, for now, the office has sufficient capacity to deal with released detainees."
Nevertheless, Azmat Khan, a fellow at New America in Washington, D.C. (formerly the New America Foundation), who studies issues relating to counter-terrorism, told Thompson that the Trump administration is "losing critical intelligence" about where former prisoners "are now and how they are doing," and Wells Dixon, a senior staff attorney at the Center for Constitutional Rights, which has been at the forefront of the legal struggle against the lawlessness of Guantánamo since the prison opened in January 2002, explained, "Having somebody in place at the State Department is important to help with [released prisoners] reintegrating. That is important for the national security of the United States."
Just 41 men are left at Guantánamo out of the 779 men held by the military since the prison opened. Nine died, and one was transferred to the U.S. mainland for a trial, meaning that 728 have been released — 532 under George W. Bush, and the other 196 under President Obama. Where possible, prisoners are repatriated, but when this has not been feasible — because of fears of ill-treatment in their homelands, or, as with Yemen, because of concerns across the entire U.S. establishment regarding the security situation — third countries have had to be found that have been prepared to offer former prisoners new homes.
Of the men released, most, as Alex Thompson noted, "have begun quiet lives" in their homelands or in third countries prepared to offer them a new home, although some have gone on to take up arms against the U.S., as the Office of the Director of National Intelligence indicates in a report published twice a year.
Here at Close Guantánamo we have long taken exception to the types of figures bandied about by the DNI without a shred of supporting documentation, and whereas the latest report suggests that 121 former prisoners have reengaged (16.9%), we are more convinced by reporting from New America, which, in 2013, put the reengagement rate at just 4%.
While we dispute the figures, however, and also cannot discuss recidivism without expressing our dismay at the sensationalist manner in which most mainstream media outlets deal with the DNI reports, it is clear that the reengagement rate was much lower under Obama than under Bush — of the alleged 121 cases, only 8 (4.4%) were under Obama, while the other 113 (21.2%) were under Bush — and part of that is undoubtedly because of the role played by the envoys.
Speaking of the two envoy offices, Azmat Khan stated that, "Having that position filled was extraordinarily helpful for released detainees' lawyers and to make sure the released detainees were being held in safe areas." She added, as Alex Thompson described it, that "congressional political pressure also made the Obama administration much more cautious than the Bush administration had been," although, incidentally, this was also "one of the reasons the detention facility remains open."
Lee Wolosky, who was the special envoy for Guantánamo Closure at the State Department from 2015 until Trump took office, told Thompson that the Obama administration "worked hard to ensure a smooth transition for released detainees so that they could live a life 'without temptation' to go to the battlefield." As Wolosky put it, "There needs to be some mechanism to monitor these people because monitoring security assurances helped us avoid problems."
Thompson proceeded to explain that the State Department "negotiates with host countries to ensure that released detainees get access to things like employment, health care, and housing to ensure a smoother transition to civilian life," and that, in addition, "they negotiate security agreements between the U.S. and host countries to restrict travel, arrange surveillance, and ensure the sharing of intelligence information."
Paul Lewis, who was the Defense Department's special envoy for Guantánamo Closure from 2013 until Trump took office (and whose recent thoughts on the need to close Guantánamo were posted here), agreed with his State Department counterpart. "Even if the president doesn't want to close Gitmo," he said, "his administration still has a responsibility to monitor released detainees."
Nevertheless, as Thompson also noted, it appears "extremely unlikely" that Donald Trump "will fill the envoy positions," because he "has yet to fill the vast majority of nearly 4,000 political positions throughout the federal government — he's called many of them 'unnecessary' — and he's proposing a 28 percent cut at the State Department," to add to his stated enthusiasm for keeping Guantánamo open, rather than appointing new officials to jobs that contain the words "Guantánamo Closure" in their titles.
And yet, as with so much to do with Trump's disregard for the administrative machinery of government, there is no indication whatsoever that his blasé or disdainful attitude will make government more efficient and more helpful for the American people, or, in the case of Guantánamo, that abandoning any direct monitoring of, and assistance for former prisoners will do anything to make the U.S. safer.