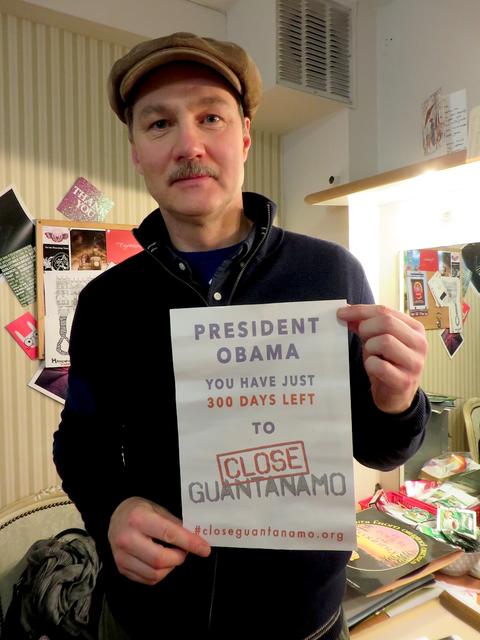 By Andy Worthington, March 5, 2016
In January, to mark the last year of the Obama presidency, music legend Roger Waters and I launched the Countdown to Close Guantánamo on Democracy Now! with Amy Goodman. The initiative was designed to allow people to have their say in keeping up the pressure on President Obama to fulfill the promise to close the prison at Guantánamo Bay that he made on his second day in office in January 2009.
The Countdown to Close Guantánamo involves supporters of our campaign and of the need for the prison's closure taking photos of themselves with posters counting down to the end of Barack Obama's presidency. The first poster -- marking 1 year to go -- was for January 20, the second -- 350 days -- was for February 4, and we are now calling for supporters to print off the poster marking 300 days, and to send it to us by March 25.
If you'd like to include a personalized message, please do, and if you want you can also let us know where you are, to demonstrate the breadth of support for the closure of Guantánamo across the U.S., and around the world.
For future reference, 250 days will be on May 14, and 200 days is on July 3, just in time for Independence Day.
So far we have had an enthusiastic response to the initiative, and there are nearly 180 photos on the website, on the pages here and here. Some of the photos have also been posted photos on social media, on our Facebook and Twitter pages.
Do check out the supporters from across the U.S., from the U.K. and from other countries, including Roger Waters, Brian Eno, John McDonnell MP, Andy Slaughter MP, the journalist Yvonne Ridley, FBI whistleblower Coleen Rowley, former Guantánamo military defense attorney Todd Pierce, and a number of former prisoners -- Shaker Aamer, Moazzam Begg, Ruhal Ahmed, Shafiq Rasul and Asif Iqbal, and, in Algeria, Djamel Ameziane.
Since we launched the Countdown to Close Guantánamo, President Obama has delivered to Congress a long-promised plan for closing the prison, prepared by the Department of Defense, which I wrote about two weeks ago.
However, it is not known if Congress will cooperate, and drop its long-standing ban on any Guantánamo prisoner being brought to the U.S. mainland for any reason, a ban which, of course, needs to be dropped for Guantánamo to be closed, unless President Obama follows the advice of those who are telling him that, as the Commander in Chief, he can bypass Congress in dealing with the disposition of prisoners.
Last week, defense secretary Ashton Carter "made it clear that Congress will have to change the law if the government wants to move some remaining detainees at the Guantánamo Bay prison to a facility on U.S. soil," as CBS News described it.
Carter said that creating an alternative detention center on the U.S. mainland for the men to be moved from Guantánamo "can't be done unless Congress acts, which means that Congress has to support the idea that it would be good to move this facility or the detainees to the United States." He added that it would be "good if it can be done, but it cannot be done under current law. The law has to be changed. That is the reason to put a proposal to put in front of Congress."
In addition, the need to keep up pressure for the closure of Guantánamo was made clear yesterday, when a CNN/IRC poll revealed that 56% of interviewees spoken to by telephone between February 24 and 27 thought that Guantánamo should stay open, while 40% said it should be closed. This was lower than the 60% to 39% breakdown of interviewees in March 2010, but it is noticeable that the only time there was a majority supporting the closure of Guantánamo -- by 51% to 47% -- was from January 12-15, 2009, just as Barack Obama was about to take office.
At that time, the closure of Guantánamo was a campaign promise, widely regarded as something that would come to pass. Now, of course, President Obama needs to ensure that his failure to honor a promise he made on his second day in office does not tarnish his legacy, although Guantánamo is more than just a campaign promise. Every day it stays open mocks the U.S.'s claim to be a nation that respects the rule of law, so please help us keep it in the spotlight, and send us your photos!