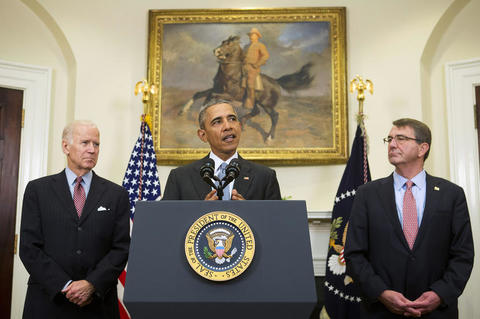 By Andy Worthington, February 23, 2016
Today (February 23, 2016), President Obama delivered a long-awaited plan to Congress, prepared by the Department of Defense, laying out in detail how he proposes, with the help of lawmakers, to close the prison at Guantánamo Bay -- where 91 men are still held -- before he leaves office.
As explained in a White House briefing that accompanied the plan, the four main points of the plan are as follows, and our comments are below each point.
1. "We'll continue to securely and responsibly transfer to other countries the 35 detainees already approved for transfer. This process involves extensive and careful coordination across our federal government to ensure that our national security interests are met when an individual is transferred to another country. We insist, for example, that foreign countries institute strong security measures."
We say:
Get on with it!
24 of the 35 men approved for release but still held were approved for release at least six years ago, by the high-level, inter-agency Guantánamo Review Task Force that President Obama established shortly after taking office for the first time in January 2009. It is an absolute disgrace that anyone approved for release should be held for so long after they were first told that the U.S. no longer wanted to hold them. We note that 20 of these men are Yemenis, and that the entire U.S. establishment believes that it is unsafe to repatriate any Yemeni prisoners, but we also note that new homes have been found, in the last year and a half, for 36 Yemenis, and we urge the administration to speed up the release and relocation of these men, and of the four non-Yemeni nationals approved for release by the task force, if they cannot be safely repatriated.
The other eleven men were approved for release in the last 25 months by Periodic Review Boards, set up in 2013 to review the cases of all the prisoners not already approved for release or facing trials. Again, nine of these men are Yemenis, while the other two are from Libya and Afghanistan, but all should be released as swiftly as possible, to third countries if they cannot be sent home.
2. "We'll accelerate the periodic reviews of remaining detainees to determine whether their continued detention is necessary. Our review board, including representatives from across government, will look at all relevant information, including current intelligence. If certain detainees no longer pose a continuing significant threat, they may be eligible for transfer to another country."
We say:
This is hugely important, as we have been saying since last year when looking at plans for the closure of Guantánamo. The Periodic Review Boards have, to date, approved 18 prisoners for release out of the 21 cases in which decisions have been reached. Unfortunately, it has taken 27 months to get to this point, and there are still 43 men awaiting reviews -- or, in a handful of cases, the decisions of reviews that have already taken place. For all of these men, reviews need to take place before President Obama leaves office, and the process therefore needs to be speeded up considerably. It is reassuring to see the administration, for the first time, conceding that it needs to "accelerate" the PRBs, but now we need to see that happen.
In addition, it is worth noting that the success rate of approving prisoners for release after their PRBs is 86%, a rate that is profoundly impressive in and of itself, but is even more significant when it is considered that these are men described by President Obama's task force as "too dangerous to release," or men who were put forward for trials until the basis for trials largely collapsed under scrutiny by U.S. appeals courts. The men were described as "too dangerous to release," even though the task force admitted it had insufficient evidence to put them on trial, and the PRBs have belatedly been establishing, therefore, that this was an irresponsible categorization, as they are not in fact "too dangerous to release" after all.
3. "We'll continue to use all legal tools to deal with the remaining detainees still held under law of war detention. Currently, 10 detainees are in some stage of the military commissions process -- a process we reformed in my first year in office with bipartisan support from Congress. Still, these commissions are very costly and have resulted in years without a resolution. We're therefore outlining additional changes to improve these commissions, which would require Congressional action."
We say:
We are disappointed to hear that the military commissions are continuing, as they are clearly not fit for purpose. Ongoing proceedings are largely stalled, because the system is so broken, and of the eight convictions already secured, mostly via plea deals, four have already been overturned on appeal, and more may not survive judicial scrutiny. We believe that federal courts are the only appropriate venue for trying those accused of terrorism, and point out how successfully the U.S. courts have dealt with terrorism cases in the last 14 years.
We are intrigued by the suggestion, in the plan, that the administration is "considering whether there are … legislative changes … that might enable detainees who are interested in pleading guilty in Article III courts, and serving prison sentences according to our criminal laws, to do so." We think that could be useful, and hope that Congress will work with the administration on this.
We are also interested in hearing that some prisoners might be transferred for prosecution in other countries, something that, in some cases, might well have been constructive had it happened years ago -- in the cases of a small number of men accused of acts of terrorism in other countries, for example.
4. "We're going to work with Congress to find a secure location in the United States to hold remaining detainees. These are detainees who are subject to military commissions, as well as those who cannot yet be transferred to other countries or who we've determined must continue to be detained because they pose a continuing significant threat. We are not identifying a specific facility today."
We say:
We wish the president every success in working with Congress, although we note that, if lawmakers continue to obstruct him needlessly and opportunistically, as they have since they first passed laws prohibiting him from bringing any prisoners from Guantánamo to the U.S. mainland for any reason, the he should heed the advice of former White House Counsel Greg Craig, and Cliff Sloan, the former State Department envoy for Guantánamo closure, who, in November, wrote an op-ed for the Washington Post, entitled, "The president doesn't need Congress's permission to close Guantánamo," in which they stated, "Under Article II of the Constitution, the president has exclusive authority to determine the facilities in which military detainees are held. Obama has the authority to move forward. He should use it."
Of course, we have no enthusiasm for anyone being held without charge or trial, whether at Guantánamo, or on U.S. soil, but we recognize that the administration will continue to argue that some of the men described as "too dangerous to release" should continue to be held. We regard it as essential that this number is as small as possible -- hence the need to speed up the PRB process -- and we also, crucially, believe that, on U.S. soil, these men will have the ability to challenge the basis of their detention in the courts with more success than they had at Guantánamo, where the habeas corpus legislation was cynically shut down by appeals court judges.
When the Associated Press wrote about this three weeks ago, officials speaking off the record spoke about 24 men being moved to the U.S., including those facing trials. That is still more than we would hope for, as our research and that of intelligence analysts suggests that no more than eight men, in addition to those facing trials, were involved in activities harmful to U.S. national security, but it is considerably better than the 56 men who, currently, are not approved for release.
In closing, and reiterating what we have said above, the best thing that can happen now is for the Periodic Review Boards to be speeded up considerably, not only in the interests of justice for those awaiting reviews, but as the best way of making sure that as few men as possible -- and only those genuinely accused of terrorist activities -- are held as the end of Obama's presidency approaches, and the uncertain process of electing the next president begins.
When that next inauguration happens, on January 20, 2017, it would be better for justice and for America's standing in the world if the prison at Guantánamo Bay were already closed for good.