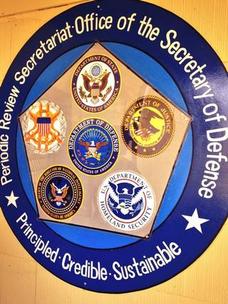 By Andy Worthington, December 1, 2015
Yesterday, we published the first annotated list of the 64 Guantánamo prisoners eligible for Periodic Review Boards, which we hope will be useful to anyone who wants detailed information about who is still held at Guantánamo (also feel free to check out our full prisoner list here, listing all 107 men still held).
71 men were initially listed as eligible for Periodic Review Boards -- 46 who were designated for ongoing imprisonment without charge or trial by the high-level, inter-agency Guantánamo Review Task Force that President Obama established shortly after taking office in 2009 (which issued its final report in January 2010), and 25 others who were recommended for prosecution by the task force, until the basis for prosecuting them -- generally, charges of providing material support for terrorism -- were struck down by the appeals court in Washington D.C. in two particular rulings in October 2012 and January 2013.
Of the 71, five were freed, and two others were reabsorbed into the ailing military commission system, leaving 64 men eligible for PRBs. 20 have had reviews since the PRBs began two years ago, with 15 approved for release (of whom four have been freed), and two others awaiting decisions, but 44 others are still awaiting reviews, and at the current rate it will take over four years -- until sometime in 2020 -- until they are all completed.
This is unacceptable, as it is already six years since then majority of these men were told that their cases would be reviewed, and by the time the last reviews take place it will have been ten long years since the process began. This is wrong under any circumstances, but it is also alarming that the process is moving so slowly when 83% of those whose cases have been reviewed have ended up being recommended for release.
As well as containing links to articles I have written over the last two years about the reviews of the 20 men who have so far had their cases considered, the list also includes the names of the 44 others awaiting reviews, and, in some cases, links to articles providing information about their cases. 22 of these men were recommended for continued imprisonment by the task force, while 22 others were initially recommended for prosecution. Of the 20 men whose cases have so far been reviewed, all but one were initially in the former category.
This group -- of which nine men, interestingly, were initially recommended for "possible transfer to imprisonment in the U.S." -- are mostly Yemenis, but also include prisoners from five other countries, and several of them previously had their habeas corpus petitions turned down by U.S. judges.
The latter group includes five of the 14 "high-value detainees" transferred to Guantánamo from CIA "black sites" in September 2006, including Abu Zubyadah, for whom the CIA's torture program was developed, Hambali and Abu Faraj al-Libi, as well as other men held -- and also tortured -- in "black sites," and two notorious torture victims from Guantánamo itself, Mohammed al-Qahtani, an alleged 20th hijacker for the 9/11 attacks, and best-selling author Mohamedou Ould Slahi, who, last week, asked a judge to order the government to speed up his review, something that the Justice Department lawyers showed no willingness to accept.
When I wrote about the PRBs last month, I quoted from an article Jenifer Fenton had written for Al-Jazeera, in which she spoke to Steve Vladeck, law professor and co-editor-in-chief of Just Security, who noted that, although the "most intractable 'too dangerous to release' category" is shrinking, it was "hard to predict what this 'scorecard' means for future hearings, because it could be that the relatively 'easier' prisoner cases might be resolved first."
This may be partly true, but as Vladeck also explained, "At a minimum … it underscores the extent to which a growing number of detainees don't meet the Obama Administration's own standard for continuing military detention, even though they had previously been categorized as 'too dangerous to release.'"
He also said the PRB process "raises the question of why eligible prisoners have had to wait so long to be provided a hearing," as Fenton put it. "With every clearance," Vladeck said, "the government's foot-dragging looks more and more like it's trying to forestall the inevitable, even if there are benign reasons for the delay."
We agree, and we believe, moreover, that it is hugely important for President Obama to find a way to speed up the review process over the coming year, his last in office.
What you can do now
If you agree, please call the White House on 202-456-1111 or 202-456-1414 and ask President Obama to speed up the PRB process. You can also submit a comment online.