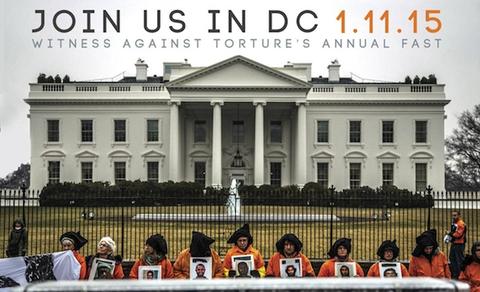 By Andy Worthington, January 7, 2015
Sunday January 11, 2015 is the 13th anniversary of the opening of the Bush administration's "war on terror" prison at Guantánamo Bay, Cuba, where 127 men continue to be held -- almost all, disgracefully, without charge or trial.
That's 4,749 days in an experimental prison that should never have existed, because there is no excuse for a country that claims to have civilized values and to believe in the rule of law to hold anyone without charge or trial, unless they are prisoners of war, protected by the Geneva Conventions, which the prisoners at Guantánamo have never been.
Otherwise, anyone deprived of their liberty has to be charged with a crime, and given a trial, and on that point, of course, just eight men -- out of the 779 men held at Guantánamo since it opened -- have been convicted in the military commission trials at the prison (and only two after trials rather than through plea deals). In addition, one other man was taken to the U.S. to face a federal court trial, which was successful, although that didn't prevent Congress from intervening to prevent it from happening again, by banning the transfer of any Guantánamo prisoner to the U.S. mainland for any reason.
Although there has been a flurry of releases from Guantánamo recently, as President Obama revisits his failed promise to close the prison, which he made when he took office six years ago, 59 of the remaining 127 prisoners have been approved for release -- mostly by the high-level, inter-agency Guantánamo Review Task Force that the president established shortly after taking office in 2009 -- and the release of these men, who are mostly Yemenis but who also include Shaker Aamer, the last British resident in the prison, must remain a priority as we mark the anniversary, and in the months to come.
In addition, however, almost all of the 68 other prisoners are not scheduled to face trials, and we must also demand that their cases are reviewed as swiftly as possible -- by the Periodic Review Boards established in 2013 -- and that those approved for release by this new inter-departmental process are also released, so that the remaining prisoners regarded as somehow significant -- less than two dozen in total -- can be transferred to the U.S. mainland and the facility at Guantánamo can finally be closed.
To mark the anniversary, Andy Worthington, the co-founder of the "Close Guantánamo" campaign -- established on the 10th anniversary of the opening of Guantánamo three years ago -- is visiting the U.S. for a week of events from January 8 to 15, including, on January 11, participating in the annual vigil outside the White House with Tom Wilner, the other co-founder of the campaign, and representatives of numerous other groups, including Amnesty International USA, the Center for Constitutional Rights, We Stand with Shaker, Witness Against Torture, World Can't Wait, and other organizations.
Tom is an attorney in Washington D.C. who was counsel of record to the Guantánamo prisoners in the two U.S. Supreme Court decisions that established their right to habeas corpus and in the case that established their right to counsel.
The Rally to Close Guantánamo and End Torture begins at the White House at 1.30pm on Sunday January 11, and is preceded by an Interfaith Service at 1pm sponsored by the National Religious Campaign Against Torture, and followed by a march to the Department of Justice to call for accountability for those responsible for the torture program. See the Facebook page here.
On Monday January 12, Tom and Andy will be joined in a panel discussion at New America (formerly the New America Foundation) by Col. Morris Davis, the former chief prosecutor of the military commissions at Guantánamo, who resigned in 2007 in protest against the proposed use of information obtained through the use of torture, and has since become a fierce critic of Guantánamo and the "war on terror." The moderator is journalist and author Peter Bergen. New America is at 1899 L Street NW, Washington, DC, 20036.
For Andy's other events -- in New York City, in Boston and other locations in Massachusetts, and in Chicago -- see this page on his website.
What you can do now
Call the White House and ask President Obama to release all the prisoners who have had their release approved by the Guantánamo Review Task Force or by Periodic Review Boards, and to urgently review the cases of all the the prisoners, except those facing trials. Call 202-456-1111 or 202-456-1414 or submit a comment online.