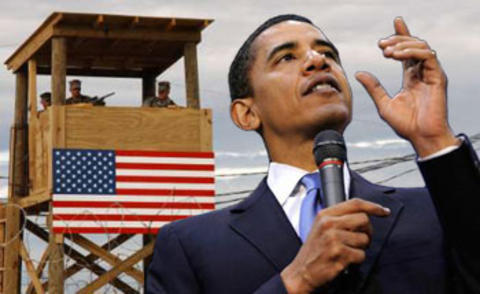 By Andy Worthington, October 14, 2014
Last Thursday, out of the blue, Carol E. Lee and Jess Bravin of the Wall Street Journal reported that senior Obama administration officials had told them that the White House was drafting options that would allow President Obama to close the "war on terror" prison established by President Bush at Guantánamo Bay, Cuba, through the use of an executive order.
Such an order would bypass lawmakers in Congress, who have imposed a ban on bringing prisoners to the U.S. mainland since 2010, in response to President Obama's proposal to transfer prisoners from Guantánamo to a maximum-security prison in Thomson, Illinois. Lawmakers have also passed legislation designed to make it difficult to release prisoners to other countries.
Reading on, it became apparent that this was only an option being considered. As the article explained, the officials said that President Obama "strongly prefers a legislative solution over going around Congress." However, because, as one official said, the president is "unwavering in his commitment" to closing the prison, which he promised to close on his second day in office, he "wants to have all potential options available on an issue he sees as part of his legacy."
That is good news for those of us who remain concerned that Guantánamo has not been closed, because every day the prison remains open is a profound shame for all Americans who believe in justice. We at "Close Guantánamo" have maintained, since President Obama first encountered problems with fulfilling his promise, that he must not waver, because failing to fulfil his promise would be a major black mark on his legacy -- and all presidents, whatever they might say, care about how they are remembered.
The Wall Street Journal described executive actions as "a centerpiece" of the Obama administration's policy agenda, "in areas including the minimum wage, anti-discrimination rules and, potentially, immigration," although that seems to be something of an exaggeration. President Obama has, to date, issued 183 executive orders, while George W. Bush issued 291, Bill Clinton issued 364 and Ronald Reagan issued 381.
Nevertheless, it is fair to say, as the Wall Street Journal did, that an executive order on Guantánamo would be likely to "provoke a sharp reaction from lawmakers," not only because of their ban on the transfer of prisoners to the U.S. mainland, but also because some lawmakers are clearly motivated by a desire to keep Guantánamo open forever.
Steve Vladeck, a law professor at American University, said that unilateral action "would ignite a political firestorm, even if it's the best resolution for the Guantánamo problem," explaining that "Republicans are sure to oppose it, while Democrats could be split."
The administration officials told the Wall Street Journal that, if Congress imposes further restrictions on Guantánamo after the mid-term elections in November, as is possible, President Obama only really has two options for closing the prison, either by vetoing the National Defense Authorization Act (NDAA), the annual bill establishing U.S. military policy and funding, which includes the ban on bringing prisoners to the U.S. mainland, or by signing the bill "while declaring restrictions on the transfer of Guantánamo prisoners an infringement of his powers as commander in chief, as he has done previously."
The first option is unlikely, but the second is possible. As the Wall Street Journal explained, "Presidents of both parties have used such signing statements to clarify their understanding of legislative measures or put Congress on notice that they wouldn't comply with provisions they consider infringements of executive power."
The article also explained that, in the hope of stifling dissent, the administration intends to reduce the prisoner population by "quickly transferring" prisoners cleared for release. Of the 149 men still held, over half -- 79 in total -- have been approved for release, 75 by the high-level, inter-agency Guantánamo Review Task Force that President Obama established in 2009 to review all the prisoners' cases, and four this year through the deliberations of Periodic Review Boards, established to review the cases of the majority of the remaining 70 prisoners who were not approved for release by the task force.
58 of these men approved for release are Yemenis, whose release has been blocked because of fears, throughout the U.S. establishment, about the security situation in Yemen -- although, in theory, their release should be easier since President Obama dropped a personal ban on their release last May, which he had first imposed in January 2010, after a failed airline bomb plot that was hatched in Yemen.
The Wall Street Journal article coincided with an announcement, by the Estonian government, that one prisoner, who cannot be safely repatriated, will be given a new home in Estonia. U.S. officials said that "additional transfers are in the works," and it is to be hoped that six other men will be given new homes in Uruguay in the not too distant future, although that decision "is tied up in that country's Oct. 26 presidential elections. The current president has agreed to accept the detainees, while his opponent has said he wouldn't."
Officials also said that they were hoping that releasing prisoners would reduce political opposition to the transfer of prisoners to the U.S. mainland because it would highlight the cost of keeping Guantánamo open. The annual cost per prisoner is $2.7 million, compared to $78,000 per prisoner at a supermax prison on the mainland, but that cost will only increase as prisoners are released, because of the overall cost of maintaining the prison. A senior official said, "As the number [of prisoners] becomes smaller at Guantánamo, the case for domestic transfers … becomes that much stronger."
Despite the hopes for the release of the 79 men approved for release, it is clear that Guantánamo cannot be closed until the 70 other prisoners are transferred to the U.S. mainland. Last December, when lawmakers were prevailed upon to drop some of their restrictions on the release of prisoners, they refused to drop their ban on bringing prisoners to the U.S. mainland for any reason, and this was clearly on President Obama's mind in his State of the Union address this year, when he stated, bluntly, that "this needs to be the year Congress lifts the remaining restrictions on detainee transfers and we close the prison at Guantánamo Bay."
The Wall Street Journal noted that officials said that President Obama "now expects to miss that deadline," describing that as "a departure from earlier this summer when White House aides were still saying it was possible." Complications have involved a cynical backlash by lawmakers and the right-wing media against the release, in May, of five Taliban prisoners in a prisoner swap for Sgt. Bowe Bergdahl, the sole U.S. prisoner of war in Afghanistan, and the current anti-Muslim sentiment fueled by the U.S. decision to engage with ISIS militants in Iraq and Syria.
Speaking of transferring prisoners to the U.S. mainland, officials said the U.S. "has ample space in its prisons for several dozen high-security prisoners," and explained that the administration "has reviewed several facilities that could house the remaining detainees, with the military brig at Charleston, S.C., considered the most likely."
Following the publication of the Wall Street Journal article, the White House moved to distance itself from the reports by administration officials. As the Guardian described it, White House spokeswoman Caitlin Hayden said, "Since the president came into office in 2009 the administration has been examining all possible ways we could get to closure of the facility, but we are not drafting options to override the law. We are continuing to work on transfers [of prisoners] and calling on Congress to lift restrictions."
The caution is understandable, as John Boehner, the Republican speaker of the House of Representatives, said in response to the article, "Even as Islamic jihadists are beheading Americans, the White House is so eager to bring these terrorists from Guantánamo Bay to the United States that it is examining ways to thwart Congress and unilaterally re-write the law."
However, I do believe it is useful to consider that the executive order was mentioned to try to appeal not to fearmongers and cynical opportunists like Boehner, but to decent Americans -- in Congress, in the media, and throughout the country in all walks of life -- who recognize that something is profoundly rotten at Guantánamo, and that it must be brought to an end before President Obama leaves office, and this, of course, is something that, at "Close Guantánamo," we wholeheartedly endorse.
What you can do now
To show your support of President Obama's promise to close Guantánamo -- and if you wish, to endorse an executive order as the only means of doing so, if Congress remains implacably opposed to the closure, on cynical grounds -- call the White House on 202-456-1111 or 202-456-1414 or submit a comment online.
You can also call the Department of Defense and ask Defense Secretary Chuck Hagel to issue certifications, as required by Congress, for prisoners cleared for release who are still held: 703-571-3343.
You can also call Cliff Sloan, the envoy for the closure of Guantánamo at the State Department, who was appointed by President Obama last year, to ask him to do more to secure the release of men long cleared for release: 202-647-4000.