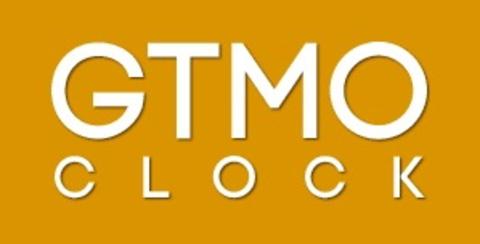 Please visit, like, share and tweet the Gitmo Clock, which I established last year to mark how many days it is since President Obama's promise to resume releasing cleared prisoners from Guantánamo, and how many have been freed.
By Andy Worthington, March 19, 2014
Today (March 19, 2014), it is 300 days since President Obama promised to resume releasing prisoners from Guantánamo, in a major speech on national security issues last May, and I'm asking you to promote the Gitmo Clock, which I established last year with the designer Justin Norman, to show how many days it is since the promise, and how many prisoners have been released (just 12). At this rate, it will take over five years for all the cleared prisoners at Guantánamo to be released.
When President Obama made his promise, he was responding to widespread criticism triggered by the prisoners themselves, who, in February, had embarked on a major hunger strike -- involving nearly two-thirds of the remaining prisoners -- and his promise came after a period of two years and eight months in which just five men had been released from Guantánamo.
What was particularly appalling about the release of prisoners being reduced to a trickle was that over half of the men -- 86 of the remaining 166 prisoners at the time -- had been approved for release from the prison in January 2010 by the high-level, inter-agency Guantánamo Review Task Force that President Obama established shortly after taking office in 2009 -- and some of these men had previously been cleared for release by military review boards under President Bush, primarily in 2006 and 2007.
Congress had raised obstacles designed to prevent the release of prisoners, which had made it difficult for the Obama administration to release prisoners, but President Obama had the power to bypass Congress, through a waiver in the legislation, but had chosen not to use it. In addition, he had himself imposed a moratorium on releasing Yemeni prisoners -- who make up two-thirds of the cleared prisoners -- after it was revealed that a foiled bomb plot involving a plane on Christmas Day 2009 had been hatched in Yemen.
When he made his promise last May, President Obama also dropped his ban on releasing Yemenis and promised to appoint two envoys to help with the closure of Guantánamo. Those envoys have now been appointed -- Cliff Sloan in the State Department and Paul Lewis in the Pentagon -- and they have been helping with the release of the 12 prisoners who have left the prison since President Obama made his promise. In addition, in December, Congress eased its restrictions on the release of prisoners.
However, despite the president's promise there are still 75 prisoners at Guantánamo who were cleared for release by the task force over four years ago, and 55 of these men are Yemenis. If President Obama wants his promise to be taken seriously, he needs to overcome the US establishment's long-standing reluctance to release cleared Yemenis, because of fears about the security situation in Yemen. As the president said last year, "I think it is critical for us to understand that Guantánamo is not necessary to keep America safe. It is expensive. It is inefficient. It hurts us in terms of our international standing. It lessens cooperation with our allies on counterterrorism efforts. It is a recruitment tool for extremists. It needs to be closed."
What you can do now
In conclusion, then, please visit, like, share and tweet the Gitmo Clock, and, if you would like to do more, you can:
Call the White House and ask President Obama to release all the men cleared for release, and to make sure that reviews for the other men are fair and objective. Call 202-456-1111 or 202-456-1414 or submit a comment online.
Call the Department of Defense and ask Defense Secretary Chuck Hagel to issue certifications for other cleared prisoners: 703-571-3343.
Please also feel free to write to the prisoners at Guantánamo.
Note: This article was published simultaneously here and on Andy Worthington's website.