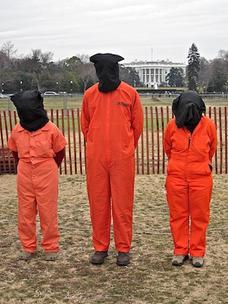 By Andy Worthington, January 6, 2014
This coming Saturday (Jan. 11) is the 12th anniversary of the opening of George W. Bush's "war on terror" prison at Guantánamo Bay, Cuba, and to mark the occasion, and to call on President Obama to close the prison, a coalition of groups -- including Amnesty International, the Center for Constitutional Rights, Close Guantánamo, Code Pink, the National Religious Coalition Against Torture, Witness Against Torture and World Can't Wait -- will rally at the White House and then march to the National Museum of American History, to raise awareness of the plight of the Guantánamo prisoners as the 13th year of operations begins at the prison. The rally begins at noon, outside the White House, and the march begins at 1pm, ending at 2.30pm.
Amongst those attending and speaking will be the journalist Andy Worthington and the attorney Tom Wilner, the co-founders of the "Close Guantánamo" campaign, which was launched two years ago, on the 10th anniversary of the opening of the prison. Andy will be travelling from London an a two-week visit, taking in New York City, San Francisco and Los Angeles as well as Washington D.C., and he will be accompanied by Debra Sweet, the national director of World Can't Wait, which is supporting his tour, and appearing, at various events, with the investigative journalist Jason Leopold, psychologist and anti-torture writer and activist Jeffrey Kaye, the former SERE instructor and anti-torture campaigner Michael Kearns, and Todd Pierce, a former military defense attorney, who represented men at Guantánamo who were put forward for trials by military commission. See Andy's full itinerary here.
You can sign up for the Jan. 11 rally and march on Facebook, and, if you can, please also write to President Obama, via this letter prepared by the Center for Constitutional Rights, asking him to release the cleared Yemeni prisoners from Guantánamo, who make up the majority -- 55 -- of the 76 prisoners still held who were cleared for release four years ago by the inter-agency Guantánamo Review Task Force that President Obama established shortly after taking office in January 2009.
In the last year, we are relieved to note, there has been progress on Guantánamo, after three years in which, because of Congressional obstacles, and President Obama's unwillingness to overcome those obstacles, the fate of the prisoners at Guantánamo became an undignified game of political football, and just five men were released. Since August, eleven prisoners have been released (nine in December alone), and, also in December, lawmakers officially eased their restrictions on the release of prisoners in the latest version of the National Defense Authorization Act.
Since the men embarked on a prison-wide hunger strike last February to remind the world of their plight, President Obama was finally pushed to overcome his reluctance to act. He promised to resume releasing prisoners, he appointed two envoys, in the Pentagon and the State Department, to help with prisoner releases and plans for the closure of Guantánamo, and he also dropped his own ban on releasing the cleared Yemenis, which he imposed in January 2009, after a failed bomb plot on a plane bound for Detroit was revealed to have been hatched in Yemen.
This is the text of the Center for Constitutional Rights' letter to President Obama:
I urge you to use your power to release Yemeni men from Guantánamo.
More than half of the men detained at Guantánamo are from Yemen, and most of these men have been cleared for release by your own administration. Yet they continue to be detained because of where they are from. You must act to end their collective punishment based on their nationality.
At this stage, real progress towards closing Guantánamo will not begin until you begin to release Yemeni prisoners. Use your strengthened power under the 2014 NDAA to release Yemeni men, and finally close Guantánamo.
In conclusion, we at "Close Guantánamo" wish you a happy new year, and hope that this is the year that we will see Guantánamo closed. If you have not already done so, please join us and ask your friends and family to join us -- just an email address is required to be counted amongst those opposed to the ongoing existence of Guantánamo, and to receive updates of our activities by email.