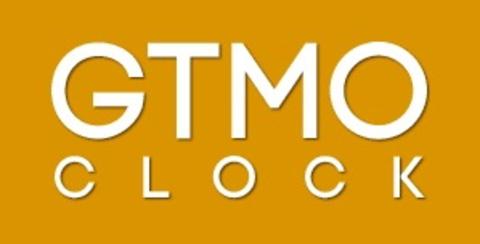 By Andy Worthington, October 22, 2013
Today the GTMO Clock, an initiative launched by the "Close Guantánamo" campaign in August, marks a sad anniversary -- 150 days since President Obama promised to resume releasing prisoners from Guantánamo who were cleared for release by an inter-agency task force he appointed when he took office in 2009. Although 86 men (out of 166 prisoners in total) were cleared for release when the president made his promise on May 23, just two of those 86 men have been freed in the last five months.
Please visit the GTMO Clock site, like it, share it and tweet it if you regard this as unacceptable.
President Obama made his promise in a major speech on national security issues, when he stated, "I am appointing a new, senior envoy at the State Department and Defense Department whose sole responsibility will be to achieve the transfer of detainees to third countries. I am lifting the moratorium on detainee transfers to Yemen, so we can review them on a case by case basis. To the greatest extent possible, we will transfer detainees who have been cleared to go to other countries."
Since that speech, two envoys have been appointed -- Cliff Sloan at the State Department (in June), and Paul M. Lewis at the Pentagon, in an appointment announced two weeks ago. Sloan, described by The Hill as "a veteran Washington attorney and civil servant," clerked for Supreme Court Justice John Paul Stevens, and, more recently, was the publisher of Slate magazine, and legal counsel for the Washington Post's online operations. Lewis has served as General Counsel for the House Armed Services Committee, and the director of the Office of Legislative Counsel in the Office of the General Counsel of the Department of Defense. He begins his job on November 1.
Encouragingly, a Pentagon press release described Lewis as the "Special Envoy for Guantánamo closure," and it is to be hoped that he will help to fulfill the president's other promises. Despite lifting his own moratorium on releasing cleared Yemenis, which he imposed following a failed bomb plot in December 2009 that was hatched in Yemen, the president has failed to release any Yemenis, even though they comprise two-thirds of the 84 cleared prisoners.
In fact, the president has released just two prisoners since he made his promise to resume releasing prisoners -- two Algerians who were repatriated in August.
To demand the release of all the prisoners who were told in January 2010 that the U.S. government no longer wished to hold them -- and who, in many cases, were cleared for release by military review boards under President Bush, in 2006 and 2007 -- please do the following:
1. Call the White House and ask President Obama to release all the men cleared for release. Call 202-456-1111 or 202-456-1414 or submit a comment online.
2. You can also call the Department of Defense, and ask Defense Secretary Chuck Hagel to issue the certifications required by Congress to enable prisoners to be released, on 703-571-3343.
3. Please also feel free to write to the prisoners at Guantánamo.
Note: This article was published simultaneously here and on Andy Worthington's website.