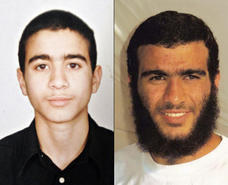 UPDATE JULY 13: Canadian Senator Romeo Dallaire has now come up with his own petition, which is getting hundreds of signatures every hour! Please sign it!
By Andy Worthington
Please sign this petition calling for Canadian Prime Minister Stephen Harper to secure Omar Khadr's return from Guantánamo.
Hosted by Change.org, this petition can be signed by anyone anywhere around the world who cares about bringing to an end the long injustice to which Omar Khadr has been subjected.
Here at "Close Guantánamo," we share the disdain that decent people everywhere feel regarding the Canadian government's refusal to honor the terms of a plea deal that Omar Khadr, the Canadian citizen still imprisoned at Guantánamo, agreed to in October 2010, when he pleaded guilty to war crimes in exchange for a promise that he would receive an eight-year sentence, with one year to be served in Guantánamo before his return to Canada.
It is now eight months since he became eligible to be returned to Canada, but he remains in Guantánamo, where, moreover, he has been in solitary confinement since he agreed to his plea deal.
We have no respect for the plea deal, which required Khadr to admit that he threw a grenade that killed a US soldier at the time of his capture, after a firefight in Afghanistan in July 2002, and also to accept that he was an "alien unprivileged enemy belligerent," who was not allowed to engage in military combat with U.S. forces under any circumstances, and, by doing so, was guilty of war crimes.
This is an outrageous and unjust attempt by the U.S. administration to make those who fight against U.S. forces in a military context into war criminals, but what is also depressing in Omar Khadr's case is that, under the terms of his plea deal, he also had to claim that he was responsible for his actions, when he was 15 years old at the time, and therefore a juvenile, whose responsibility is borne by whoever placed him in a war zone. In Omar Khadr's case, this was his father, Ahmed Khadr, who had indoctrinated him and taken him to Afghanistan and Pakistan on numerous occasions since he was a child.
The governments of Canada and the United States both accept that children seized in wartime should be rehabilitated rather than punished, under the terms of the Optional Protocol to the U.N. Convention on the Rights of the Child on the involvement of children in armed conflict, to which both countries are signatories. In Omar Khadr's case, however, both countries have shamefully discarded their obligations, and continue to do so to this day.
Of particular concern right now, as we highlighted in an article two weeks ago, "Omar Khadr's Lawyers Demand His Return to Canada from Guantánamo," focusing on a press conference called by his lawyers and by Canadian Senator Romeo Dallaire, is the role of the Canadian government in this ongoing debacle. Although the U.S. government is seeking Khadr's return to Canada, to honor the terms of the plea deal -- and, cynically, to persuade other prisoners that plea deals are a route for them to leave Guantánamo by ratting on their fellow prisoners -- the Canadian government is dragging its heels, refusing to sign the paperwork that will bring him home, out of simple political cowardice.
Ten years of ignoring Khadr's plight -- and actively depriving him of his rights as a Canadian to be helped by his government -- has led to a situation in which he has become a victim of a casual and dangerous racism, and there is a widespread and largely unchallenged belief that Canada can continue to wash its hands of him, even though there is not a chance of that ever happening.
The Canadian government's delay will not mean that Omar Khadr can somehow be refused re-entry into Canada, because he is a Canadian citizen, who was born in Canada, and has as many rights as his Islamaphobic and racist critics have -- in other words, to be supported by their government if they were held by a foreign country that abused them and deliberately disregarded the rule of law.
So, again, please sign the petition calling for Canadian Prime Minister Stephen Harper to secure Omar Khadr's return from Guantánamo, and please tell your friends and family to sign it too.
The text of the petition is as follows:
What has been done to this child is shameful and immoral. We demand that the Canadian government uphold Omar's human and citizenship rights. We demand that the Canadian government follow the law.
Omar was a child soldier when captured at the age of 15 in Afghanistan. He pleaded guilty in October 2010 in return for an eight-year sentence and a diplomatic deal that made him eligible to serve his detention in Canada.
The U.S. signed off on Omar's transfer in April.
The U.N. Committee Against Torture has criticized the Canadian government for delaying his return to Canada and [has said that Canada] was "complicit" in his human rights violations.
PM Harper has brought shame on Canadians by his continued violation of Omar's human rights. We join Senator Romeo Dallaire in demanding the immediate release of Omar Khadr.