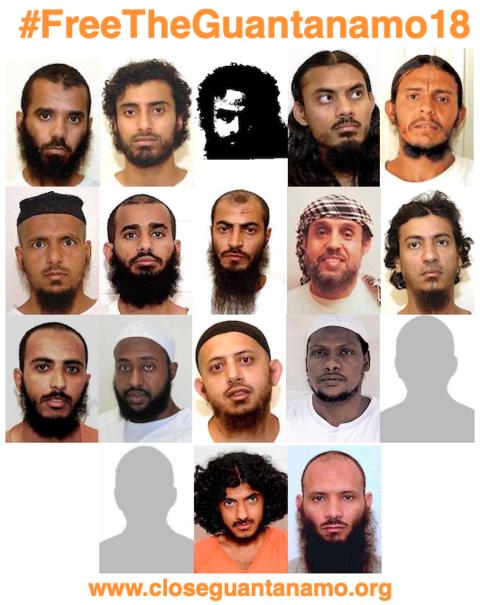 If you can, please make a donation to support our work in 2023. If you can become a monthly sustainer, that will be particularly appreciated. Tick the box marked, "Make this a monthly donation," and insert the amount you wish to donate.
By Andy Worthington, March 3, 2023
Originally published on Andy Worthington's website.
With the release from Guantánamo last week of the Rabbani brothers, Ahmed and Abdul Rahim, the last two Pakistanis in the prison, Guantánamo now holds just 32 men, at an annual cost of at least $17 million a prisoner.
18 of these men — like the Rabbanis — have been approved for release, and yet they are still held because the Biden administration is not legally compelled to free them — unlike Majid Khan, who completed a military commission sentence last year and was resettled in Belize a month ago.
This is because the high-level government review processes that determined, unanimously, that the U.S. no longer wanted to hold these men were purely administrative, meaning that the men, unlike Khan, cannot ask a judge to order their release, even though none of them have never even been charged with a crime.
The U.S. government claims that it is working hard to secure the release of these 18 men, but without legal pressure, there is no sense of urgency, if, as seems apparent, it involves hard work negotiating with prisoners' home governments, or, as is the case for the the majority of the 18 men, finding third countries that are prepared to offer them new homes.
Most of the men who need resettling are Yemenis, and, since the early days of the Obama presidency, Republicans have inserted provisions into the annual National Defense Authorization Act (NDAA) prohibiting any repatriations from Guantánamo to Yemen, and to a handful of other proscribed countries, provisions which also affect a Libyan and a Somali who have been approved for release.
Since last September, campaigners in the U.K. — myself included — have been holding monthly vigils outside Parliament, as the U.K. Guantánamo Network (comprising various Amnesty International groups, Close Guantánamo, the Guantánamo Justice Campaign and the London Guantánamo Campaign), calling for the release of these men, and the closure of Guantánamo, and last month we were joined by campaigners in Washington, D.C.
Next week, on Wednesday March 8, campaigners in London and Washington, D.C. will be holding another coordinated vigil, and this time our vigils are starting to go global, with other vigils being held in New York and Mexico City. As it is also International Women's Day, we will be focusing on the suffering caused to prisoners' female relatives — their mothers, wives and daughters — by their long and inexcusable imprisonment without charge or trial.
Please do join us if you can — and feel free to set up your own vigil, wherever you are. You can also get in touch for further information or to let us know about your plans. Please also feel free to print off the #FreeTheGuantanamo18 poster at the top of this article, and the infographic below, showing how long the 18 men have been held since they were first approved for release. The figures on the infographic show the number of days as of February 23, when the Rabbani brothers were freed.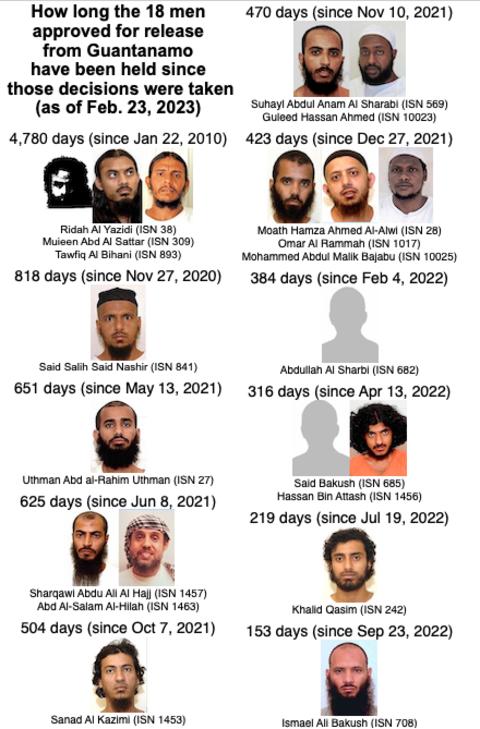 Below is the list of vigils taking place next Wednesday.
March 8 vigils for the closure of Guantánamo
London, 1-3pm GMT: In Parliament Square, opposite the Houses of Parliament, London SW1. U.K. Guantánamo Network campaigners have orange jumpsuits and hoods for supporters to wear. For further information, please contact Sara Birch, the convenor of the U.K. Guantánamo Network on 07710 789616, or email us.
Washington, D.C., Noon-1pm, ET: On the corner of Independence Avenue and New Jersey Avenue, SE. Witness Against Torture and Close Guantánamo campaigners have orange jumpsuits and hoods for supporters to wear. For further information, please contact Steve Lane, Close Guantánamo's Washington, D.C. coordinator, on 571-221-4120 or via email.
New York City, 4:30-5:30pm, ET: On the steps of the New York Public Library, 5th Avenue & 42nd Street, New York, NY 10018. Organized by the World Can't Wait. See the Facebook page here.
Mexico City, Noon-1pm, CST: U.S. Embassy, Paseo de la Reforma 305, Colonia Cuauhtemoc, 06500 Mexico City. Amnesty International and Close Guantánamo campaigners have orange jumpsuits and hoods for supporters to wear. For further information please contact Natalia on 55 3993 1730.
Please note that future coordinated vigils will be taking place on the first Wednesday of every month from now on, i.e. April 5, May 3, June 7 etc.