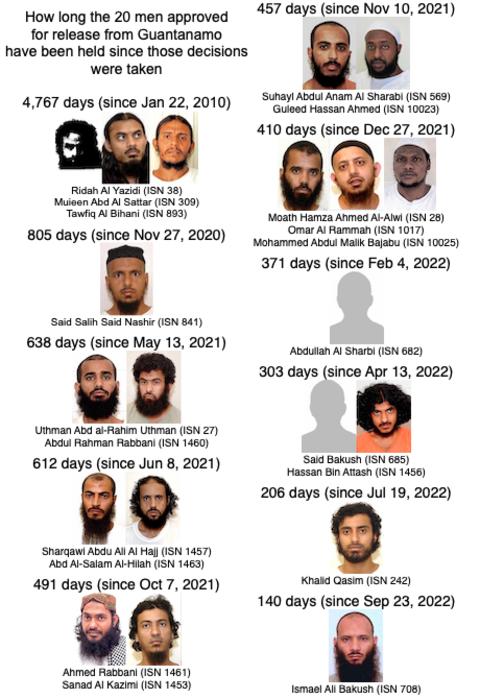 If you can, please make a donation to support our work in 2023. If you can become a monthly sustainer, that will be particularly appreciated. Tick the box marked, "Make this a monthly donation," and insert the amount you wish to donate.
By Andy Worthington, February 11, 2023
Originally published on Andy Worthington's website.
Last week, when Majid Khan was freed from Guantánamo, it had taken 337 days for the U.S. government to secure his release after his terrorism-related military commission sentence ended, on March 1, 2022.
The U.S. government worked hard to secure Majid Khan's resettlement in Belize because it was legally required to do so, and also because officials in various branches of the government wanted to ensure the continuing viability of plea deals for Guantánamo prisoners accused of acts of terrorism.
In contrast, however, as the infographic above shows, 20 other men approved for release through high-level government review processes have, for the most part, been waiting far longer than the 337 days that Majid Khan had to wait for his freedom.
This is because the review processes that approved them for release — the Guantánamo Review Task Force of 2009-10, and, since 2013, the Periodic Review Boards — were purely administrative, and have no legal weight, and, as a result, the government has not had to act with the urgency that was required for Majid Khan, even though none of these 20 men has ever even been charged with a crime.
We have no doubt that the process of repatriating some these 20 men, and resettling others in third countries, as with Majid Khan, because they can't be repatriated, is fraught with problems, but it also seems clear from Majid Khan's case that results can be achieved when a prisoner's release is sufficiently prioritized.
As a result, we call on the U.S. government to do more to prioritize the release of these 20 men. It is unforgivable that three of them (approved for release via the Guantánamo Review Task Force) have been waiting over 13 years (4,767 days) to be freed, and that one other man has been waiting 805 days, since he was approved for release by a Periodic Review Board towards the end of the Trump presidency.
However, even under Biden, when 16 of these 20 men have also been approved for release by Periodic Review Boards, the lack of action is starting to seriously undermine any notion that the administration takes their release seriously. The first of these men to be approved for release have now been waiting for their freedom for 638 days, and almost all of the others have also been waiting for longer than Majid Khan's 337 days.
If the administration wants to avoid claims that it is holding these men arbitrarily, or that its review processes are so meaningless that these men are in fact political prisoners, officials need to act as strenuously as they did to get Majid Khan resettled in Belize.
We are watching, and we will continue to highlight the plight of these men until they, like Majid Khan, are finally freed.