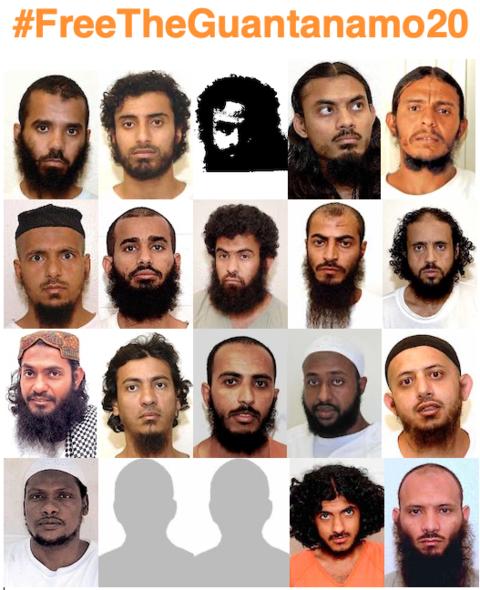 If you can, please make a donation to support our work in 2023. If you can become a monthly sustainer, that will be particularly appreciated. Tick the box marked, "Make this a monthly donation," and insert the amount you wish to donate.
By Andy Worthington, January 8, 2023
With a heavy heart, the small but dedicated group of human rights activists from across the United States and around the world who, on a daily basis, are appalled by the continued existence of the fundamentally lawless prison at Guantánamo Bay are preparing to mark the 21st anniversary of its opening this Wednesday, Jan. 11.
This anniversary I'll be in London (not the U.S. as I was every Jan. 11 from 2011 to 2020), but I'm hoping that I'll still be able to make waves, along with my American friends and colleagues, and this year, at Close Guantánamo, we're particularly focusing on the 20 men — out of the 35 still held — who have been approved for release, but are still held.
Photos of these 20 men are in the composite image at the top of this article, which I made a few days ago, and when I posted it on Facebook, I explained, "16 of these men have been approved for release since President Biden took office, while three others were approved for release in 2010, but are still held, and one other man was approved for release in the dying days of the Trump presidency."
I added, "Shamefully, the men are still held because the Biden administration has not sufficiently prioritized their release (or, in the case of some of these men, their transfer to third countries, because laws passed by Congress prevent their repatriation), and this delay, in part, is because there is no legal obligation for them to be freed, as they were approved for release through administrative review processes."
As I also explained, "Of the 15 other men still held, three are still held without charge or trial as 'forever prisoners,' nine are facing trials, one accepted a plea deal last year, one is serving a life sentence after a one-sided trial in which he refused to mount a defense (in 2008), and one other man is also awaiting release, after his sentence, agreed at a plea deal in 2012, came to an end on March 1 last year."
I very much hope that President Biden will take on board how shameful it is that men approved for release (most under Biden himself) have still not been freed, and urge him to act as swiftly as possible to get them freed, and not, as has so often been the case with U.S. Democratic leadership on Guantánamo, to not do enough, and to avoid attracting the attention of Republicans.
It is time for these men to be allowed to resume their lives after their shamefully long and lawless ordeal, just as it is time for Guantánamo itself to be closed, which will be much a much easier prospect if over half of the men still held are released, and just over a dozen men are still held — at a cost, let us not forget, of half a billion dollars a year.
Jan. 11, 2023
12 noon-1pm Eastern time: Guantánamo at Twenty-One - What is the Future of the Prison Camp? With Thomas Wilner, Karen Greenberg and Andy Worthington
An online panel discussion hosted by New America in Washington, D.C. Thomas Wilner was Counsel of Record to the Guantánamo prisoners in their Supreme Court cases in 2004 and 2008, and Karen Greenberg is the Director of the Center on National Security at Fordham Law School.
Register here.
1pm Eastern time: Close Guantánamo Rally at the White House
Organized by Witness Against Torture and the National Religious Campaign Against Torture.
The Facebook page is here.
7-8pm GMT: Close Gitmo Twitter Storm
Initiated by CAGE. Details here.
8-9pm GMT: Guantánamo at 21: Mansoor Adayfi and Andy Worthington Discuss the Prison's Closure
An online panel put together for the U.K. Guantánamo Network, which consists of members of a number of Amnesty International groups, Close Guantánamo, the Guantánamo Justice Campaign, the London Guantánamo Campaign and Freedom From Torture. Former prisoner Mansoor Adayfi is the author of the acclaimed memoir "Don't Forget Us Here: Lost and Found at Guantánamo."
The Zoom link for the event is here.
4-5.30pm Eastern time: Building our Power to Close Guantánamo
A virtual rally organised by the Center for Constitutional Rights, Amnesty International USA, the Center for Victims of Torture and the Muslim Counterpublics Lab.
Details here.
4-6pm Eastern time: Close Guantánamo NOW Rally, New York Public Library, 5th Avenue at 42nd Street, New York NY 10018
Organized by the World Can't Wait and World Beyond War with Witness Against Torture and other groups. There will be numerous speakers in New York, and Andy Worthington will be speaking live by video link from London.
The Facebook page is here.
There are other rallies, in Los Angeles, in Northampton, MA., in Raleigh, North Carolina, in Berkeley, CA., in Augusta, Maine, in Cleveland, OH. and in Honolulu. Details are on the Witness Against Torture page here.
There is also a vigil at the U.S. Embassy in Mexico City. Details here.
Jan. 14, 2023
11.30am-2.30pm, Guantánamo 21st Anniversary March and Vigil, London SW1
A march and rally organized by the U.K. Guantánamo Network, beginning at Old Palace Yard from 11.30am, followed by a march up Whitehall to the North Terrace of Trafalgar Square, by the National Gallery, where there will be speakers including Andy Worthington and others tbc at 2pm.
6pm: Guantánamo at 21 - Torture Comes of Age, London SW12
A CAGE event featuring former prisoner Moazzam Begg, and, by Zoom link from Morocco, former prisoners Ahmed Errachidi and Abdul Latif Nasser (released in July 2021).
Register here.
For further actions, if you're in the U.S., please consider writing to President Biden and to your elected representatives. You can send a message to the White House here, and you can find your Senators here, and your Representatives here.
You can also, wherever you are in the world, take a photo with our poster marking 7,671 days of Guantánamo's existence on Wednesday (Jan. 11), and send it to us. We'll be posting the photos on a new page on our website, and also sharing them on social media.