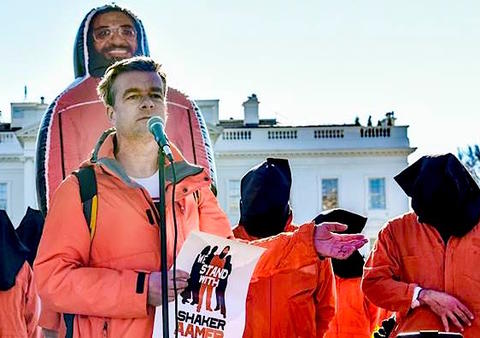 If you can, please make a donation to support our work throughout the rest of 2022 and into 2023. If you can become a monthly sustainer, that will be particularly appreciated. Tick the box marked, "Make this a monthly donation," and insert the amount you wish to donate.
October 28, 2022
Below, cross-posted from our co-founder Andy Worthington's website, is his announcement of an update to the definitive six-part Guantánamo prisoner list that he first compiled in 2009, and has updated on several occasions since.
Linking to articles of relevance from the 2,500 articles Andy has written about Guantánamo since May 2007 — and also providing references to mention of the prisoners in The Guantánamo Files, his account of the prison and the men held there, which he wrote in 2006-07 — it is the most comprehensive list available anywhere of the stories of the the 779 men who have been held at Guantánamo since it opened nearly 21 years ago. Check out Andy's introduction below for more background information, and please follow the links to the six parts of the list.
Guantánamo: My Definitive Six-Part Prisoner List Updated for 2022, With Links to My 2,500 Articles Since 2007
By Andy Worthington
In the sixteen years and eight months since I began working on Guantánamo on a full-time basis, I've built up an unprecedented archive of nearly 2,500 articles telling the stories of men held there, following their efforts to secure release from the prison, and, in the cases of all but the 36 men still held, writing about their release, and, in some cases, their lives afterwards.
In 2009, I first compiled a definitive Guantánamo prisoner list, listing all the men (and boys) held at the prison, providing references to where I told their stories in my book The Guantánamo Files, published in 2007, and also providing links to all my articles mentioning them. I updated the list in 2010 (twice), 2011, 2014, 2016 and 2018, and have now updated it for the eighth time, adding links to the articles I've written over the last four years.
I hope this is of interest, and you can find the six articles here: Part 1 (ISN prisoner numbers 1-133), Part 2 (134-268), Part 3 (269-496), Part 4 (497-661), Part 5 (662-928) and Part 6 (929-10029).
For anyone who may not be familiar with my work over the last sixteen years and eight months as an independent, reader-funded investigative journalist, commentator and activist, I began by piecing together the men's stories from 8,000 pages of documents that the Pentagon was required to release through Freedom of Information legislation in 2006, when, it turned out, I was the only journalist to do so, weaving the men's stories— and accounts of their capture — into a narrative of the prison's history that became The Guantánamo Files.
After the 14 months it took me to write the book, I began writing and publishing articles on a regular basis, on my website and elsewhere, including, since 2012, on the website of the Close Guantánamo campaign, which I established with the attorney Tom Wilner, following every aspect of Guantánamo's story as it unfolded over the years, under George W. Bush, under Barack Obama, under Donald Trump, and now under Joe Biden.
Throughout all these years, I have maintained a particular focus on key aspects of the prison's story. These include the habeas corpus cases that took place from 2008 to 2011, when cynical appeals court judges largely gutted habeas of all meaning for the Guantánamo prisoners after their success in their Supreme Court case Boumediene v. Bush, in June 2008. That particular ruling had led to the only sustained period in Guantánamo's history when the law had any sway over the prison's operation, and judges ordered the release of over 30 men because the government had failed to demonstrate that they had any meaningful connection to Al-Qaeda or the Taliban.
Other significant projects include the classified military files released by WikiLeaks in 2011, on which I worked as a media partner, when the stories of the first 201 prisoners to be released were revealed for the first time (see here and here), and when I forensically analyzed over 400 of the files, and the Periodic Review Boards.
A parole-type process that began under Obama in 2013, the PRBs were set up to review the cases of 64 men who had previously been recommended for ongoing imprisonment without charge or trial, or had previously been recommended for prosecution, and they led to 38 men being approved for release under President Obama (all of whom were eventually released), and, after four years of Trump, in which most of the prisoners boycotted their hearings, having correctly concluded that they had become a sham, another 19 under President Biden (although most of them, shamefully, have yet to be freed).
In the early days, I also spent some time covering the military commissions — first under George W. Bush, and then when they were ill-advisedly revived under President Obama, although in recent years my coverage has only been sporadic, as the entire broken system is caught up in an endlessly looping Groundhog Day of futility.
The prison is now closer to closure than it has ever been, with just nine men facing charges, one convicted and serving a life sentence, two having agreed to plea deals (one of whom is awaiting release), and three still held indefinitely as "forever prisoners," in addition to the men approved for release — 21 in total.
As a result, it now seems reasonable to think that Guantánamo may, indeed, finally be closed one of these days, but as campaigners have learned over the years, progress on getting the prison closed is rarely straightforward, and in the meantime I will continue to write about it, and the men held there, and to call for its closure.
Thanks for all your support — and I hope this list helps all the activists, academics, lawyers and others in the US and around the world who recognize the importance not only of getting Guantánamo closed, but also, one day, of holding responsible those who authorized its existence and maintained it for all these years.
On that front, please do get in touch if you'd like to be involved in the Guantánamo Accountability Project that I'll be launching on the 21st anniversary of the prison's opening, on January 11, 2023.
Andy Worthington
London
October 27, 2022