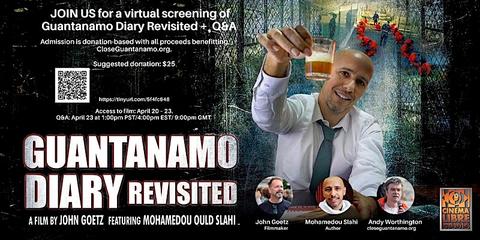 By Andy Worthington, April 11, 2022
Cross-posted from AndyWorthington.co.uk.
I'm delighted to announce that, next week, from April 20-23, filmmakers and distributors Cinema Libre Studio are hosting an online screening of the new documentary film, "Guantánamo Diary Revisited," followed by an exclusive Q&A session, on April 23, as a fundraiser to support my ongoing work on Guantánamo via this website, and via my own website, AndyWorthington.co.uk.
"Guantánamo Diary Revisited" is directed by the investigative journalist John Goetz, and has just been released in the U.S. and Canada on DVD and on a variety of streaming platforms. It follows former Guantánamo prisoner and best-selling author Mohamedou Ould Slahi (aka Salahi), after his release from Guantánamo in October 2016, as, with John, Mohamedou set out to find the "Special Projects" interrogators, including the mysterious Mr. X, who tortured him at Guantánamo on the orders of the now-deceased defense secretary Donald Rumsfeld, "in order to seek revenge … by inviting them to tea," as the film's publicity blurb explains.
Mohamedou, extraordinarily, realized that the only way to avoid being trapped by the torture to which he was subjected was to forgive everyone who had wronged him, the significance of which I first noticed soon after his release, when, in a video made for the ACLU, he said, "I wholeheartedly forgive everyone who wronged me during my detention, and I forgive because forgiveness is my inexhaustible resource."
In addition, in January 2017, Larry Siems, the editor of Guantánamo Diary, who had recently visited Mohamedou in Mauritania, told me that, as I later described it, he had "elaborated on his theory of forgiveness, explaining that, if people do not forgive those who have wronged them, then they cannot let go of their pain, and it will, essentially, eat away at them or drag them down, whereas he, as he said, is absolutely free."
Having just spent time with Mohamedou on his recent U.K. speaking tour, where I finally met him for the very first time, I can confirm that forgiveness remains central to his worldview, as does the importance of kindness, which, after his torture and subsequent years of isolation, he said he discovered was all that was important about life when existence was stripped down to its basics.
In tracking down Mohamedou's torturers, John Goetz succeeded in getting them to reflect on what they had done, with a variety of responses ranging from guilt to denial, which makes for a very powerful documentary.
To book a ticket to watch "Guantánamo Diary Revisited" online between Wednesday April 20 and Saturday 23, please visit the Eventbrite page here, where you can book a free ticket, and where you will also be asked to make a donation to support my work. The suggested donation is $25, but you can pay whatever you can afford — and if you're feeling particularly generous you can always pay more.
Donations are via PayPal, but, as Cinema Libre note, "If you do not have a PayPal account, select below the PayPal sign in option 'Pay with a Debit or Credit Card,' where you can make your donation via Credit or Debit."
Following the screening, the live Q&A session will take place via Zoom on Saturday April 23, 2022 at 1pm Pacific Time/9pm UK time, with Mohamedou, John Goetz and myself all taking part. The Zoom link is here.
I do hope the above is of interest, and that you'll be interested in watching the film, donating to support my work, and joining Mohamedou, John and I for the Q&A.
Please see below for the trailer for "Guantánamo Diary Revisited," via YouTube, and please also feel free to like the film's Facebook page here.