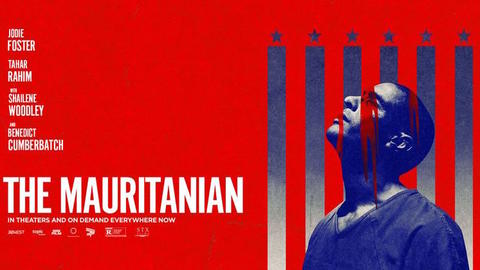 If you can, please make a donation to support our work in 2021. If you can become a monthly sustainer, that will be particularly appreciated. Tick the box marked, "Make this a monthly donation," and insert the amount you wish to donate.
By Andy Worthington, March 2, 2021
I'm delighted to announce that, today, following a limited theatrical release (because of Covid), "The Mauritanian," the powerful new movie based on the story of torture victim and best-selling author Mohamedou Ould Slahi, is available to stream in the U.S., via 20 streaming outlets, including Amazon Prime, Apple TV, Google Play and YouTube.
I reviewed "The Mauritanian" on my website last month, and also appeared in an online event with Mohamedou back in January. As I explained in my review, the film "shines a light on the U.S.'s shameful post-9/11 flight from justice, and, crucially, the ways in which kidnapping and torture were based on nothing more than suspicion or hearsay, or on statements made by other tortured individuals (which were, of course, inherently unreliable)."
I added that it is important to remember "how, at Guantánamo in particular, this evidence-free worldview continues to involve the ongoing imprisonment without charge or trial of the majority of the 40 men still held."
"The Mauritanian" features Tahar Rahim in riveting form as Mohamedou, Jodie Foster as his attorney Nancy Hollander, and Benedict Cumberbatch as Lt. Col. Stuart Couch, Mohamedou's military prosecutor, who, as I described it, "resigned after discovering his torture, and how the only evidence against him consisted of statements that he made as a result of his torture."
Yesterday, just in time for the film's release via the streaming services, it received a huge boost when Jodie Foster won a Golden Globe as best supporting actress, and here at "Close Guantánamo," we are hoping that as many people as possible will see "The Mauritanian," and that it will help to put pressure on President Biden to finally close the prison for good.
For other, related media, please see "My Brother's Keeper," a 21-minute documentary film, funded by Guardian Documentaries and released last week, which celebrates the friendship of Mohamedou and his former guard, Steve Wood.
Please also see Christiane Amanpour's interview on her CNN show — also last week — with Mohamedou, Steve Wood, and Kevin Macdonald, the director of "The Mauritanian."
And finally, for now, check out this Amnesty International video, just released today, in which Jodie Foster, Mohamedou and Shailene Woodley (who plays Nancy Hollander's colleague Teri Duncan) urge President Biden to close Guantánamo. You can also sign an Amnesty International petition here.