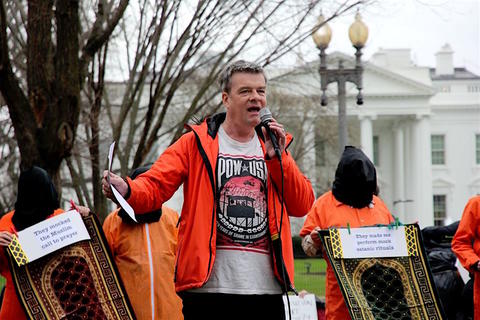 If you can, please make a donation to support our work in 2020. If you can become a monthly sustainer, that will be particularly appreciated. Tick the box marked, "Make this a monthly donation," and insert the amount you wish to donate.
By Andy Worthington, January 25, 2020
Thanks to those of you who supported us as we tried to make our voices heard on the recent 18th anniversary of the opening of the "war on terror" prison at Guantánamo Bay, where 40 men are still held, most without charge or trial, under a president — Donald Trump — who has no intention of ever releasing any of them under any circumstances, and who cannot be compelled to do so because of the fundamental lawlessness of Guantánamo.
On the anniversary, January 11, for the tenth year running, our co-founder Andy Worthington, who had just flown in from the U.K., gave a rousing speech outside the White House, full of indignation at this dreadful state of affairs, as part of the annual rally organized by groups including Amnesty International USA, the Center for Constitutional Rights (CCR), and Witness Against Torture, who, as they do every year, wear orange jumpsuits and hoods, and fast for several days while undertaking actions intended to highlight the ongoing injustice of Guantánamo. You can check out Andy's photos of the anniversary rally here.
Andy was then joined at the New America think-tank, on January 13, for a panel discussion about Guantánamo with our other co-founder, Tom Wilner, who was Counsel of record to the Guantánamo prisoners in the two U.S. Supreme Court cases confirming their right to seek review of their detentions in the U.S. courts through the writ of habeas corpus.
This was a surprisingly well-attended event, given the distractions of impeachment and Trump's recent and unprovoked assassination of the senior Iranian official Qassem Suleimani, and we hope that a video of it will be available soon.
In the meantime, do check out CCR's video of the rally outside the White House, which features Andy speaking 55 minutes in, and also check out, below, the only English language feature in the whole of the U.S. broadcast media that dealt with the anniversary — Andy's appearance on RT on January 15.
Andy also took part in a speaking event at Revolution Books in New York on January 16, with a special guest speaker he invited to take part that day — Shelby Sulliivan-Bennis, formerly of Reprieve, who is co-counsel for around ten of the men still held, roughly half of those regarded as "low-value detainees" and held in Camp 6, while the so-called "high-value detainees" are held in Camp 7.
This was a powerful and emotional event, captured on video here, because Andy and Shelby had spent the afternoon at CUNY School of Law on Long Island City, discussing the powerful exhibition of Guantánamo prisoners' artwork that opened on January 11, featuring the haunting work of "low-value detainee" Khaled Qasim (aka Qassim) — and watch our for an article about this exhibition soon.
Inspired by this, Andy's presentation that evening highlighted how Donald Trump has taken all hope from the remaining prisoners, entombing them in an endless prison from which there is no release, while Shelby vividly brought to life what this means inside the prison, where men who have never been charged with a crime and are not allowed any direct contact with their families are getting old and ill, and sinking into understandable despair, while, in the U.S., the mainstream media is largely content to behave as though Guantánamo no longer exists, and far too many Americans are completely oblivious to its continued existence.
That has slightly changed this week, as the prison is suddenly busier than it has been for years, with reporters drawn in significant numbers to cover the questioning of James Mitchell, one of the architects of the CIA's torture program, in pre-trial hearings in Guantánamo's contentious military commission trial system, for the five men accused of involvement with the 9/11 attacks. This is undoubtedly important, but it remains to be seen how many — if any — of these visiting reporters will take the time to mention the other men still held at Guantánamo, wasting away without charge or trial, and when the media circus moves on, after the torturers' testimony is complete, it is pretty certain that the 40 men still held — not just the five currently in the prison's courtroom — will once more be forgotten.
Meanwhile, last week, while the reporters were preparing for their flights out to Guantánamo, Andy was taking part in a number of radio interviews, a full list of which can be found on his website here, where he attempted to make sure that the bigger picture of Guantánamo's injustice isn't lost as the news cycle focuses on special events that are considered newsworthy, while ignoring their context.
We'd also like to thank those of you who took part in our ongoing poster campaign, taking photos with our poster marking 6,575 days of Guantánamo's existence on January 11, and urging Donald Trump to close it, and we'd like to ask you, if you will, to take a photo with the next poster, marking 6,600 days of the prison's existence, on February 5, and to send it to us. The posters are an offshoot from our initiative the Gitmo Clock, which counts in real time how long Guantánamo has been open, and all the photos from January 11 can be found here.
Thanks again for your interest in getting Guantánamo closed. We hope you will stay with us throughout this year, and if you can make a donation to support our work, please do so via the Paypal "Donate" button at the top of this article.