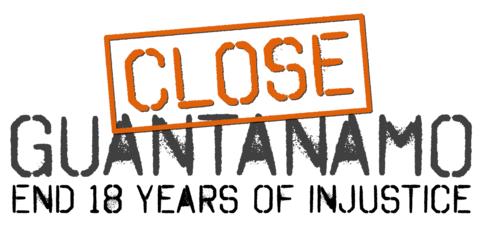 If you can, please make a donation to support our work in 2020. If you can become a monthly sustainer, that will be particularly appreciated. Tick the box marked, "Make this a monthly donation," and insert the amount you wish to donate.
By Andy Worthington, Close Guantánamo's co-founder, January 7, 2020
A version of this article was previously published on Andy's website.
On Friday I fly into New York's JFK Airport from London for what will be my tenth successive January visit to the U.S. to call for the closure of the prison at Guantánamo Bay on the anniversary of its opening (Jan. 11). As has been the case since 2012, I will be representing the Close Guantánamo campaign, which I founded that year to mark the 10th anniversary of the prison's opening with the attorney Tom Wilner, who was Counsel of record for the Guantánamo prisoners in the two U.S. Supreme Court cases confirming their right to seek review of their detentions in the U.S. courts through the writ of habeas corpus, in 2004 and 2008.
The main focus of my visits, from that first year onwards, has been a rally outside the White House of groups calling for the prison's closure, including Amnesty International, the Center for Constitutional Rights, the National Religious Campaign Against Torture, Witness Against Torture, and the World Can't Wait. and. most years, I have also taken part in a panel discussion with Tom Wilner about the future of Guantánamo at New America, a D.C.-based think-tank.
Even that first year (2011), the rally was an example of tenacity over hope, and it remains so today, something that has to be done, because the existence of Guantánamo is an abomination, but, sadly, with no expectation that it will fundamentally change anything.
In 2011, there was disappointment because President Obama had failed to close Guantánamo within a year, despite promising to do so when he took office in January 2009, and 2012, as noted above, marked the 10th anniversary of the prison's opening.
By 2012, however, habeas corpus had been gutted of all meaning for the prisoners after a number of ideologically malignant rulings by the D.C. Circuit Court (the court of appeals in Washington, D.C.), and, in addition, President Obama had almost entirely stopped releasing prisoners, because of his unwillingness to overcome cynical obstructions raised by the Republican majority in Congress. The situation was even more depressing in January 2013, but in February that year, the prisoners themselves hauled Guantánamo back into the spotlight, by embarking on a prison-wide hunger strike to highlight their plight.
In response to international criticism provoked by the hunger strike, Obama finally began releasing prisoners again, in August 2013, making 2014's rally slightly less depressing, as, for almost three years, from September 2010 to August 2013, only five prisoners had been released. Following this, on the last two anniversaries of Obama's presidency, in 2015 and 2016, there was enthusiasm for a push to get the prison closed, as Obama's parole-type review process, the Periodic Review Boards, had kicked in, leading to the release of 36 men in addition to many dozens more who had been approved for release by his first high-level government review process, the Guantánamo Review Task Force, which had reviewed all the prisoners' cases in 2009, and had recommended that two-thirds of them be released.
In 2017, we were all in a horrible limbo, as we awaited the arrival in the White House of Donald Trump. Pressure from those seeking Guantánamo's closure had ensured that Obama undertook a flurry of releases before he left office, leaving just 41 men still held when Trump took over. It was 41 men too many, of course, and Obama would forever be tainted by — after eight years — failing to close the prison within a year as he had promised on his second day in office, but at least the prison's population had been reduced by nearly 200 men since he took office.
However, over the last three years, the situation at Guantánamo has been as bleak as many of us feared when Trump won the 2016 presidential election. Only one prisoner has been released (a Saudi sent for continued imprisonment in his homeland, who was only released, in May 2018, because of a plea deal he had agreed to in his military commission trial in 2014), and Trump has no intention of releasing anyone else under any circumstances.
Moreover, although only nine of the 40 men still held are facing or have faced trials, Guantánamo remains, fundamentally, as lawless as it was at the time of its creation, because the military commissions are a broken system incapable of delivering justice, and no law or treaty exists that can compel the president to release anyone else from the prison, even though five of the men still held were unanimously approved for release by Obama's high-level government review processes, and even though the 26 others have never been charged with a crime, and, most likely, never will be, having been consigned, instead, to imprisonment without charge or trial until their death, whenever that may be — ten, 20, 30, maybe even 40 years from now, in some cases.
It must be noted that Obama's PRB process still exists, allowing Trump to, if he wishes, pretend that a credible and fair review process still exists, but the sad reality is that no one has been approved for release since Trump became president, and the prisoners themselves, correctly concluding that it has become a sham process, have responded by boycotting proceedings.
Last year, there was a flurry of hope at the anniversary rally marking 17 years of Guantánamo's existence, because Democrats had secured a majority in the House of Representatives for the first time since 2008. However, although this means that some House Democrats — including the chairs of influential committees like the House Armed Services Committee — have been amenable to renewed discussions about the need for Guantánamo to be closed, no meaningful progress has been possible while Republicans still control the Senate.
This year, with impeachment proceedings swirling around Trump at the start of an election year, in which, with breathtaking cynicism, he has responded by ordering the assassination of Iran's top general, Qassem Suleimani, threatening a horrendous escalation of violence in the Middle East, we will continue to talk to House Democrats, and also, I'm pretty certain, to point out that, although it is unwise to trust Democrats too much (as Obama's eight years in charge of Guantánamo showed), there can be absolutely no progress towards the eventual closure of Guantánamo while Trump is president, and while Republicans control the Senate.
Please see below for details of the two events in Washington, D.C. that I'm taking part in, including one with Tom Wilner. I will be returning to New York after Monday's panel discussion, and hope that a speaking event there will be confirmed soon.
Saturday January 11, 1-3pm: Justice Now: Close Guantánamo & End Torture Rally
Lafayette Square, outside the White House, 1600 Pennsylvania Avenue, Washington D.C. 20500
I will be speaking at this rally calling for the closure of Guantánamo. Those organising the event and taking part in it include Amnesty International USA, CAIR, the Center for Constitutional Rights, Close Guantánamo, CODEPINK: Women For Peace, Defending Rights & Dissent, Justice for Muslims Collective, National Religious Campaign Against Torture, September 11th Families for Peaceful Tomorrows, Tsuru for Solidarity, Witness Against Torture and the World Can't Wait.
See the Facebook page here.
Monday January 13, 1.30-2.30pm: Guantánamo in 2020 - What is the future of the prison camp after eighteen years?
New America, 740 15th Street NW, Suite 900, Washington, DC 20005
Tom Wilner and I, as the co-founders of the Close Guantánamo campaign, will be speaking at this panel discussion, moderated by Melissa Salyk-Virk, Senior Policy Analyst, New America International Security program.
The event page is here.
I am also, of course, available for interviews — in person or by phone — and for any other events that people may want to organize throughout the whole of my stay. Please do get in touch if any of the above is of interest.