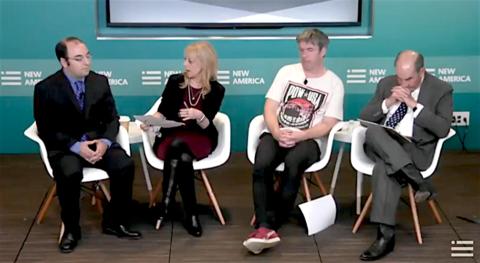 If you can, please make a donation to support our work in 2019. If you can become a monthly sustainer, that will be particularly appreciated. Tick the box marked, "Make this a monthly donation," and insert the amount you wish to donate.
January 3, 2019
As 2019 began, the "war on terror" prison at Guantánamo Bay marked a shameful milestone. January 1 was the 6,200th day of operations at the prison, and we marked the occasion with the latest stage of our ongoing photo campaign, in which supporters take photos with posters showing how long Guantánamo has been open and urging Donald Trump to close it, based on our Gitmo Clock project, which counts in real time how long the prison has been open.
In eight days' time, the prison will reach another appalling milestone: the 17th anniversary of its opening. This is on January 11, and to mark the occasion Close Guantánamo's co-founders, the Washington, D.C.-based attorney Tom Wilner and the London-based journalist Andy Worthington (making his 9th annual visit for protest and events on and around the anniversary) will be taking part in a panel discussion at the New America think-tank, and will also be part of an annual vigil outside the White House organized by and attended by representatives of a dozen rights groups. Andy is also discussing Guantánamo in New York, two days after the anniversary, and both Andy and Tom are available for media interviews, and for further events, throughout the duration of Andy's visit, from January 7-17.
Details of the events are below:
Friday January 11, 12.15 pm-1.45 pm: Seventeen Years of Guantánamo
New America, 740 15th St. NW #900, Washington, D.C. 20005
Tom Wilner and Andy Worthington, with Laura Pitter, the interim deputy director of Human Rights Watch's Americas program, discuss the prison's present and future, in a panel discussion moderated by New America's David Sterman, asking, "What will happen to the prison and its detainees in the remaining years of the Trump administration? Will anyone else be released? Will the prison ever close?"
See the event page here, and please RSVP if you're coming along.
Friday January 11, 2.30-4pm: Rally to Close Guantánamo - Rule of Law, Not Rule of Trump
Outside the White House, Lafayette Square, 1608 H St. NW, Washington, D.C. 20006
Andy Worthington joins speakers from 12 rights organizations at the annual vigil outside the White House calling for the closure of Guantánamo: Amnesty International USA, the Center for Constitutional Rights, Close Guantánamo, CODEPINK: Women For Peace, Council on American-Islamic Relations (CAIR), Defending Rights & Dissent, Justice for Muslims Collective, September 11th Families for Peaceful Tomorrows, Torture Abolition and Survivors Support Coalition International (TASSC), Voices for Creative Nonviolence, Witness Against Torture and the World Can't Wait.
See the event page on Facebook here.
Please also check out Witness Against Torture's page about their Fast for Justice, a week of events in Washington, D.C. involving fasting and political actions.
Sunday January 13, 5-7pm: Andy Worthington Talks at Revolution Books NY
Revolution Books, 437 Malcolm X Boulevard/Lenox Ave (at 132nd Street), New York 10037
As Revolution Books states, "Andy Worthington, the British journalist who has covered the men imprisoned in the U.S. torture camp at Guantánamo since 2006, speaks on the state of the prison under Trump; the 40 men who are still held, and on what released prisoners have encountered as they've been scattered across the world. Andy, a member of The Four Fathers, may sing for us. Q&A to follow."
See the event page on Facebook here.