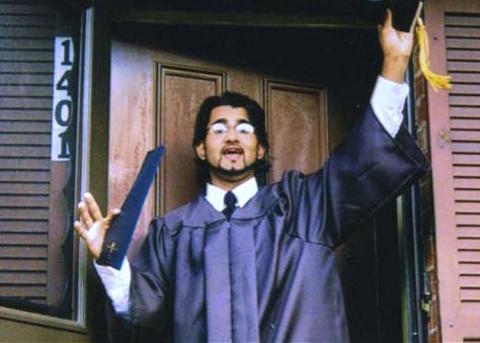 By Andy Worthington, July 22, 2018
To the U.S. political, military and intelligence establishment, Guantánamo prisoner and "high-value detainee" Majid Khan — held and tortured in CIA "black sites" for three years, where he was subjected to water torture and another horrible form of torture, "rectal feeding" — is a dangerous convicted terrorist, but to anyone who takes an interest in the man himself, Khan, a Pakistan citizen who spent six years in the U.S. as a teenager, graduating from a high school in Maryland, is a reformed character, who has cooperated fully with the authorities, and ought to be regarded as having paid his debt to society, and to be able to resume his life.
To some extent, the authorities have accepted Khan's transformation. Over six years ago, in February 2012, they arranged a plea deal whereby, as the Miami Herald explained in September 2016, he "pleaded guilty to serving as a courier of $50,000 linked to the Aug. 5, 2003, terrorist truck bombing of a Marriott hotel in Jakarta, Indonesia, that killed 11 people and wounded dozens of others," and "also admitted to agreeing to be a suicide bomber in an unrealized plot to murder former Pakistan President Pervez Musharraf."
By pleading guilty, and also by agreeing to cooperate with the authorities in forthcoming military commission trials — and, specifically, the 9/11 trial, involving Khalid Sheikh Mohammed, the alleged mastermind of the 9/11 attacks — it was agreed that, on sentencing, he would be required to serve a further 13 years.
However, despite agreeing to his plea deal nearly six and a half years ago, his sentencing has not yet taken place, having been postponed twice because of delays in the military commission trials.
In a hearing at Guantánamo last week, ahead of his proposed sentencing next year, Khan "complained to a war court judge this week of problems between his attorneys and prosecutors," as Carol Rosenberg described it for the Miami Herald.
According to a transcript released by the Pentagon, Khan said, "Over the last past six years, I've ... been struggling with this whole process and the whole military commission system is pretty stagnant."
In a masterful analogy, showing how in tune he is with U.S. culture and politics, he said in a sharp analysis of the military commission system, "I call it 'cluster covfefe,'" referring to the famous typo in a tweet by Donald Trump a year ago, which prompted a tsunami of satirical responses.
Rosenberg added, "Without explaining further, he told the judge that his lawyers and prosecutors weren't getting along," and said, "I hear a lot of ominous language from prosecutors all the time, so I don't know where I am standing." He also said that "he preferred a more 'amicable milieu.'"
Rosenberg also noted that an issue for Khan "had been the timing of his sentencing, now set for July 1, 2019," further explaining that, in his 2012 plea deal, he had "agreed to become a government witness, something his military jury might view favorably in deciding his sentence," but pointing out that "no war crimes case has come to trial that required his testimony," and so, as mentioned above, "his sentencing hearing has been twice postponed by agreement of both sides."
His civilian attorney Wells Dixon, of the New York-based Center for Constitutional Rights, stated, "Majid just wants to move forward and maximize his cooperation with as little disruption as possible. He may get frustrated from time to time, but that's only human. He's done remarkably well over the last six years. We're very proud of him."
Another issue for Khan "appears to be a churn of lawyers" on his case, as Rosenberg described it. She explained that, for the hearing on Tuesday, which lasted just over two hours, "there was a different judge, different prosecution team and different military defense attorney from his last appearance in September 2016."
As she also explained, his "long-serving military defense attorney, Army Lt. Col. Jon Jackson, has retired from service and was replaced by Navy Lt. Cmdr. Jared Hernandez." However, Hernandez, in turn, "is due to leave the case in September." In the courtroom on Tuesday, Hernandez described Khan as "Guantánamo's only high-value cooperator," and stated that he "wants the Pentagon to hire Jackson as a civilian defense lawyer for the case."
Rosenberg also explained that the the new military judge in Khan's case, Army Col. Douglas Watkins, had been responsible for the sentencing hearing last year of Ahmed al-Darbi, a Saudi who had also agreed to a plea deal, and who was repatriated to continued imprisonment in Saudi Arabia earlier this year — the only prisoner released from Guantánamo under Donald Trump.
At the hearing on Tuesday, as Rosenberg described it, Khan's legal team "questioned Watkins about possible conflicts, something that typically happens when a new judge appears at the war court." Asked "whether the CIA influences his decision making or controls his court," Watkins said, "Not at all." He added that "he was aware that Khan been held by the CIA and was aware of allegations of torture by lawyers but had never read the Senate intelligence committee's torture report." The executive summary of the report, released in December 2014, confirmed Khan's torture.
During the questioning, Wells Dixon, referring to his client's torture, asked Watkins, "Has your honor ever been involved in a case, in any fashion, where the accused was beaten or sleep deprived or stripped naked, waterboarded, or sexually assaulted?"
"Not that I'm aware of," Watkins replied, before declining "to offer an opinion of whether those things individually or in combination constituted torture."