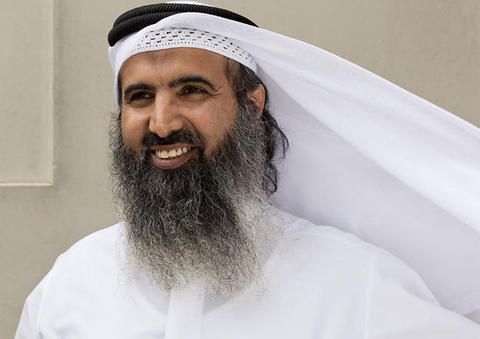 If you can, please make a donation to support our work in 2018. If you can become a monthly sustainer, that will be particularly appreciated. Tick the box marked, "Make this a monthly donation," and insert the amount you wish to donate.
By Andy Worthington, April 29, 2018
On Thursday April 26, in Amsterdam, Ali al-Marri, one of only three men held and tortured as an "enemy combatant" on the U.S. mainland in the wake of the terrorist attacks on September 11, 2001, spoke for the first time publicly, since his release in 2015, about his long ordeal in U.S. custody, and launched a report about his imprisonment as an "enemy combatant," implicating several FBI agents and stating that he is an innocent man, who only pleaded guilty to providing material support to terrorism in May 2009 because he could see no other way to be released and reunited with his family in Qatar.
Primarily through a case analysis of 35,000 pages of official U.S. documents, secured through Freedom of Information legislation, al-Marri, supported by the British NGO CAGE and his long-standing U.S. lawyer, Andy Savage, accuses several named FBI agents, and other U.S. government representatives, of specific involvement in his torture. The generally-accepted narrative regarding U.S. torture post-9/11 is that it was undertaken by the CIA (and, at Guantánamo, largely by military contractors), while the FBI refused to be engaged in it. Al-Marri, however, alleges that FBI agents Ali Soufan and Nicholas Zambeck, Department of Defense interrogator Lt. Col. Jose Ramos, someone called Russell Lawson, regarded as having had "a senior role in managing [his] torture," and two others, Jacqualine McGuire and I. Kalous, were implicated in his torture.
Al-Marri's story is well-known to those who have studied closely the U.S.'s various aberrations from the norms of detention and prisoner treatment in the wake of the 9/11 attacks — at Guantánamo, in CIA-run "black sites," in proxy prisons run by other governments' security services, and, for al-Marri, and the U.S. citizens Jose Padilla and Yasser Hamdi, on U.S. soil — but it is a sad truth that the majority of Americans have not heard of him.
The torture of Ali al-Marri
Al-Marri had arrived in the U.S. the day before the 9/11 attacks, to pursue post-graduate studies. He brought his wife and five children with him, and was registered as a legal U.S. resident. In December 2001, as I explained in The Last U.S. Enemy Combatant: The Shocking Story of Ali al-Marri, an article I wrote in December 2008, "he was arrested at his home by the FBI, and taken to the maximum security Special Housing Unit at the Metropolitan Correctional Center in New York, where he was held in solitary confinement as a material witness in the investigation into the 9/11 attacks."
As I also explained in my December 2008 article:
In February 2003, al-Marri was charged with credit card fraud, identity theft, making false statements to the FBI, and making a false statement on a bank application, and was moved back to a federal jail in Peoria, but on June 23, 2003, a month before he was due to stand trial, the charges were suddenly dropped when President Bush declared that he was an "enemy combatant," who was "closely associated" with al-Qaeda, and had "engaged in conduct that constituted hostile and war-like acts, including conduct in preparation for acts of international terrorism." Also asserting that he possessed "intelligence," which "would aid U.S. efforts to prevent attacks by al-Qaeda," the President ordered al-Marri to be surrendered to the custody of the Defense Department, and transported to the Consolidated Naval Brig in Charleston, South Carolina.
Al-Marri had already been held for 18 months, and had suffered in the Metropolitan Correction Center, where, in the wake of the 9/11 attacks, Muslim immigrants — 762 of the 1,200 men in total who were rounded up for investigation — were subjected to physical and verbal abuse, held in conditions of confinement that were 'unduly harsh," and often denied basic legal rights and religious privileges, according to a 2003 report by the Justice Department. However, his ordeal began in earnest at the brig.
As was ... revealed through the disclosure of military documents following a Freedom of Information request (PDF), al-Marri, along with two American citizens also held as "enemy combatants" — Yaser Hamdi and Jose Padilla — was subjected to the same "Standard Operating Procedure" that was applied to prisoners at Guantánamo during its most brutal phase, from mid-2002 to mid-2004. This involved the use of "enhanced interrogation techniques," including prolonged isolation, painful stress positions, exposure to extreme temperature, sleep deprivation, extreme sensory deprivation, and threats of violence and death.
Although the treatment of prisoners at Guantánamo was disturbingly harsh, it can be argued — with some confidence, I believe — that the treatment of al-Marri, Hamdi and Padilla was worse than that endured by the majority of the Guantánamo prisoners, as all three suffered in total isolation.
In May 2009, I wrote the following about the first 16 months of his imprisonment in the Charleston brig:
[T]he first 16 months that he spent as an "enemy combatant" took place in a state of almost unprecedented isolation, which, outside of the horrors endured by the "high-value detainees" in CIA custody, was shared only by the other two U.S. "enemy combatants," Yaser Hamdi and Jose Padilla, and a handful of prisoners in Guantánamo. His isolation was such that, according to a psychiatric assessment conducted on behalf of his lawyers, he began suffering from "severe damage to his mental and emotional well-being, including hypersensitivity to external stimuli, manic behavior, difficulty concentrating and thinking, obsessional thinking, difficulties with impulse control, difficulty sleeping, difficulty keeping track of time, and agitation."
As his lawyers also explained in court documents filed last May [May 2008], during this period interrogators told him that "they would send him to Egypt or to Saudi Arabia to be tortured and sodomized and forced to watch as his wife was raped in front of him," and threatened to make him "disappear so that no one would know where he was." They also explained, "He was denied any contact with the world outside, including his family, his lawyers, and the Red Cross. All requests to see, speak to, or communicate with Mr. al-Marri were ignored or refused. Mr. al-Marri's only regular human contact during that period was with government officials during interrogation sessions, or with guards when they delivered trays of food through a slot in his cell door, escorted him to the shower, or took him to a concrete cage for 'recreation.' The guards had duct tape over their name badges and did not speak to Mr. al-Marri except to give him orders."
Even after al-Marri was granted access to counsel in October 2004, the conditions of his confinement "remained unbearably brutal and harsh," as his lawyers described it, explaining how he "continued to be confined to a 9 by 6 foot cell," and was "denied regular opportunity for exercise," and also stated, "The single window in Mr. al-Marri's cell remained darkened with an opaque covering that prevented Mr. al-Marri from seeing the outside world or knowing the time of day. His cell had only a sink, toilet and hardened (metal) bed affixed to the wall. Mr. al-Marri had no chair on which to sit and no blanket, pillow, or any other soft item inside his cell. For more than two years, Mr. al-Marri was denied a mattress, causing him discomfort and pain whenever he lay down."
The lawyers added, "Mr. al-Marri was confined to his cell for 24 hours a day, 7 days a week, for months at a time. Once Mr. al-Marri was forced to spend more than 20 days in his metal bed in his freezing cell, shivering under a thin, stiff 'suicide blanket,' unable even to stand because the floor was too cold and his socks and footwear had been taken away from him."
As I explained in my December 2008 article, "As part of a deliberate policy of controlling almost every aspect of his life 'to cause disorientation, discomfort, and despair,' al-Marri continued to be deprived of all external stimuli — he had no access to books, newspapers, magazines, TV or radio — and began showing evidence of … mental collapse."
I also noted, "His conditions of confinement improved after August 2005, when his lawyers first filed a formal complaint about his treatment," and they noted in May 2008 that he was "permitted to move about his cell block" (although he was the only prisoner there) and was "given adequate time for recreation." He was also "in regular contact with his family by telephone, although his first phone call was not allowed until April 29, 2008, and was only arranged after his lawyers discovered that his father had died."
When President Obama took office, he moved immediately to resolve al-Marri's case, as the last outstanding U.S. "enemy combatant" case. Yaser Hamdi, a U.S. citizen who had moved with his family to Saudi Arabia when he was a child, had been seized in Afghanistan and was held at Guantánamo until the authorities realized that he was a U.S. citizen, when he was moved to the brig, where he spent over two years before being returned to Saudi Arabia in August 2004, after renouncing his citizenship. Jose Padilla, meanwhile, initially seized in connection with a non-existent "dirty bomb" plot, was transferred into the federal court system in 2005, and, after a trial, given a 17-year sentence in January 2008, punitively increased to 21 years in 2014. His ordeal, however, seems to have effectively destroyed him, According to the psychiatrist Dr. Angela Hegarty, who spent 22 hours with him in 2006, "What happened at the brig was essentially the destruction of a human being's mind."
Al-Marri pleaded guilty to material support in May 2009, and was given a 15-year sentence in November 2009, with the judge accepting defense requests for his previous imprisonment to count as time served. He was released in January 2015.
The new report
Documents recording the torture of al-Marri, Padilla and Hamdi were first released many years ago, but as CAGE explain in their introduction to the new report, although logs from the brig "provide details about the actions taken against Ali al-Marri and the other men … largely it is unknown who is interrogating him when he leaves for interrogation sessions." However, "The SHU [Secure Housing Unit] Visitation Log provides detailed dates, times and names of all those who were involved in meeting and interrogating Ali al-Marri," and on one particular day, March 11, 2004, when al-Marri was "dry-boarded" – with socks stuffed down his throat and duct tape wrapped around his head — CAGE "was able to verify that the three interrogators logged into the prison" that day "were the FBI agents Ali Soufan and Nicholas Zambeck, and the Department of Defense interrogator Lt Col Jose Ramos."
When the report was released, former Guantánamo prisoner Moazzam Begg, the outreach director for CAGE, said in a press release, "Up until today U.S. federal agents have insisted that they do not torture. However, during my incarceration, I was questioned by members of the FBI during every leg of my journey and threatened with rendition to Egypt or Syria in their presence, if I did not cooperate – an experience related to me by many others. Today, this evidence suggests that the FBI does in fact take part in systematic abuse. For this they, and the contractors that collaborate with them, must be held accountable."
Andy Savage, al-Marri's lawyer, after mentioning "the uproar about the use of torture at Guantánamo," added, "Most Americans don't realise that it also happened in their own country in Charleston, South Carolina. More specifically, that this torture was carried out by a rogue agent of the FBI, as proven from the prison logs."
Ali al-Marri also spoke, telling CAGE, "Ali Soufan, one of the interrogators who abused me markets himself as an anti-torture advocate. This man continues to benefit from this label despite threatening me with rape, with kidnapping and torturing my family, and attempting to suffocate me so that I could confess falsely. I hope that this information leads to him, and the others involved in my torture, being brought to justice."
Ali al-Marri speaks
Ali al-Marri also spoke to the Guardian, which noted that his "allegations of torture are supported by detention logs which are set to reignite the controversy over the U.S. handling of al-Qaida suspects before the impending appointment as CIA director of Gina Haspel," who ran a CIA "black site" in Thailand in 2002.
Remembering the events of September 11, 2001, al-Marri said that, as images of 9/11 appeared on the TV screen in the family's hotel room, while his children were searching for the Cartoon Channel, "I had a sense. I rang the airline immediately – could we get home? But everything was grounded. I didn't think al-Qaida could do it. In my hotel people were yelling at me. it was clear what was happening."
He was arrested three months later after "he went to collect a trunk shipped from home," and "the FBI were alerted," and the Guardian noted how "FBI officers found an encyclopaedia bookmarked at U.S. waterways, internet searches for toxic chemicals, and printouts of hundreds of American credit card numbers," adding, "His claim to have come to the U.S. to study was in doubt, as he had arrived two weeks late for the start of his course and 10 years after completing his first degree in the country."
As the Guardian also noted, "FBI agents said he wanted to poison lakes with cyanide and disrupt the U.S. banking system. They claimed he had visited al-Qaida training camps in Pakistan, and was in contact with Khalid Sheikh Mohammed, mastermind of the 9/11 attacks."
Now, however, al-Marri is challenging the perception of his guilt established by his plea deal. He "claims his encyclopaedia was bookmarked by his wife when she tidied his desk – 'I was reading about the biggest lake, the longest river, I like these kind of facts' – and says the chemical research was because he was considering importing chemicals from his brother-in-law's Qatar company." As he said, "It was not just cyanide, it was 200, 300 different chemicals." He also claimed that the credit card numbers "were down to idle research on algorithms, while the trips to Pakistan were on business."
"What is undisputed," as the Guardian proceeded to explain, is his torture. Speaking of the "dry-boarding" experience, he said, "I was choking, I was dying. The suffering, you taste the pain, you taste it. Threatening to sodomise me, threatening to rape my wife, threatening to bring in my kids, that's torture. Threatening to send me to a black site, to become a military lab rat, choking me to near death. This is torture."
Responding to the fact that the log explains how his interrogators, "frustrated with his chanting of verses from the Qur'an, had taped his mouth," al-Marri said, "I knew I had no rights, I was down the rabbit hole. It was dark times. My cell was six steps one way and, to lay down the other way, I'd have to bend my knees. I cannot see if it's day or night. I felt as though I was buried in a concrete grave. I know the Americans were angry, but that gave them no right to treat me like that. In times of test your morals and values should not change. Unfortunately, at that time you were guilty until proven innocent – all the bragging about American justice and American constitution, all this goes out of the window. My thought was they will shoot me, hang me."
He also said, "Yes I was scared, I was afraid of death, I was homesick for my kids, I wanted to smell the air. But I didn't want to let that show, I was non-compliant from day one. I was treated the worst of any inmate in America. I had no mattress, no blanket, no pillow, no Qur'an or prayer rug. I had no idea which way is Mecca, so I prayed each way each time."
Speaking of his plea deal, al-Marri insisted that he "pleaded guilty to get home." As he said, "Everything in that plea bargain that has to do with al-Qaida and terror is 100% false," adding, "My battery was at 1%, I'm done. From seven years of isolation, I missed my kids, my wife. To kiss my mum before she died outweighed my need to show innocence. In the military jail there's no light at the end of the tunnel." As he also said, "My best time was getting [to the end of] my sentence: 18 January 2015. Finite, out."
On his return to Qatar, as the Guardian proceeded to note, "al-Marri received a hero's welcome. The prime minister telephoned him and celebrations were held." As he said, "People were stopping me in the street, taking selfies. What were they celebrating? An inmate who has spent his time in jail and got out? They do not believe I am a terrorist. Terrorist is a relative term; one man's terrorist is another's hero. America's founding father George Washington was a terrorist to the British. To the west, yes, I am a terrorist, but to the Arabs I'm not, I'm a hero. So Osama bin Laden is a hero? When they call me terrorist, or they call me hero, I don't see that."
He added, "I was planning a master's degree and maybe a PhD. I ended up with a PhD in American hospitality. Nobody has been held accountable. There are people who admit they have done this and people who deny it. I do not need apologies, I need accountability. What they said and did to me was torture."
In a statement, the FBI told the Guardian that they "would not comment on the case," but insisted that "the FBI does not engage in torture and we maintain that rapport-building techniques are the most effective means of obtaining accurate information in an interrogation."
It is certainly true that FBI officials generally do insist that rapport-building is the only viable way of conducting interrogations, but in light of al-Marri's allegations, and lingering doubts about when exactly the FBI walked away from the CIA's abusive interrogations in 2002, it seem to me that a proper official analysis ought to be established, to ascertain how much, in the early years of the "war on terror," those guidelines were stretched or even broken.