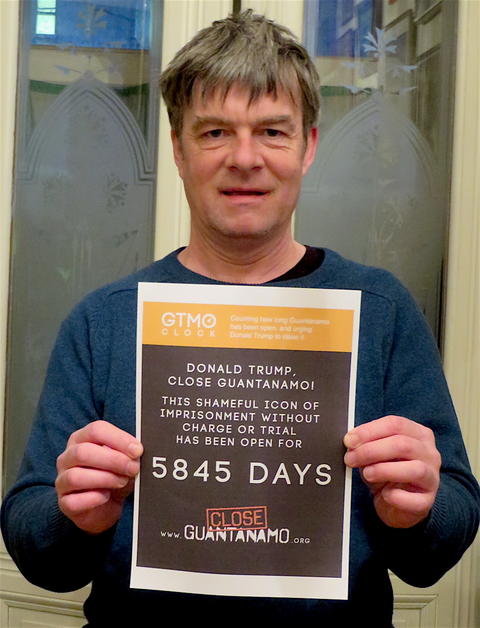 If you can, please make a donation to support our work in 2018. If you can become a monthly sustainer, that will be particularly appreciated. Tick the box marked, "Make this a monthly donation," and insert the amount you wish to donate.
By Andy Worthington, January 9, 2018
January 11, 2018 is the 16th anniversary of the opening of the "war on terror" prison at Guantánamo Bay, Cuba, when it will have been open for 5,845 days, and to mark this grim occasion — which ought to be a source of shame for all decent Americans and citizens of the world who respect the rule of law — the Close Guantánamo campaign, set up by journalist Andy Worthington and attorney Tom Wilner exactly six years ago, is launching a new initiative: inviting opponents of Guantánamo's continued existence to take a photo of themselves holding a poster telling Donald Trump to close the prison, and marking how long it has been open.
Regular readers will, we are sure, know exactly why it is so important for Guantánamo to be closed, but if you're new to the site — and we hope some of you are — the reason it needs to be closed is because the men held at the prison (41 now, but 779 in total over the last 16 years) were almost all the victims of a horrendous experiment in detention — held not as criminal suspects, to be charged swiftly and prosecuted in federal court, nor as prisoners of war protected by the Geneva Conventions, who can be held unmolested until the end of hostilities.
Instead, the Bush administration decided that the Guantánamo prisoners had no rights whatsoever. Guantánamo — the site of an existing U.S. naval base, in Cuba —was chosen because it was presumed to be beyond the reach of the U.S. courts. As such, hidden from outside scrutiny, they were open to being abused when, as it transpired, most of them had no useful information to impart. What made this situation even more shocking is that many of them had no useful information because they were insignificant. The truth only later emerged — and is still generally unknown — that there was no effective screening in Afghanistan, where all the prisoners were processed, before their arrival at Guantánamo, and, in addition, the majority of the prisoners were not "captured on the battlefield" by U.S. forces, as the Bush administration alleged, but were handed over or sold by their Afghan and Pakistani allies, with the U.S. paying bounties averaging $5,000 a head for prisoners who could be packaged up as being members of al-Qaeda or the Taliban. They were then tortured or otherwise abused in an effort to get them to provide useful intelligence, even though most of them had no such information.
The torture and abuse of prisoners was widespread until the prisoners won a Supreme Court victory in June 2004, and were granted habeas corpus rights, when lawyers were allowed to visit and begin representing them, but their habeas rights were then cynically taken away by Congress, and only restored again by the Supreme Court in June 2008. There then followed the only period in Guantánamo's history when the law applied. Dozens of prisoners had their release ordered by judges,who reviewed their cases, and concluded that the government had failed to make a case that they were involved in any meaningful sense with al-Qaeda or the Taliban, before appeals court judges cynically rewrote the rules, demanding a presumption of accuracy for the government's often shockingly inadequate evidence, which had the effect of gutting habeas corpus of all meaning for the remaining prisoners.
In the meantime, President Obama, who promised to close the prison (within a year) when he took office in January 2009, set up a high-level review process to assess the prisoners' cases, the Guantánamo Review Task Force, which concluded that 156 men should be freed, 36 should be tried and 48 should continue to be held indefinitely without charge or trial. He then set up a parole-type review process for the 48 "forever prisoners," the Periodic Review Boards, which led to a further 38 prisoners being approved for release before he left office, but failed to fulfill his promise to close the facility in its entirety, leaving 41 men in the control of Donald Trump.
Trump, in contrast, has released no one, and shows no sign of wanting to do so, even though five of the remaining 41 prisoners were approved for release under President Obama, and even though there is no acceptable justification for continuing to hold the remaining "forever prisoners" — currently, 26 men — forever. And even the remaining prisoners, who are facing trials, are deprived of justice, as the military commission system is so broken that it is incapable of delivering justice. We must be thankful that Trump's wild claim that he would send new prisoners to Guantánamo has not come true, but it remains as important as ever that the prison is closed for good.
As we begin our new initiative, the poster for January 11 — 5,845 days — is here, and we invite you to print it off, take a photo with it, and send it to us. We're setting up a new page on our website, where we'll post all the photos, and we'll also share them on social media.
After January 11 (Day 5,845), we invite you to print off your own poster marking how many days the prison has been open via the Gitmo Clock website, which we've just revived. The clock counts, in real time, exactly how many days, hours, minute and seconds Guantánamo has been open, and when you open the page and press "print" you will get a unique snapshot of exactly how long it has been open for your photo. Feel free to take a many photos as you want and send them to us, with, if you wish, a message for Donald Trump, and, if you wish, your memories of what you were doing when the prison opened on January 11, 2002.
We ran two incarnations of the Gitmo Clock under President Obama — the first, in 2013, counting how many days it was since his promise to resume releasing prisoners, after a long period when, obstructed by Congress, he had stopped releasing anyone, despite many dozens of men having long been approved for release. The Gitmo Clock's second incarnation came as we counted down to the end of Obama's presidency in 2016. We have also run two photo campaigns before — the Countdown to Close Guantánamo in 2016, also for Obama's last year, when we counted down the days remaining of his presidency via posters, and, last year, the Donald Trump No! Please Close Guantánamo campaign.
This, however, is the first time we have counted how many days in total Guantánamo has been open, and we hope the terrible truth about exactly how long it has been open will inspire you to take part.
We'll be running the campaign throughout this year, and into 2019, if the prison is still open, and we invite you to mark a few dates in your diary.
On March 7, Guantánamo will have been open for 5,900 days, and the poster for that is here.
On June 15, Guantánamo will have been open for 6,000 days, and the poster for that is here.
On September 23, Guantánamo will have been open for 6,100 days, and the poster for that is here.
And on January 1, 2019, Guantánamo will have been open for 6,200 days, and the poster for that is here.
For every other day, as mentioned above, visiting the Gitmo Clock and pressing "print" will capture a snapshot of the terrible truth about Guantánamo's apparently endless existence.
We hope you'll join us in this new initiative!