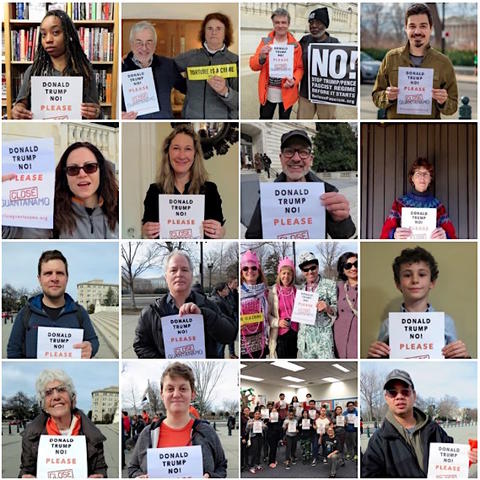 If you can, please make a donation to support our work in 2018. If you can become a monthly sustainer, that will be particularly appreciated. Tick the box marked, "Make this a monthly donation," and insert the amount you wish to donate.
By Andy Worthington, December 31, 2017
What a long and horrible year it has been under Donald Trump, from the unacceptable Muslim travel ban with which his presidency began to the recently announced tax cuts for the rich.
Bad news has been breaking out on so many fronts that it has been difficult for long-standing injustices like the prison at Guantánamo Bay to be remembered, but here at Close Guantánamo we have been trying our best to keep reminding people that the prison remains open, and that its ongoing existence is an affront to decency, as no one should be held indefinitely without charge or trial.
Throughout the year, we published nearly 40 articles on the website, maintained a busy social media presence, and ran a photo campaign, in which we encouraged people to send in photos of themselves with posters urging Donald Trump to close the prison. Check out all the photos here.
We'll soon be launching a new campaign, reviving the Gitmo Clock that we first launched under President Obama, and providing a new opportunity for you to send in photos, but for now we wanted to provide some advance notification of our activities in the new year — specifically, on and around the 16th anniversary of the opening of the prison on January 11.
Close Guantánamo co-founder Andy Worthington will be flying in from London to take part in There is a Man Under that Hood: Closing Guantánamo and Ending Torture in the Age of Trump, an event in Washington, D.C. on the evening of January 10 organized by Witness Against Torture and the Peace Poets, and also to attend, and to speak at the annual vigil outside the White House, organized by Amnesty International and many other human rights groups, including Close Guantánamo, which runs from 11.30 to 1pm on January 11.
After that, he will be joining the campaign's other co-founder, Tom Wilner, who was counsel of record in the Rasul v. Bush and Boumediene v. Bush cases that established Guantánamo prisoners' right to habeas corpus and in the Al Odah v. United States that established their right to counsel, for "Guantánamo Under Trump," a panel discussion at New America, 740 15th St., N.W., Suite 900, Washington, DC 20005, which runs from 2:30 to 4pm, also on January 11.
Joining Tom and Andy is Karen Greenberg, Director of the Center on National Security at Fordham Law School and author of Rogue Justice: The Making of the Security State, and the moderator is David Sterman, Policy Analyst with New America's International Security program.
New America describe the event as follows: "January 11th, 2018 marks the 16th year of the military prison at Guantánamo Bay established in the wake of the 9/11 attacks. It also marks the prison's first year under the direction of the Trump administration. The Trump administration has at times signaled interest in expanding Guantánamo, yet it has not sent any new detainees there. None of the 41 detainees, including five who had been recommended for transfer, and who remained at the end of the Obama administration, have been transferred. What will happen to the prison and its detainees in the remaining years of the Trump administration? Will Donald Trump reverse course and increase the number of detainees held there? Will the prison ever close?"
Please get in touch with us to arrange interviews, or to plan further events. Andy will be in the U.S. from January 8-21, and details of further events will be announced soon.