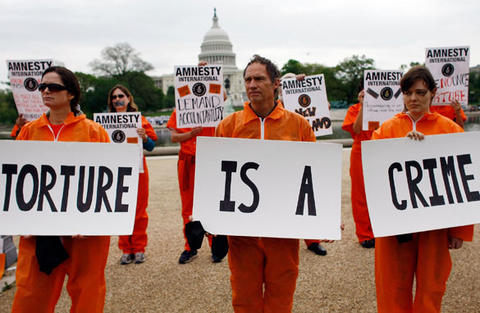 By Andy Worthington, December 19, 2017
Last week, following Human Rights Day (on December 10), and the third anniversary of the publication of the executive summary of the Senate Intelligence Committee's report into the CIA's post-9/11 torture program (on December 9), the U.N. Special Rapporteur on torture, Nils Melzer, "appealed to the United States to end a pervasive policy of impunity for crimes of torture committed by U.S. officials," as a U.N. press release, issued on December 13, stated.
In a statement, Mr. Melzer, who was appointed by the U.N. Human Rights Council as the Special Rapporteur on torture and other cruel, inhuman or degrading treatment or punishment in November 2016, after previously working for the International Committee of the Red Cross and the Swiss government, made reference to the Senate torture report, noting how it "publicly acknowledged the systematic use of torture in U.S. custody," and stating, "To this day, however, the perpetrators and policymakers responsible for years of gruesome abuse have not been brought to justice, and the victims have received no compensation or rehabilitation."
He added, "By failing to prosecute the crime of torture in CIA custody, the U.S. is in clear violation of the Convention against Torture and is sending a dangerous message of complacency and impunity to officials in the U.S. and around the world."
He explained, as the press release described it, that "he was particularly concerned about detainees who had faced prolonged detention in almost complete isolation," and "highlighted the case of Ammar al-Baluchi, named 153 times in the Senate report, who is said to have suffered relentless torture for three-and-a-half years in CIA 'black sites' before being moved to Guantánamo Bay, where his torture and ill-treatment are reported to continue."
Explaining his position, Mr. Melzer stated, "Mr. al-Baluchi has been held in isolation at a severely restricted-access facility at Guantánamo Bay for more than a decade. In addition to the long-term effects of past torture, noise and vibrations are reportedly still being used against him, resulting in constant sleep deprivation and related physical and mental disorders, for which he allegedly does not receive adequate medical attention."
He also "expressed grave concern that statements extracted under torture appeared to be admissible under the 2009 Military Commissions Act and could therefore be used against Mr. al-Baluchi," and "strongly reminded the U.S. authorities that the ban on torture and ill-treatment was absolute and allowed for no exceptions whatsoever," as the U.N. described it.
As Mr. Melzer explained, "This is one of the most fundamental norms of international law, and its violation is listed among the most serious international crimes, including crimes against humanity and war crimes." Highlighting Article 2.2 of the Convention Against Torture, which states, "No exceptional circumstances whatsoever, whether a state of war or a threat of war, internal political instability or any other public emergency, may be invoked as a justification of torture," Mr. Melzer added, "No circumstances, however exceptional and well argued, may be invoked to justify torture. From Nuremberg to the establishment of the U.N. War Crimes Tribunals, the United States has contributed decisively to the fight against impunity worldwide. I therefore now urge the U.S. to live up to its legacy, to end its policy of impunity and to bring its own perpetrators to justice."
He also said that, "in practice, abuse stopped only when effective sanctions for violations were imposed," as the U.N. press release explained. As he put it, "A society bruised by torture and abuse can heal only when the truth about secret policies and practices is fully disclosed to the public and when full reparation and rehabilitation is granted to victims."
Mr. Melzer also "renewed a long-standing request to conduct an official visit to the Guantánamo Bay detention centre and to interview inmates," as the press release put it — and indeed, since the attacks on September 11, 2001 and the establishment of Guantánamo in January 2002, each of the rapporteurs — Theo van Boven (2001-04), Manfred Nowak (2004-10) and Juan Méndez (2010-16) — has had their requests to visit the prison and to talk to prisoners unsupervised turned down or ignored by the U.S.
As Mr. Melzer said, "I very much regret that, despite repeated requests, my predecessors and I have consistently been refused access to Guantánamo and other high security facilities in accordance with the standard terms of reference of my U.N. mandate."
As with so much about Guantánamo, persistent lawlessness on the part of the U.S. has, in general, led not to an escalation of outrage, but to the government's crimes being ignored. The illusion is that torture stopped under the Bush administration, and yet claims that noise and vibrations are still being used against "high-value detainees" in the secretive Camp 7 have continued to be made over the years. In addition, it is outrageous that, for nearly 16 years, the U.S. has prevented a visit to the prison by the Special Rapporteur for Torture, and yet this is treated by the U.S. as though the Rapporteur is nothing more than an irritant.
After the release of Mr. Melzer's statement, Newsweek published an article featuring follow-up comments by the Rapporteur, who stated, in an email, that if the reports he received are true, "the conditions of detention some of the high security inmates are subjected to can only be described as cruel, inhuman and degrading. The only way to determine whether these reports are accurate is for the U.S. to finally allow independent verification by internationally recognised experts."
He added, "What matters most, and what cannot be disputed, is that U.S. officials have resorted to systematic torture in the past and that the U.S. has consistently refused to prosecute the responsible perpetrators and policy makers. This misguided policy of deliberate impunity for state-sponsored crimes of utmost gravity is not only a danger to U.S. national security, but violates the most basic principles governing any civilized nation, namely humanity, justice and the rule of law."
Here at "Close Guantánamo," we wonder, sadly, whether the administration of Donald Trump will even deign to respond to the Special Rapporteur's criticisms, such is the president's disdain for the international norms regarding the treatment of prisoners, and his enthusiasm for the continued existence of Guantánamo.