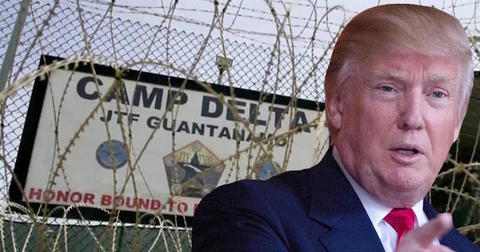 By Andy Worthington, July 16, 2017
On Guantánamo, Donald Trump has, essentially, done nothing since he took office, despite promising, on the campaign trail, to fill the prison "with bad dudes," and to revive the use of torture. Shortly after he took office, a draft executive order was leaked, which saw him proposing to set up new "black sites," and to send new prisoners to Guantánamo, but on the former he was shut down immediately by critics from across the political spectrum, and even from some of his own appointees, and on the latter we presumed that silence meant that he had been advised that it was not worth sending new prisoners to Guantánamo.
There are a number of reasons why this advice was to be expected: because the federal courts have such a good track record of dealing successfully with terrorism-related cases, and because the legislation authorizing imprisonment at Guantánamo — the Authorization for Use of Military Force, passed just days after the 9/11 attacks — focuses on 9/11, al-Qaeda, the Taliban and related forces, and not on newer threats — like Islamic State, for example, for which new legislation would be required.
As a result, although Guantánamo has almost entirely slipped off the radar, with the impression given that the men still held are trapped in a place that Trump has largely chosen to ignore, it has at least been reassuring that he has gone quiet on his previously-promised notions of reviving the prison.
It was, therefore, rather disconnecting to read, in The Hill on July 8, the following headline: "Trump officials signal intent to begin refilling Guantánamo."
The Hill was writing about a visit to Guantánamo on Friday July 7 by Attorney General Jeff Sessions and Deputy Attorney General Rod Rosenstein, who were accompanied by Dan Coats, the Director of National Intelligence, and Thomas Bossert, the White House Homeland Security and counterterrorism adviser, and who made their visit "to get an update on current operations, the first concrete action the administration has taken on the facility since taking office." As the article added, "Up until now, Guantánamo has been running on autopilot; the executive order from former President Obama calling for the facility to be shut down is still technically the law of the land."
The New York Times reported that the visit was "a gesture of support for continuing to detain terrorism suspects without trial" at Guantánamo, "and to prosecute some before a military commission." In a statement, Ian Prior, a spokesman for the Justice Department, said that Sessions and Rosenstein were "meeting with the people on the ground who are leading our governmentwide efforts" at the prison, adding that "it was important for Justice Department officials 'to have an up-to-date understanding of current operations' there."
Sessions, to the worry of those campaigning to close Guantánamo, has been "an outspoken supporter" of the continued use of the prison and the military commission trial system, and his support dates back to his time as a senator representing Alabama. Shortly after Trump nominated him as Attorney General, "he called the prison 'a very fine place' to hold, interrogate and prosecute terrorism suspects," as the Times described it.
In contrast, Rosenstein, an attorney in Maryland under the Bush and Obama administrations, told Congress that he "expected terrorism cases to continue to be prosecuted in civilian trials," in federal court, during his confirmation to be Deputy Attorney General. "Numerous terrorism-related cases have progressed through Article III courts, and I expect that to continue," he wrote in answer to a question posed by Democratic senator Sheldon Whitehouse.
For the Times, Charlie Savage and Adam Goldman noted that, for months, "law enforcement officials have wanted to bring a[n al-]Qaeda suspect known as Abu Khaybar, who is being held in Yemen, to the Eastern District of New York to face charges there before a civilian court," explaining, however, that "it is not clear whether the Trump administration has made a decision about whether to take custody of him and, if so, what to do with him." I wrote about his case back in February.
Former and current U.S. officials, speaking unofficially, also told the Times that FBI agents were "hoping to bring back and try a pair of American terrorism suspects being held in Turkey." The Times added, "Under current law, the Guantánamo military tribunals may not be used to prosecute American citizens, although Mr. Trump said during the campaign that he was 'fine' with expanding their use to encompass citizens."
Trump may be fine with it, but achieving his wishes is no easy task. U.S. citizens have considerably more rights than foreigners held at Guantánamo, and, even when it comes to bringing foreigners to the prison, legal experts have warned Trump that, as the Times put it, "it is not clear that the government's wartime authority to fight the perpetrators of the Sept. 11 attacks — that is, Al Qaeda — covers the Islamic State, and so bringing in a detainee tied to that group could create legal risks."
Since becoming Attorney General, Jeff Sessions has "expressed frustration at the pace of military commissions," the Times also reported. Ongoing cases against five men accused of involvement in the 9/11 attacks, and the alleged mastermind of the bombing of the USS Cole in 2000 have been stuck in pre-trial hearings for years, prompting Sessions to state that "it was time to figure out how use the system in an effective way."
New charges filed in the military commissions
As with Trump, however, Sessions' wishes may well be harder to achieve. A case in point is last month's decision by the Justice Department to charge "high-value detainee" Hambali for his alleged role in two terrorist attacks in Indonesia in 2002 and 2003. Captured in August 2003, Hambali was held in "black sites" until September 2006, when he was brought to Guantánamo, and he has been held without charge or trial ever since, although last year his case was reviewed by a Periodic Review Board (a parole-type process introduced in 2013), which approved his ongoing imprisonment.
Charging him will no doubt have gone down well with Jeff Sessions, but critics are not convinced. For the Daily Beast, Spencer Ackerman, fresh from a long and acclaimed stint at the Guardian, wrote an article bluntly entitled, "Trump's First Guantánamo Trial Is FUBAR From Day 1," in which a Trump administration official, who was "familiar with an internal and still-unfolding debate over the future of detentions," told him, anonymously, that "charging Hambali was 'short-sighted' and 'indicative of a lack of understanding of the complications of U.S. detention policy,' particularly without a broader policy framework for the Hambali case," adding, "It's kicking off a procedure that will take an indefinite period of time. This system doesn't work."
By any objective analysis, that is patently true. Only eight convictions have been secured in the military commissions in 15 years, and, as Ackerman noted, "the majority of those have been vacated or overturned." He added that "the most solid convictions come from three plea deals, rather than outright victories for the government."
As Ackerman also explained, "A major issue for the Pentagon-provided defense teams is that their clients want evidence of their torture introduced into their death-penalty cases, so they can argue the inadmissibility of whatever they told their interrogators. But attempting that requires overcoming a wall of official secrecy, even after the release of sections of the Senate's 2014 torture report, which provided a glimpse into the brutal treatment the CIA meted out to detainees like Hambali."
He added, "That's a major reason why the premiere terrorist crime of the century – 9/11 – won't go to trial for an unknown-number of years. A prelude to it, the 2000 al Qaeda attack on the USS Cole in Yemen, won't proceed to trial for defendant Abd al-Rahim al-Nashiri until 2018 at the earliest."
Hambali's case is not fundamentally any different.
As Ackerman noted:
Declassified portions of the 2014 Senate report do not detail what specific torture the CIA inflicted on Hambali. But CIA cables cited in the report indicate that Hambali cooperated with interrogators before "the use of more intrusive standard interrogation procedures much less the enhanced measures." He later recanted what he told them under torture, a CIA official cabled home: "[H]e had provided the false information in an attempt to reduce the pressure on himself ... and to give an account that was consistent with what [Hambali] assessed the questioners wanted to hear." (The U.S. would later say that Hambali's torture led to the bust of an al-Qaida cell in Karachi, something the Senate report calls "inaccurate.") At least one interrogator told Hambali, "we can never let the world know what I have done to you," the report stated.
James Connell, an attorney for 9/11 defendant Ammar al-Baluchi, said, "The decision to charge Hambali after six years of unsuccessful prosecutions in other military commissions cases suggests the U.S. has not learned from its mistakes in [pursuing] military commissions in the first place," adding, as Ackerman put it, that "it was almost certain that the legal team will make torture central to Hambali's war-crimes trial." As Connell stated, "It's clear that the Hambali case presents similar issues of torture that the Nashiri and 9/11 cases present."
Prosecutors have apparently told Hambali that they will not be seeking the death penalty in his case, which potentially makes its progress easier than in the capital cases relating to 9/11 and the USS Cole, but the Trump administration's intention to go ahead with a new trial fundamentally makes no sense, and we at "Close Guantánamo" are disappointed by it, if not surprised.
As Laura Pitter of Human Rights Watch explained, "Charging Hambali in military court is 'a terrible decision.'" She added, "The 9/11 case, the Nashiri case would have been over and done with by now in federal court. Instead, we have all these delays resulting from overclassification in the commissions."
Note: For further detailed legal analysis, please check out "A Test Case for Guantánamo's New Convening Authority" by Ryan Goodman and Steve Vladeck for Just Security.