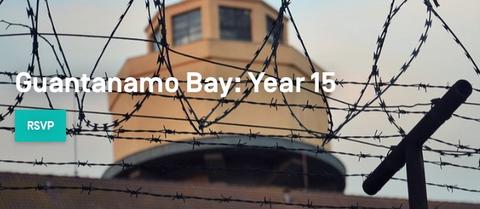 By Andy Worthington, January 7, 2017
Wednesday January 11 marks a day all decent people hoped would never happen: the 15th anniversary of the opening of the "war on terror" prison at Guantánamo Bay, and to mark the occasion both of Close Guantánamo's co-founders, the U.S. attorney Tom Wilner and the British journalist Andy Worthington, will be appearing at a free event at New America in Washington, D.C., Guantánamo Bay: Year 15. Tom Wilner is a lawyer with Shearman & Sterling LLP, and was counsel of record in the Rasul v. Bush and Boumediene v. Bush cases that established the Guantánamo prisoners' right to habeas corpus and in the Al Odah v. United States case that established their right to counsel.
New America is at 740 15th St NW #900, Washington, D.C. 20005, and the event runs from 2:30 to 4pm. Please RSVP if you wish to attend.
Appearing alongside Tom and Andy are Jim Moran, former congressional representative for Virginia's 8th district and one of the representatives who led opposition to Guantánamo Bay, and Rosa Brooks, a Senior ASU Future of War Fellow at New America who served as Counselor to the Under Secretary of Defense for Policy and Special Coordinator for Rule of Law and Humanitarian Policy in the Pentagon from 2009-2011. Moderating is Peter Bergen, the Vice President of New America and the Director of the International Security Program.
New America describes the event as follows:
January 11th, 2017 marks the 15th year of the military prison at Guantánamo Bay established in the wake of the 9/11 attacks. On January 22, 2009, just days after becoming president, Barack Obama issued Executive Order 13492, ordering the closure of the detention facilities at Guantánamo Bay, Cuba. With only days left before President Elect Donald Trump takes office, 55 detainees remain, and on January 3rd, Trump tweeted: "There should be no further releases from Guantánamo. These are extremely dangerous people and should not be allowed back onto the battlefield." What will happen to the prison and its detainees in the next administration? Will Donald Trump reverse course and increase the number of detainees held there? Will the prison ever close?
If you're in Washington, D.C., we hope to see you.
Earlier, Andy will be appearing at the annual protest against Guantánamo, featuring rights groups including Witness Against Torture, Amnesty International, the Center for Constitutional Rights, Code Pink, the National Religious Campaign Against Torture, World Can't Wait and We Stand With Shaker, which begins at 11.30am outside the Supreme Court, with speakers, including Andy, and continues at 12:15 with a march around the Senate Buildings.
Andy will then be on Al-Jazeera at 6pm, and then travels to New York City for an event on Friday January 13, "Trump, Torture, and Guantánamo," at Revolution Books in Harlem, at 437 Malcolm X Blvd./Lenox Avenue, New York City, NY 10037, beginning at 7pm, with special guests tbc.
For interviews with Andy or Tom, or to arrange events, please email us.