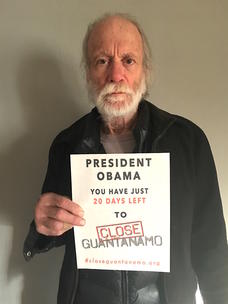 By Andy Worthington, December 30, 2016
Today, December 30, just 20 days remain for President Obama to close the prison at Guantánamo Bay, as he promised when he first took office in January 2009. We encourage you to join us in calling for the prison's closure before Barack Obama leaves the White House, and Donald Trump takes over, with his promises to keep Guantánamo open, and to send new prisoners there.
As part of the Countdown to Close Guantánamo that we have been running all year, please print off a poster reminding President Obama that he has just 20 days left, take a photo with it, and send it to us at: info@closeguantanamo.org.
You can also send a message to President Obama if you wish, and, if you want to let us know where you are, that also helps to show the breadth of support for closing Guantánamo across the U.S. and around the world.
Please also feel free to take photos with the following posters as the Countdown to Close Guantánamo reaches its final weeks.
15 days to go, for Jan. 4, is here.
10 days to go, for Jan. 9, is here.
And the following posters have just become available:
5 days to go, for Jan. 14:
4 days to go, for Jan. 15:
3 days to go, for Jan. 16:
2 days to go, for Jan. 17:
1 day to go, for Jan. 18:
On Jan. 19, we will be making a brand-new poster available, letting Donald Trump know that, from the moment of his inauguration on Jan. 20, he will be responsible for closing Guantánamo, and no excuses for keeping it open will be acceptable.
In the meantime, although it is highly unlikely that President Obama will pull off a last-minute miracle, given that Congress has, for many years, passed legislation preventing him from bringing any prisoner from Guantánamo to the U.S. mainland for any reason — thereby preventing him from closing Guantánamo — we believe that it is important to keep reminding him that the reasons why the prison must be closed remain as important now as they were on Jan. 22, 2009, when he issued his executive order promising to close the prison within a year.
As he stated in that executive order:
In view of the significant concerns raised by these detentions [at Guantánamo], both within the United States and internationally, prompt and appropriate disposition of the individuals currently detained at Guantánamo and closure of the facilities in which they are detained would further the national security and foreign policy interests of the United States and the interests of justice.
Note: Since we launched the Countdown to Close Guantánamo in January, we have received 635 photos from celebrities and from concerned individuals across the U.S. and around the world. See the latest photos here and here.